Is it just me, or does every single deli and sandwich shop have a wrap or sandwich labeled "the California wrap"? At the very least, I can think of three delis in my neighborhood that sell somesuch thing, usually involving grilled chicken and avocado.
Well, today I'm sharing my own version of a "California" sandwich, so called primarily because it uses Napa cabbage leaves as the bread, and secondarily because of the sweet ranch dressing and avocado stuffed inside.
When I don't use Ezekiel bread or collard wraps for sandwiches, Napa cabbage leaves are my "bread" of choice. They're big, sturdy, and flatter than romaine leaves, so I find that they make more stable and sliceable foundations for sandwiches. (For the record, Napa cabbage is also loaded with vitamins K and C). I often pile them with nut pate, guacamole, or raw hummus, but simple shredded veggies and a zesty dressing taste great, too.
This particular sandwich is brought together by a sweet, tangy ranch dressing. There are plenty of raw dressing variations floating around online, but this is my own version–and my favorite! It's rich and fresh tasting, and it's dotted with spring herbs, so it's perfect for this time of year. It's a little greener than your traditional ranch dressing, but that's just the dill and parsley making their presence known!

Raw Ranch Dressing (Yields 1 ½ cups, or so)
¾ cup cashews, soaked for at least two hours
½ cup water
2 tbsp lemon juice
¼ cup apple cider vinegar (a little more if you like it more tart)
3 tbsp olive oil
¼-½ tsp. salt
½ tsp. dried thyme
½ tsp dried oregano
*1 clove garlic
*½ tsp onion powder
3 tbsp fresh dill
3 tbsp fresh parsley
* You all know me well enough to know I'd never include these! But if garlic and onion don't, um, make you gag, use them for a more traditional "ranch" flavor.
Blend all ingredients in a high speed blender – OR blend all ingredients except for the oil in a food processor, and drizzle the oil in until the mixture is creamy and emulsified.
When dressing is blended, chop an additional few tablespoons of herbs and mix them in. Enjoy on top of a big green salad, or in…

Gena's California Ranch Sandwich:
Take two generous leaves of Napa cabbage. Pile one of them high with red cabbage, cucumber, tomato slices, and some thinly sliced avocado (sprouts or carrot would also be a nice addition). Drizzle generously with raw ranch dressing, cover with the other cabbage leaf, and serve.
Close up: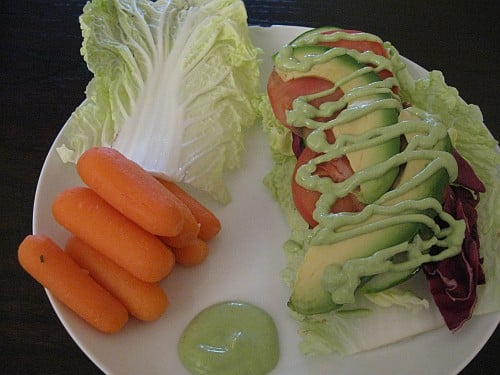 A note to all of my food combining friends: technically, this sandwich combines a nut-based dressing with some avocado. Most of you should be able to get away with it, since the avocado used is very minimal. But if you're highly sensitive to food combinations (like me), I would serve this sans avocado, or with avocado and an avocado-based or neutral dressing.
This sandwich makes a perfect, light lunch, and it would be easy to take to work: just pack your cabbage leaves and shredded veggies into one container and your dressing into another, and assemble at the office!
So, switching topics for a moment, many of you have been inquiring about my coaching services lately. This is great! One of the more frequent inquiries I'm getting is, "Do you only work with people who want to go totally raw?" And the answer is a big, resounding no! I work with clients at all levels and with all dietary habits: the only prerequisite is that you have an interest in adding more raw or high-raw foods to your life. Depending on what your goals are, I'll help you to prepare raw meals (whether that's once daily or once weekly), talk to you about green grocery shopping and meal planning, and help you understand the raw lifestyle better. I encourage a gradual transition process, and I'm also here to help you develop strategies for dietary pitfalls, such as sugar addiction or emotional eating.
If you've got lots of questions and want to work on eating more raw, I encourage you to shoot me an email at [email protected] to inquire about my rates and packages. Email counseling is a great option for those of you who are far away and have questions that need answering; I'm getting so much curiosity from you, but I can't always answer your queries without a detailed sense of your history and needs. Which is where coaching comes in 🙂
Alright my friends. I hope you're all enjoying a nice, early summer weekend! My plans include:
•Lots of work
•A trip downtown to hear Victoras Kulvinskas speak with my friend Cassie
•A rooftop party
•Waiting for Time Warner Cable to replace my cable modem
•A run, some yoga
Have a great day!
xo
P.S. Speaking of dressings, check out my friend Lindsay's Zukay Dressings giveaway!!