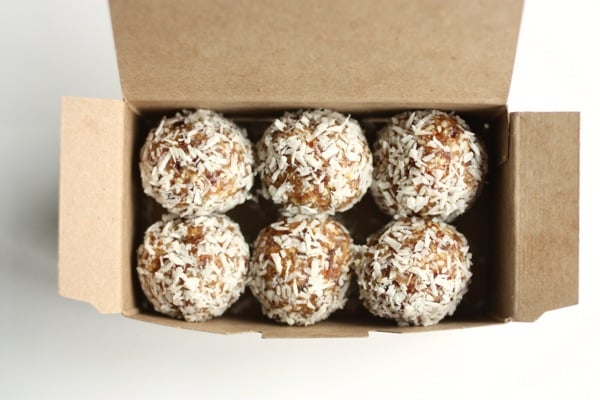 This is the last recipe I made before leaving D.C. in August, and it was a fast favorite. As he peered over my shoulder just now, my boyfriend immediately recalled how good these were, and asked if I'd make them again soon. Sure, it's just another raw ball/snack, but the flavors here are pretty special, and they're fancy enough to serve as a dessert or gift as a sweet treat. It just so happens that they were my parting gift two my friends Justin and Stacy, who both gave them two thumbs up.
Mesquite is a leguminous plant native to Mexico, and certain parts of Texas and the Southwestern US. It has a subtly sweet, smoky flavor: hard to describe, but pretty unmistakable. If you've never tried it on its own, then you've almost definitely tasted mesquite in barbecue sauces or other characteristic Southwestern dishes and condiments. It's typically used as flavoring, but it can also be ground up and used as a kind of flour.
Navitas Naturals and Sunfoods both sell high quality mesquite powder, but my favorite deal at the moment is the mesquite from Terrasoul. It's about $14.95 for 16 ounces on Amazon, and a little goes a long way. Once you have mesquite, you can experiment with putting it into smoothies, raw puddings or desserts, or banana soft serve. It's also lovely in savory sauces (dressings, barbecue–I bet it would be great in my creamy red pepper, chickpea, and tahini dressing).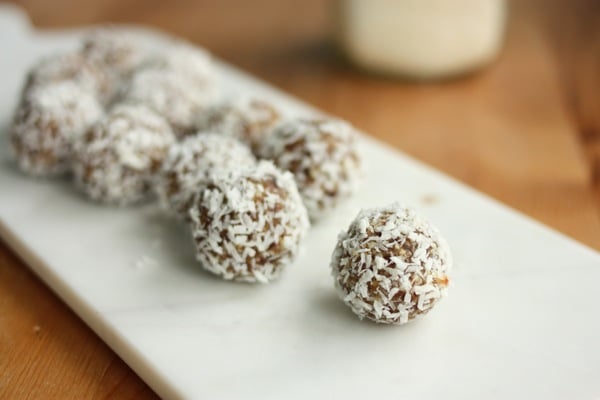 With all of this said, it's not the mesquite that makes these treats sing. It's the glorious, caramel-like pitted medjool dates, of course, and the creamy, sweet cashews. If you need to leave it out, then leave it out; better not to wait!
Cashew, Mesquite and Coconut Truffles
Author -
1. Place the cashews, coconut and sea salt in a food processor and process till coarsely ground.

2. Add the remaining ingredients and process until they're sticking together nicely. Shape the "dough" into 1-inch balls and roll them in more shredded coconut, if desired. Store in an airtight container for up to ten days.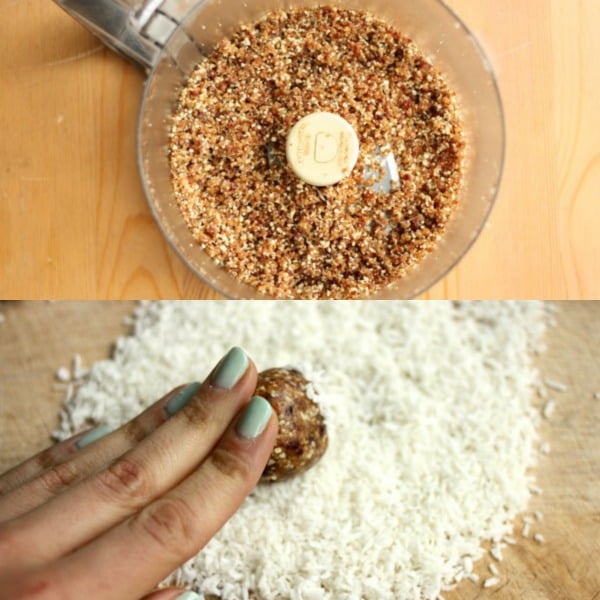 Hope you'll make these soon and love them as much as I did. Feel free to make some substitutions: almonds and walnuts, for instance, will work well in place of cashews. As will Brazil nuts.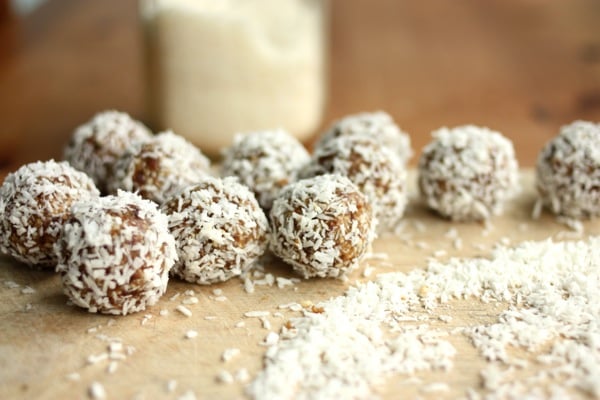 Before I go, I wanted to put a fun event on your radar. It's called "Camp MOB," and it's a summer long series hosted at M.O.B. restaurant in Brooklyn, celebrating local green chefs, yoga, and healthful food. My friend Rebecca, who organizes the events, has written about them twice on her blog (here and here). The superstar chef who makes the events tasty is Gabe Kennedy (Green Gabe, as he calls himself). He's not a vegan chef, but he has an incredible talent for vegan fare, and on Monday the 25th he'll be putting his unique spin on a number of dishes from my book (which I'll be signing for anyone who wants to pick up a copy).
The event will also include delicious elixirs from Lulitonix (my fave new juice brand), a yoga class led by yogi Jes Allen, skincare product sampling from Mio Skincare, and an art installation from Brooklyn artist Jeremy Penn. Should be a super fun night, and I can't wait to hang out with attendees. If you're in the NYC area and you're interested, please join! Pricing is as follows:
$50: yoga class, unlimited shots at the juice blends bar, natural beauty and healthy food products, all-you-can-eat-family-style vegan and gluten free dinner
$20: just yoga
$40: just dinner
BYO Yoga matt!
Tickets are sold at the door, but space is limited and the event will fill up fast, so if you're interested, please email [email protected] I hope to see a bunch of you there!
xo