Raw snack bites, made of dates, nuts, and seeds that I've ground together in a food processor, often along with spices or superfood ingredients, are a standard part of my weekly student food rotation. They're easy to make, portable, tasty, fun to flavor, and they save me money on the raw snack bars and energy bites that are so seductive in health food stores. I'm really trying to purchase less snack fare lately, and DIY more often; it's one thing to buy produce and healthful, quality ingredients, but quite another to spend money on things I know I could make (more often to my liking) at home.
This week's raw snack/treat came together without too much thinking. I'm running a bit low on nuts and seeds (I'll need to restock soon), so I took a quick survey of what I had: the remainder of a bag of walnuts (recently used for my creamy walnut and orange dressing) and some hemp seeds. I also had a bag of maca, sent to me recently from my generous friends at Navitas Naturals.
I've chatted with you all about maca before, so I need not belabor my take on the health claims. Though I can't say I believe all of the maca-related hype (better sex drive! perfect hormone balance! more energy!), I can say that the studies on maca, while neither numerous nor conclusive, indicate that it may influence hormone balance positively. Maca is also a source of phytonutrients and some amino acids, and a lot of people simply enjoy it for its taste, which I'd classify as a little sweet and nutty.
It took me ages to warm up to maca, and to this day, I can't overdue it without finding the flavor off-putting. I do, however, really enjoy it in small amounts, and my favorite way to consume it is not in smoothies (which is the easiest and most obvious way to eat it), but with or in chocolate. When I realized that I had both maca and chocolate aplenty, this little snack recipe came together effortlessly.
Chocolate, Walnut, and Maca Energy Bites (vegan, raw, gluten free, soy free)
Makes about 18 balls
3/4 cup walnuts
1/2 cup hemp seeds
6-8 pitted medjool dates (depends on size; 6 large or 8 smaller)
Generous pinch sea salt
1/4 cup cacao powder
3 tbsp maca powder
1. In a food processor fitted with the S blade, grind walnuts, salt, and hemp seeds till fine. Add the dates, cacao, and maca, and blend till the mixture is uniform and holds together well.
2. Shape into 18-20 balls. Store in the fridge to firm them up and to keep them fresh. They should last at least a week, unless you eat them all first!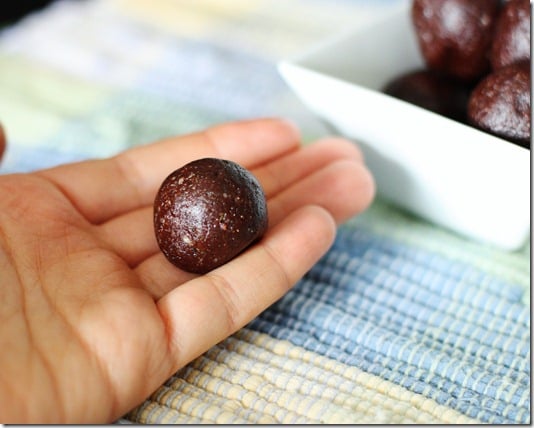 Quick, easy, and very snackable! Of course, if you have an allergy to walnuts, you could make these with a mix of pumpkin seeds and hemp seeds rather than the nuts. And you could also add cinnamon or even a little chili for a kick. I may try these soon again with mesquite.
Hope you get inspired to throw together a raw energy bite of your own soon—I know that many of you already do.
Thanks so much for the condolence wishes on Friday, friends. Much appreciated. I'll be back in DC soon for another busy week, so you can expect more packed lunch action to come!
xo