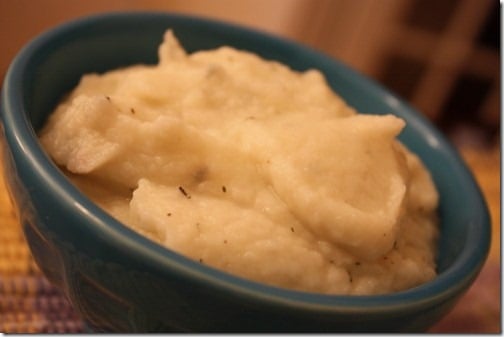 Hey guys! I'm checking in tonight with a recipe for creamy vegan mashed cauliflower–a perfect, easy, and healthful vegan side dish.
Before I tell you how delicious and easy to make the recipe is, I should disclaim that I have some inherent discomfort with coming up with what seems like a substitute for mashed potatoes. I love potatoes (baked, mashed, or boiled), and I don't have any desire to replace them (or all of the energy-providing complex carbs that come with them).
But oftentimes, a dish like mashed cauliflower can remind us that there's more than one way to serve a favorite veggie. We take a cue from another popular vegetable side dish (like mashed potatoes), and it encourages us to try something new. As it turns out, mashed cauliflower is super delicious, and while it's not the same (not even very similar, really) to mashed potatoes, it is rewarding in its own right.
So, here's the recipe. I hope you'll enjoy it! My boyfriend and I have been eating a lot of it as a side dish lately, and we're finding that it can be paired nicely with almost anything.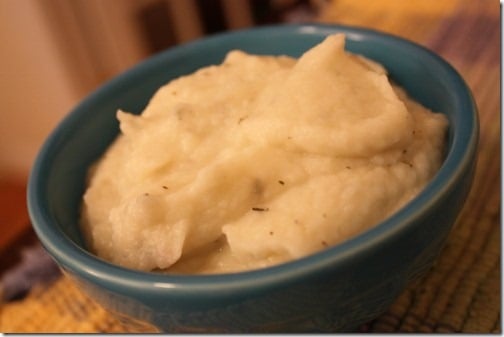 Creamy Vegan Mashed Cauliflower
Cuisine:
vegan, gluten free, soy free, nut free
Author:
Prep time:
Cook time:
Total time:
1 medium head of cauliflower, washed, trimmed, and chopped roughly
1/4 teaspoon salt (or to taste)
1/8 teaspoon freshly ground, black pepper
1/2 teaspoon garlic powder (optional; you can also use a few cloves roasted garlic, which is delicious)
2 tablespoons almond or rice milk
2 tablespoons Earth Balance
2 tablespoons nutritional yeast
Dash black pepper
1 teaspoon fresh thyme leaves
1 teaspoon finely chopped, fresh rosemary
1 tablespoon freshly minced chives
Bring a large pot of salted water to a boil. Boil the cauliflower till tender (about 7-10 minutes).
Drain the cauliflower and place it into the bowl of a food processor fitted with the S blade. Pulse it a few times to break it down, then add all of the remaining ingredients except for the chives. Process the cauliflower till it's smooth, but the mash retains a little bit of body and texture. If you need to make it thinner or easier to blend, continue to add non-dairy milk as needed.
Fold the chives into the cauliflower. Serve.
The mash is not only perfect for weeknight suppers (thanks to the speedy cooking time), but it's also a great option for holiday gatherings and get-togethers. It's definitely a crowd pleasing dish.
Before I go, I wanted to share the tremendously exciting news that I'm one of seven women featured in Kathy's incredible Veggie Girl Power Series!
Each year, Kathy interviews seven notable vegan or vegetarian women about their lives, their work, and their roads to plant-based lifestyles. I was a rapt reader of last year's series, which included interviews with some of my culinary idols, including Sarma Melngailis, Chloe Jo Berman, and my girl Kristen of Kristen's Raw. So it came as a shock—albeit it a welcome one!—that Kathy wanted me to be one of this year's Veggie Power Girls. To be in the company of Susan from Fat Free Vegan, Chef Chloe Coscarelli, and my friend Ani Phyo is such an honor!
In the interview, Kathy describes me as "anything but 'quiet'" and as someone who "who speaks her mind without hesitation." I think this is Kathy's way of saying that I'm loud and opinionated. And I love it.
I'm the first featured Veggie Power Girl this year, and my interview is up today. In it, I answer such burning questions as:
What's the first thing you eat each day?
Who are some of the people who have inspired you?
How do you respond to attacks or negative criticism?
To read my answers, please check out the interview here, and don't forget to check back for the other interviews in the series!
Till tomorrow,
xo