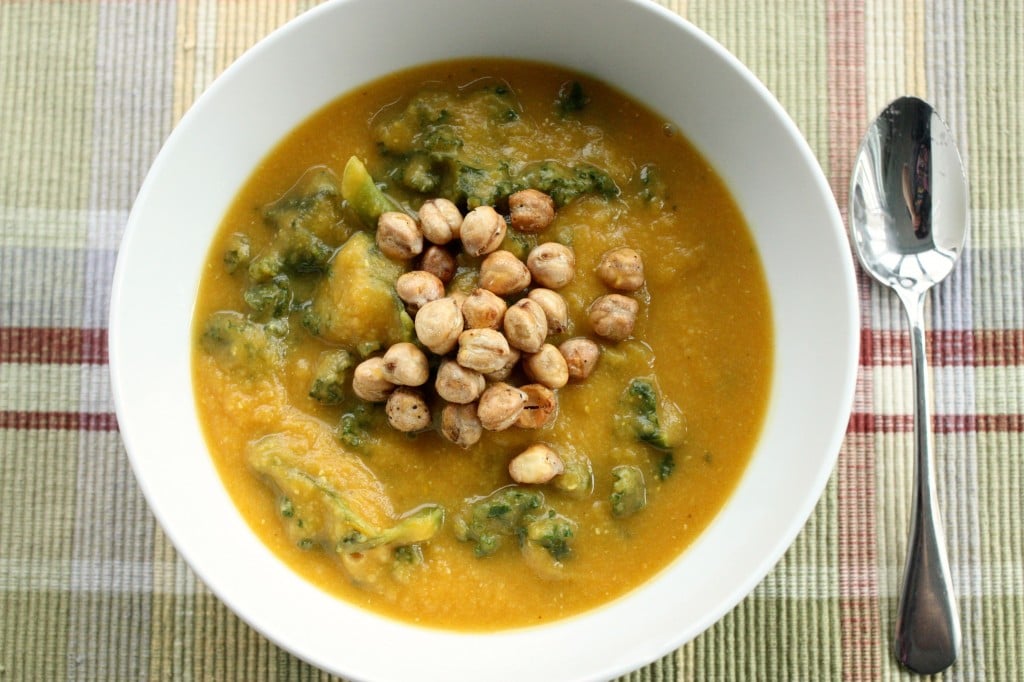 I'm back! Thanks for bearing with my absence, folks. I needed some time to get over the flu and give myself a bit of TLC. As you might imagine, I've been doing only scant cooking in the last week or so, but as soon as the worst of it was over, I did set about making a couple of hearty, healing soups. This curried red lentil and butternut squash soup with kale and toasted chickpeas was probably my favorite of the bunch. It's quintessential vegan comfort food: warming, gently spiced, full of nutrition, and easy to prepare.
The toasted chickpeas were a last minute addition to the recipe. I tend to go through phases with different toppings: homemade gomasio, avocado slices, nutritional yeast, toasted walnuts, whatever. Toasted chickpeas are my current favorite. They are so versatile, so crunchy, so rich in protein and essential minerals. I shared my standard recipe in this post, but you can and should feel free to adjust spices and seasonings to suit your fancy. Once those are prepared, you can turn your attention to the soup, which comes together in no time.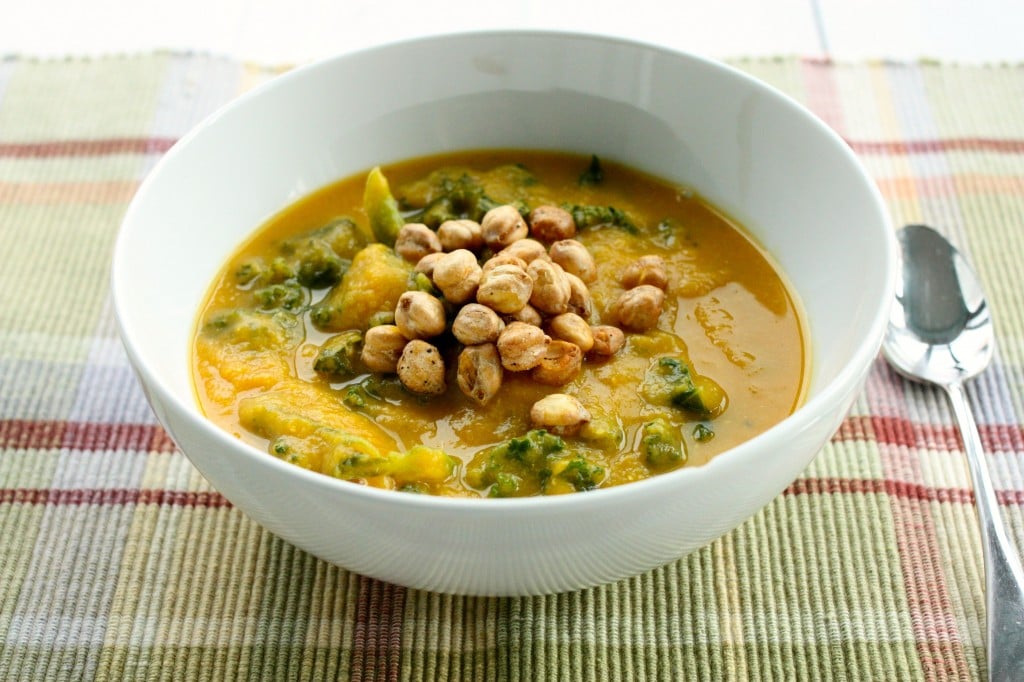 Curried Red Lentil and Butternut Squash Soup with Kale and Toasted Chickpeas
Author -
1

cup

red lentils

dry

1

tablespoon

olive or coconut oil

1

cup

white or yellow onion

diced

1

tablespoon

fresh ginger

minced

2

teaspoons

mild curry powder

1

teaspoon

turmeric

2

pounds

butternut squash

peeled and cut

5

cups

vegetable broth

low sodium if possible

4

cups

kale

washed, dried, and chopped

Sea salt and pepper to taste

1

cup

toasted chickpeas

recipe here
1. If you wish to, soak the lentils overnight (or for 6-8 hours) in enough water to submerge them completely. Rinse and drain them. This will make them cook super quickly, and it will also help to release phytates, which can impact mineral absorption. However, it's not a necessary step, and red lentils will cook quickly whether you soak them or not. If you don't soak them, simply add them dry, as instructed in step 3!

2. Heat the oil over medium heat in a large pot. Add the onion and sautee until it's soft and golden (5-8 minutes). Add the ginger, curry, and turmeric, and mix the spices in.

3. Add the lentils and vegetable broth to the pot. Bring the lentils to a boil and reduce them to a simmer. Add the butternut squash and simmer until the pieces are fork tender and the lentils are soft (20 minutes or so).

4. Use an immersion blender to puree the soup to a desired consistency (you can make it as textured or smooth as you like). If you don't have an immersion blender, you can transfer the soup to a blender and then return it to the pot. Stir the kale into the warm soup and allow it to wilt down (you can add extra kale if you like things extra green!). Season soup to taste.

5. Transfer soup to bowls and top it with toasted chickpeas. Serve.
So much texture going on here!
If you don't have red lentils, brown or green may take a little longer to cook, but they'll work well, too. And you can easily substitute collards or chard for the kale, if you prefer them.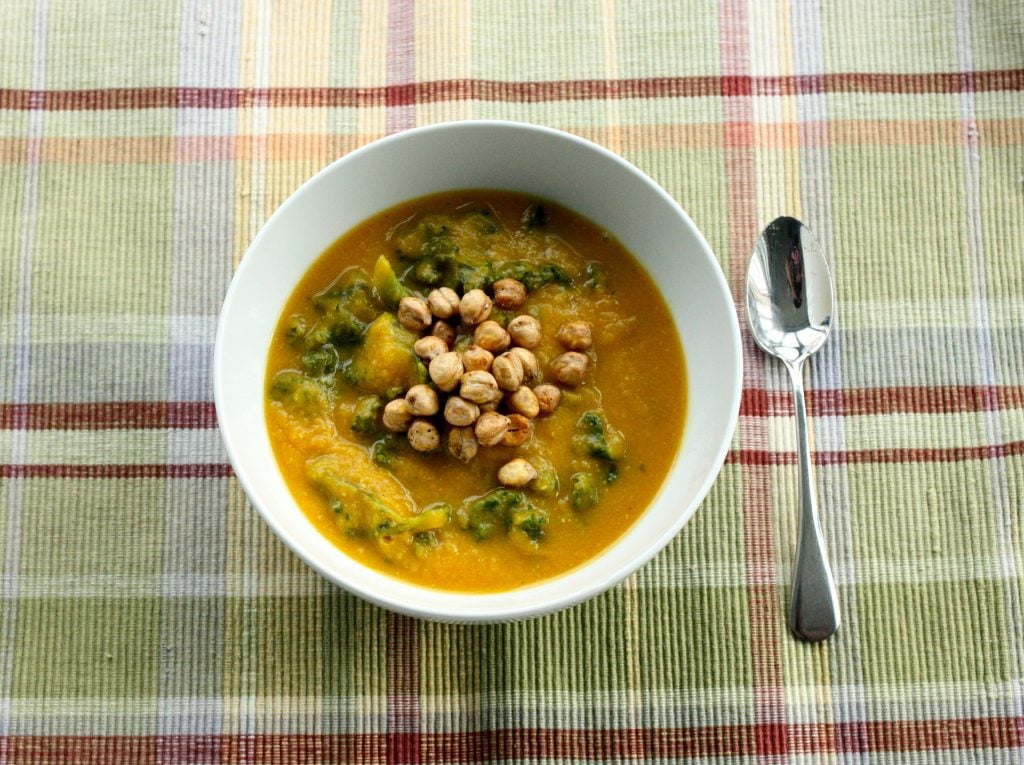 I've got plenty of catching up to do since my little hiatus, so I'll be busy responding to comments and emails in the coming days. I also owe you a weekend reading post, since I missed Sunday! I look forward to sharing that this weekend, along with more recipes. Hope you're all well 🙂
xo