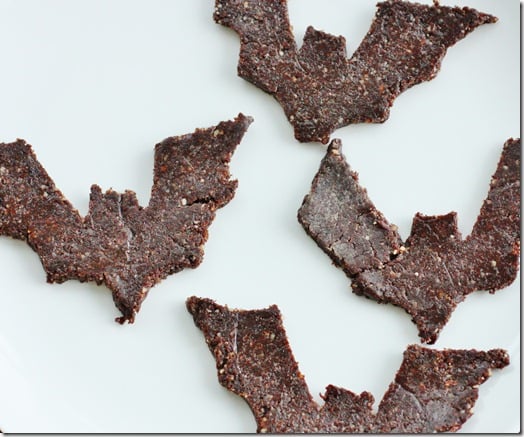 Before we get to the easy and delightful walnut and carob cookies that are the topic of today's post, I want to say that my heart goes out to everyone in the Northeast who has been affected by Sandy. I've never been an alarmist about weather. I've marched out into countless storms that kept others at home, including the storm that hit DC on Monday and Tuesday, and I tend to dismiss the warnings on weather stations and news as "hype." D.C. got drenched this week, but otherwise the damage seemed to be modest, so I was feeling quite upbeat when I woke up and checked email this morning.
Until, of course, I saw images from my beloved New York, tattered and submerged in water. I wanted immediately to be home, which may sound odd, but I just felt the need to be a part of the city's solidarity in the face of a crisis. And I was so sad to see how many people in New Jersey and Delaware have had their homes destroyed or damaged. I'll be keeping all of them in my thoughts, of course. I'll also be thinking of the many stray animals who may have been hurt or displaced by the storm, as well as any lost companion animals who are without homes right now.
It always feels a little strange to write cheerfully about food when you're focused upon serious events or suffering, but then, food and words are also the things that tend to give me comfort when something—anything—is wrong. So let us now switch topics for a moment, and talk about these cookies:
They happened on a whim—I wanted to make something festive for Halloween, but I quickly realized that I wasn't in the mood to bake (especially since I've been on a pie crust rampage for my next Food 52 column—spoiler alert!). Making these little guys was so much faster than baking would have been, and the result is every bit as tasty (tastier, if you ask me!).
To give the cookies their dark color and flavor, I used carob. I'm often asked if I think there's anything wrong with cacao. As you can imagine, my answer is no! Chocolate is one of my personal favorite things, and I think that if you eat it in moderation and don't find it "stimulating" (which I don't, but some do), you should enjoy it often. That said, carob, which is often presented as a chocolate substitute (as if there could be such a thing) is tasty in its own right, and boasts both calcium and iron. I love making desserts and baked goods with carob, and I enjoy it for reasons that are different than the reasons I like chocolate. I find it sweeter, and a little nutty. Yum.
If you are such a cacao/cocoa fiend that you simply MUST make this recipe with chocolate, however, I'll certainly understand. And if you don't happen to have bat-shaped cookie cutters around (though the recipe is cute enough to warrant getting some), you can roll the cookies into balls or use any cookie shape you do have.
Raw Walnut, Carob, and Cinnamon Cookies (vegan, can be GF if you use GF certified oats, soy free)
Makes 8-10 large bat cookies
1 1/2 cup walnuts
1/2 cup oat flour (or 2/3 cup rolled oats that you've ground in a food processor)
1/4 tsp sea salt
1/2 tsp cinnamon
4 tbsp carob powder (or cacao)
1 cup pitted dates, tightly packed
2 tbsp maple syrup or agave syrup
1 tbsp coconut oil
1. Grind walnuts, oat flour, sea salt, cinnamon, and carob in a food processor fitted with the S blade.
2. Add dates. Pulse till mixture is very crumbly. Add the syrup and oil and process till the mixture is coming together and holds its shape well when you squeeze some in your hands.
3. Turn the "dough" out onto a clean surface and sprinkle it with some extra oat flour. Use a rolling pin to roll it to 1/4 inch thick. Cut into bat shapes (or any shape), or roll into balls. Serve.
The texture is close to that of raw brownies. Bliss!
Hope you'll try these cookies in time for Halloween. And if you have kids or friends of kids who will be passing through your place, share them! What a great alternative to some more conventional kids' candies.
Happy Halloween, all
xo