When I was growing up, there was an ongoing debate in my family about which pie reigned supreme. According to my mother, it was pecan. My father had a preference for apple. My grandmother didn't care, as long as it was a la mode. Me? I have always liked pumpkin best, and I still do: of all the pies, crumbles, and tarts out there, it's by far my favorite.
I was a pretty good pie maker growing up. I purchased a Martha Steward holiday book when I was twelve or thirteen and quickly perfected the art of pate brisée and pate sucrée (this was of course during a phase of my life wherein I was obsessed with making desserts for people but never eating them—but that's another matter). I took Martha at her word, and internalized the idea that a fine pie crust was always made from butter, ice cold, flour, egg yolks on occasion, and a good egg wash for a pretty finish. When I became vegan, I never really tried to make pie at first because I just assumed it was impossible to get authentic results. If it was possible, I reasoned, it probably took extraordinary amounts of work and/or a lot of ingredients. How wrong I was.
I have made vegan pie crust in many different ways now—raw and cooked, whole grain and refined, no bake and bake—and they've all been delicious. Today, over at Food 52, I am sharing my easiest and most forgiving vegan pie crust, along with my favorite recipe for vegan pumpkin pie. It happens to be soy free, for those of you with allergies, made with soaked cashews and tapioca starch, along with spices and brown sugar.
And by god, it's delicious.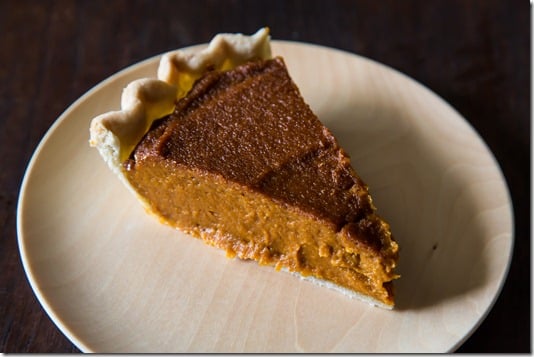 As for the crust, it's my favorite not only because I think it's the flakiest and most authentic, but also because it's so simple. It has only five ingredients: coconut oil (kept solid to mimic cold butter), salt, a tablespoon of sugar, flour, and cold water. You don't even have to purchase Earth Balance, or fret about finding an Earth Balance replacement if you're concerned about orangutans and palm oil (I still value Earth Balance as a butter substitute, but I do take the issue of palm oil and deforestation to heart, and prefer to use coconut oil whenever possible—not hard, since I think it's delicious!).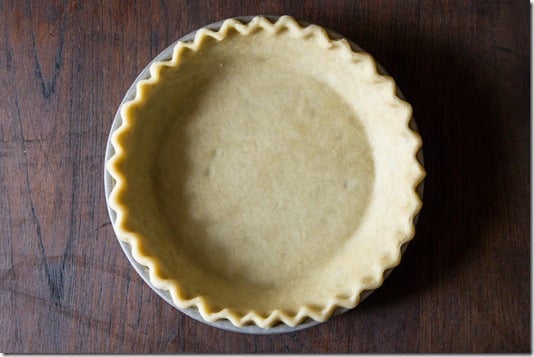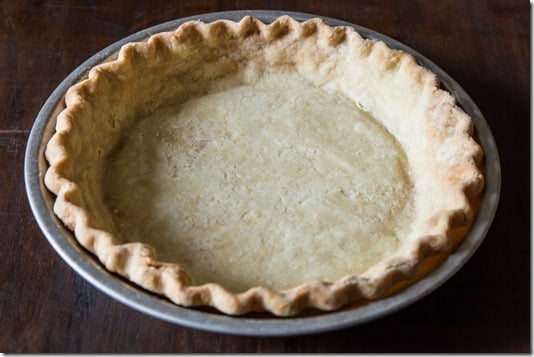 You'll notice that I use all purpose flour in this recipe. Normally, almost all of my baking involves whole grain flours, but on occasion I do find that using AP flour helps to create a super authentic effect that can "wow" non-vegans. If you're making this pumpkin pie for a bunch of folks who are skeptical about vegan diets, you may find, as I do, that AP flour is your best option. That said, whole wheat pastry flour will also work beautifully, as will spelt flour. I haven't yet perfected a gluten free version, but I'm working on one that is almost as easy as this and that tastes great. So stay tuned. Also be on the lookout for my "no bake" version of pumpkin pie, which I'll share closer to Thanksgiving!
As many vegan bloggers will affirm, making delicious, authentic food is a wonderful form of advocacy, proving to the others that the choice to become vegan does not entail sacrificing time honored and beloved recipes. This holiday season, begin with a perfect vegan pumpkin pie.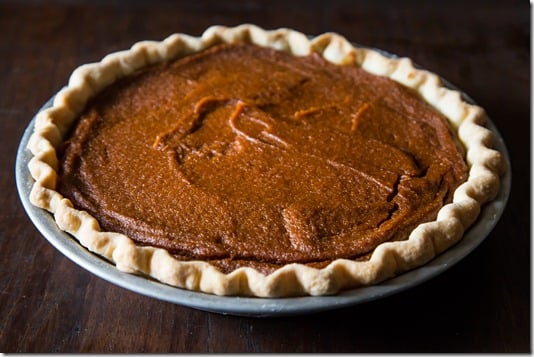 Neither you nor your loved ones will be sorry.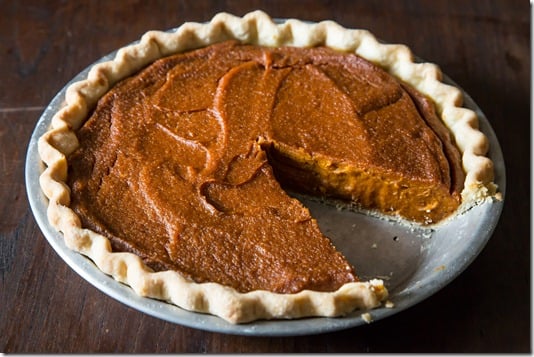 Head over to Food 52 for the recipe!
xo
All images in this post © James Ransom for Food 52.