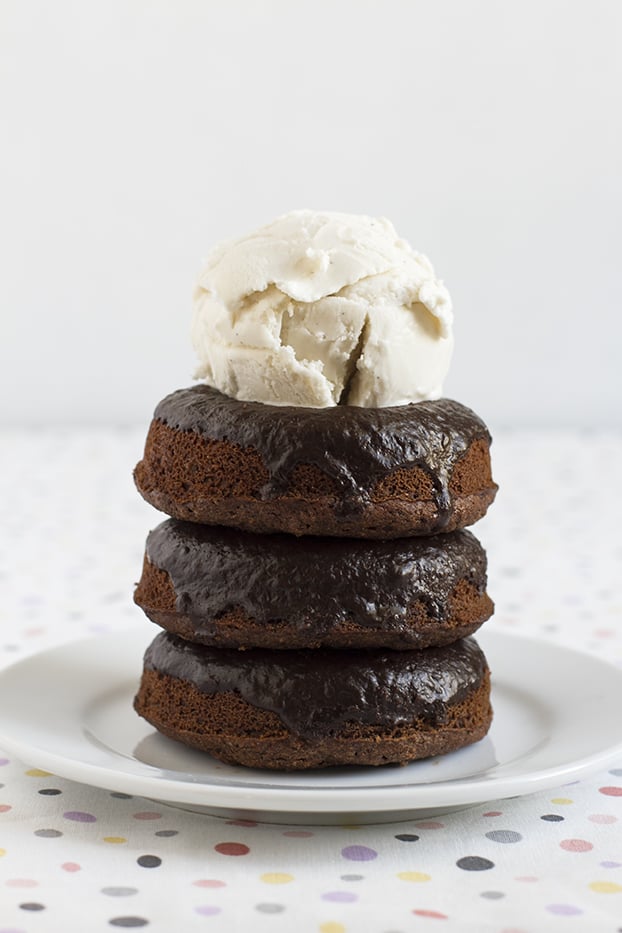 When I'm looking for recipes that are vibrant, beautiful, and satisfying, Edible Perspective is always one of the first blogs I look to. Ashley McLaughlin, the recipe developer, writer, and (amazing) photographer behind this online space, has a knack for crowd-pleasing food that feels both simple and celebratory at the same time. Most of the time I'm drawn to Ashley's savory recipes (she's a whiz with grains and legumes), but one of her most special talents is gluten-free baking. Especially gluten free doughnut baking. And her new book, Baked Doughnuts for Everyone, features 101 of her outstanding recipes.
The premise behind this book is that anyone can make incredible, baked doughnuts at home (well, with the help of a doughnut pan, that is!). And because Ashley eats a gluten free diet, all of the recipes in this book are gluten free, thus suitable for folks on wheat and gluten free diets. While the book isn't vegan, it features twelve dedicated vegan recipes, and Ashley has a lot of great tips on how to veganize recipes that aren't.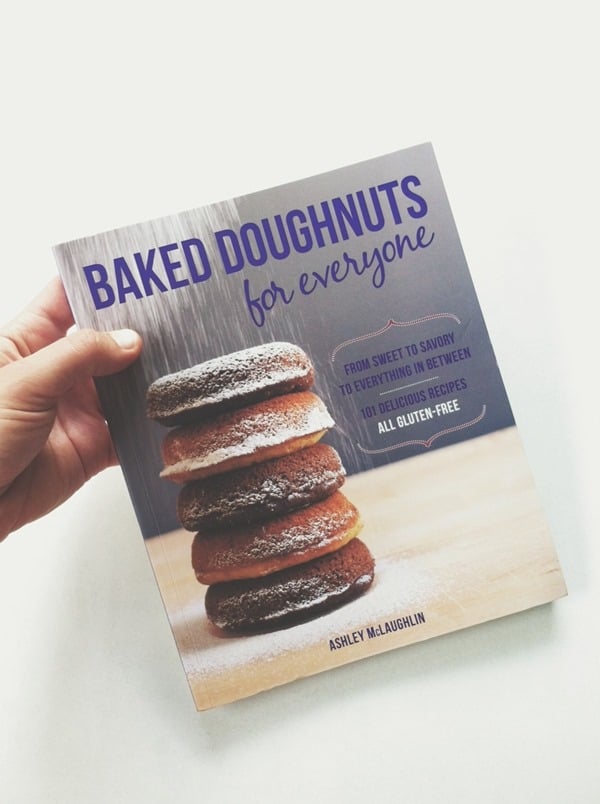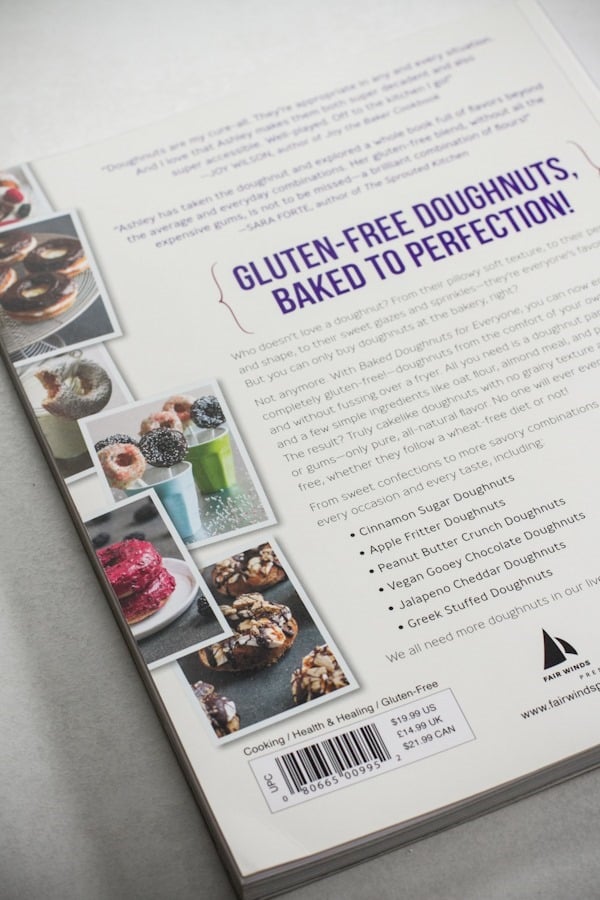 (All images courtesy of Ashley)
As I may have mentioned in the past, I'm a highly imperfect baker. My patience isn't always what it should be, and I don't bring the same sort of creative flair to baked goods that I do to raw desserts. That said, there's nothing like a warm, fragrant baked treat–be it a muffin, a quickbread, or a doughnut–so it has been a true pleasure for me to flip through Ashley's book and read more about the process of raw doughnut making. Though I confess I have yet to create one of her fabulous recipes at home, I can tell you that the recipes are artful, the photography stunning, and that Ashley's fun, welcoming demeanor shines through in the book's pages.
Since many of my readers are gluten free, and nearly all of you seem to enjoy a delightful baked good recipe, I thought you'd be curious to hear about Ashley's process, and the book itself. Here's a little Q&A with the doughnut diva herself, Ashley McLaughlin!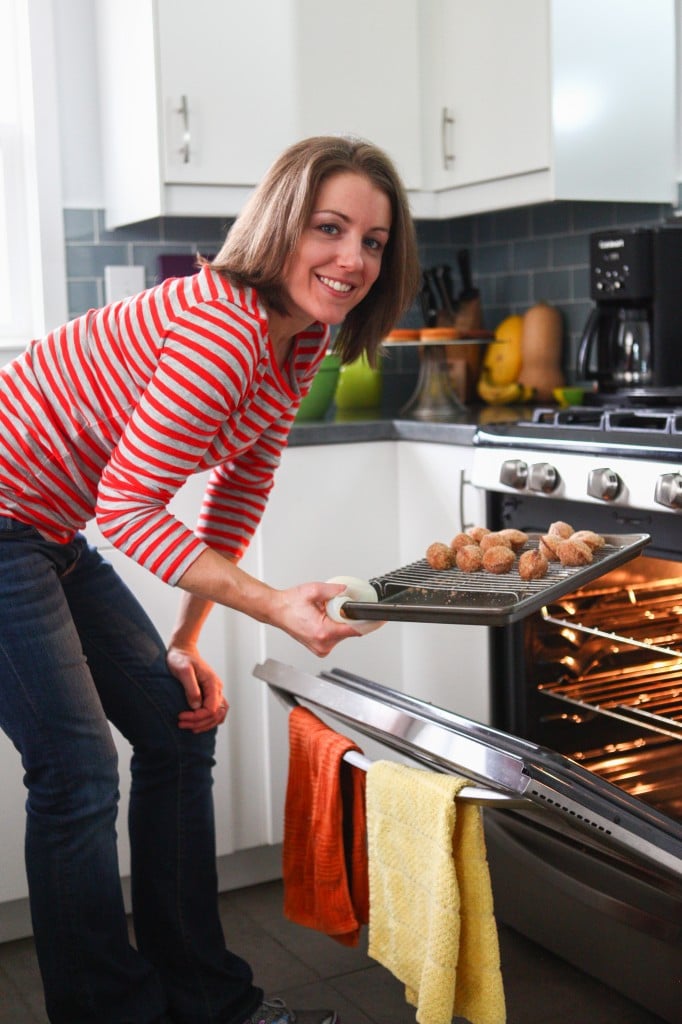 1. There are a lot of gluten free baking resources out there, but not too many focused so specifically on one type of baked good. Why doughnuts? What made you want to devote the book to them?
The doughnut book idea actually came from the publisher.  I was lucky enough to be asked if I was interested in writing an entire cookbook on gluten-free baked doughnuts.  Obviously I said, YES!  The doughnut book started as just a proposition, though.  I still had to write a proposal for my vision of the book and have it pass a monthly acquisitions meeting with the publishing team.  Thankfully, it passed—the doughnuts I overnighted them may have helped!—and I was on my way to baking my little heart out.  When I first thought about the book my idea was, go big or go home, which is why you'll find over 101 recipes inside.  Although the book is all about doughnuts, I tried my best to get creative, including an entire savory doughnut chapter and even a recipe for dog doughnut-biscuits.  It was definitely a fun topic to bake + write about!
2. What are the challenges of baking without gluten? What are the specific challenges of doughnuts without gluten, and how do you address them?
I really think the hardest challenge is hunting down the specific flours.  It's a shame that so many gluten-free flours are on the pricier side and not always easy to find at your everyday grocery store.  I have a "resources" section in the back of the book which calls out the main ingredients and tools I use and where you can locate them.  I do know that everything can be bought online if you're having a hard time locating items in your area.
I strive to keep things simple when baking gluten-free and always try my best to use the most nutrient dense flours while not compromising taste and texture.  The combination of gluten-free flours I use really works to the advantage of the baked doughnut texture.  I'm just not sure you could duplicate the doughy-cakey results with white or wheat flour.
A few quick tips when baking gluten-free:
Avoid overmixing the batter.  Stop stirring when you no longer see streaks of dry flour to achieve the best texture outcome.
Avoid substituting flours in gluten-free baking until you are fully comfortable with the recipes and are okay with the fact that experimenting may result in a few fails.
Never pack flour into measuring cups.  Always scoop with a spoon into the cup and then level off with the flat side of a knife, unless noted otherwise.
Read the entire list of ingredients and instructions first and then start baking.
3. What are a few of your favorite recipes from the book?
This is the hardest question to answer, but here goes:
apple fritter doughnuts
vegan gooey chocolate doughnuts
red velvet doughnuts—died with beet puree!
carrot cake doughnuts
the everything doughnuts–savory!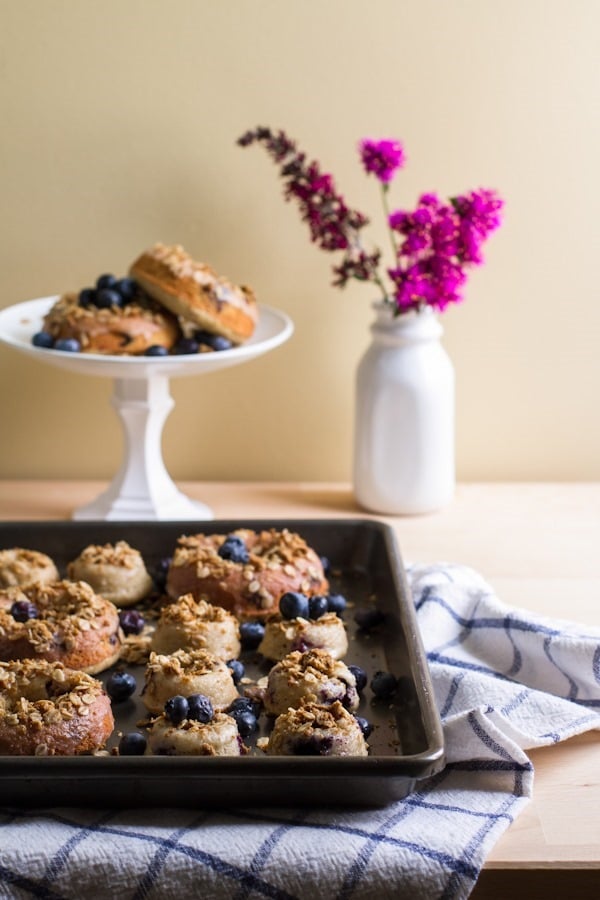 4. There are twelve dedicated vegan doughnuts in the book. Any tips on how readers can customize some of the other recipes to make them vegan? What are your favorite vegan baking tips of the trade?
I think once you bake a few of the vegan doughnuts you'll get the hang of how they can be changed to include your favorite add-ins.  The flour ratios stay pretty consistent but some of the liquid measurements and sweetener amounts will vary.  Note that the vegan/gf batter is very thick and not pourable.  It will need to be piped or scooped and gently spread into the doughnut mold.  If your doughnuts seem too soft after baking add an extra tablespoon or two of oat flour to your next batch.
One of my favorite tricks when baking vegan and gluten-free is ditching the flax-egg.  Time and time again, I've found the flax-egg leads to gummy, half-baked results.  I've had people tell me they work and I don't doubt that in some cases they may, but my preference is to add plain ground flax to the dry ingredient bowl and add more milk (or other liquid called for) to the wet.  After combining the wet and dry together I'll let the batter sit for 5-8 minutes to thicken before pouring into the pan.  I've also found that a very thick batter–not dry but not pourable–results in the best texture.  If the batter is thin and pourable the baked goods just never really seem "done."
5. As someone who took a long time to master baked goods (and still has a hard time with them on occasion), I'd probably hear the word "doughnut" and feel a little intimidated. Tell us how homemade doughnuts can be easy and accessible?
I think because these doughnuts are baked and not fried it takes most of the pressure off.  The recipes in my book are very similar to making muffins, quick bread, or cake.  You'll mix the dry ingredients in one bowl, the wet in another, and then combine the two together.  Not having to deal with yeast, waiting for dough to rise, or dealing with a hot pot of oil makes the process so much easier.  Most of the recipes in this book need only 2 mixing bowls, a whisk, spoon, doughnut pan, and the ingredients!  I wanted people to feel like they could tackle gluten-free doughnut baking head on and achieve consistent and delicious results!
Thanks, Ash!
In order to give you a taste of Ashley's talent, I asked if she'd be so kind as to share a recipe with CR readers. She said she would, and–lucky us–the recipe she chose is for gooey vegan chocolate doughnuts. Talk about delicious! The next thing I do after publishing this post may be to check out doughnut molds on Amazon.
And for the record, I bet you could use this same dough to make cupcakes, and they'd be every bit as great.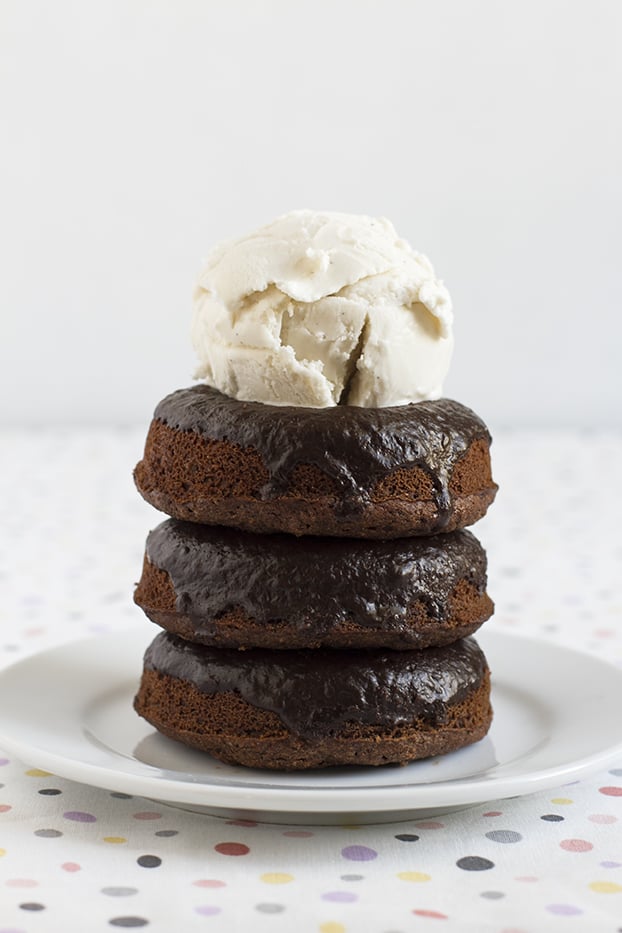 Vegan Gooey Chocolate Doughnuts
Author -
½

cup

60 g oat flour

½

cup

70 g sweet rice flour

¼

cup

20 g unsweetened cocoa powder

¼

cup

50 g pure cane sugar

2

tablespoons

14 g coconut flour

1½

tablespoons

11 g ground flax meal

1

teaspoon

baking powder

½

teaspoon

baking soda

½

teaspoon

salt

¾

cup

175 ml unsweetened almond milk

¼

cup

+ 2 tablespoons

129 g brown rice syrup

¼

cup

60 g pumpkin puree

2

tablespoon

28 ml oil

2

teaspoons

vanilla extract

½

cup

88 g vegan dark chocolate chips

2/3

cup

80 g powdered sugar

5

tablespoons

70 g unrefined coconut oil, melted

3½

tablespoons

18 g unsweetened

Cocoa powder

Vegan ice cream

optional
1. To make the doughnuts: Preheat your oven to 350°F (180°C, or gas mark 4) and grease your doughnut pan. Combine the oat flour, sweet rice flour, cocoa powder, cane sugar, coconut flour, flax meal, baking powder, baking soda, and salt in a large bowl, mixing well. In another bowl, whisk together the milk, brown rice syrup, pumpkin puree, oil, and vanilla extract until well combined.

2. Pour the wet mixture into the dry ingredients and stir with a large wooden spoon until just combined, being careful not to over mix (stop when you no longer see dry flour). Gently fold in the chocolate chips. The mixture will be thick.

3. Spoon the batter into the doughnut molds, filling to just below the top of each mold, 1/8- to ¼-inch (3 to 6 mm) from the top. Bake for 20 to 26 minutes until lightly golden brown around the edges. The cake is supposed to have a gooey center. Let cool in the pan for 5 minutes. Slide a thin spatula around the edges of the doughnuts to help loosen them out. Then place on a cooling rack and allow to cool for 5 to 10 minutes before glazing.

4. To make the glaze: Mix the powdered sugar and coconut oil together until smooth. Stir in the cocoa powder until combined. Invert the doughnut into the glaze and let the excess drip off. Serve warm, topped with ice cream.

Yields: 8 to 10 standard doughnuts
I hope you enjoy these doughnuts! For more information about Ashley's work, gluten free baking, and the wide world of baked doughnuts, you can explore her blog, Edible Perspective.
And, dear readers, I hope you all had lovely weekends! This week, I'll be sharing a quick and easy raw snack (that doubles as dessert), a new Green Recovery story (hooray!), a vegan gravy recipe by way of Food52, and more. I look forward to checking back in soon.
xo