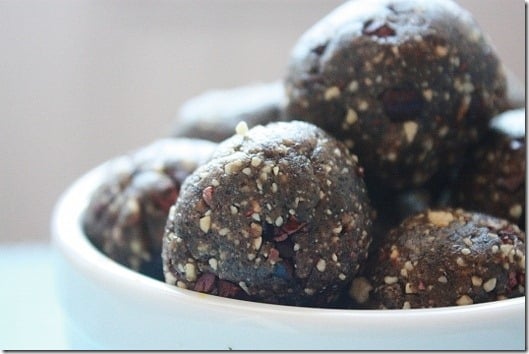 "Hemp cacao energy bites": now there's the kind of title that reminds you that you write a raw-themed blog. Crunchy.
Happy Friday! I'm preparing to interview for a summer hospital volunteer position (cross your fingers for me!) and then it's off to Virginia for some weekend backpacking with M—my first backpacking trip ever, I should add. Exciting! In preparation for this adventure, I decided to spend my Friday morning preparing a nutritious and portable snack.
There's nothing too surprising about this recipe: they're just like any other raw "doughnut hole" or ball, except that I tried to pack in a little more nutrition and texture with the addition of hemp protein and cacao nibs. I also used, as my base, a cup of special and high-quality cashews, which I received to review from the fine folks at Serrv, a co-op that works to bring artisanal foods from all over the world to the US. These cashews, collected and distributed by the nonprofit and fair trade company Just Cashews, are grown and processed in Honduras by a farmer cooperative. While not raw, these cashews are remarkably special: they're roasted on adobe ovens, and they have an incredible, smoky flavor that I've fallen in love with (additionally, there's some debate about whether or not it's possible to get any cashews that are actually raw, though I do try to buy ones labeled as such whenever I can).
Fair trade cashews are fairly hard to find, and conventional cashews are often harvested under fairly exploitative conditions, so these felt like a worthy product to review. You can find more info here. As you can see, the price is quite steep, but I can vouch for the flavor, which is truly the best I've tasted! And in spite of the fact that roast cashews might seem like a strange fit for a date/nut ball, they actually worked beautifully—even though I plan on saving the rest to savor on their own.
Hemp Cacao Energy Bites (vegan, can be raw, GF and soy free)
Yields about 18
1 cup cashews
1 cup pitted dates, packed
2 tbsp agave nectar
1/4 cup hemp protein powder (I like Nutiva)
1/4 cup cacao nibs
1) Grind cashews and hemp protein in a food processor till coarse. Add the dates and run the food processor till the mixture is getting uniform, and sticks together easily. Add the agave and process a bit more.
2) Add the cacao nibs and pulse.
3) Shape mixture into 1 inch balls. Refrigerate for about 30 minutes, then snack away!
I may or may not just have popped a few of these into my mouth on the bus, and I can tell you that they're well worth tolerating the funky green-brown color. Promise. Even if you don't make these guys with fancy cashews, they're a wonderful raw snack. And with the benefits of heart healthy fats, complete protein, antioxidants, and simple sugars for instant energy, they're wonderful fuel for any kind of physical activity.
Hope you guys have some fun plans on the agenda this weekend! I won't be back online until late Sunday night or early Monday, but when I get there, I'll have a full recap of my weekend communion with nature. And, of course, a rundown of my eats.
What's your favorite portable snack? To my outdoorsy readers, what kind of raw fuel do you like to take on a hike?
xo