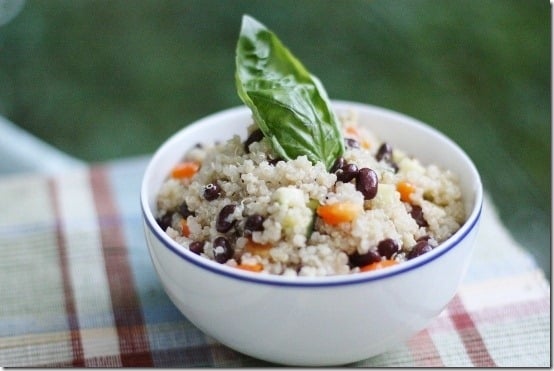 Thank God it's Friday!
A few weeks back, I presented a recipe that fell into the category of a "hurry up" meal: my white bean and summer vegetable pasta. The idea was to show you that eating vegan doesn't mean you can't whip up a nutritious and filling dinner in a pinch: it's a myth that eating plant based food is twice as time consuming and difficult as eating an omnivorous diet (in fact, given the amount of time it takes to cook certain types of poultry and meat, I'd argue the exact opposite).
This week, I began my new summer course schedule, which goes something like this:
8am – 12pm: Lecture
12pm – 3pm: Lab
3pm – 12am: Complete lab report, do pre-lab for following day, do problem sets, study for quiz
Ah, the joys of summer learning, right?
I'm doing my best to fit it all in (and by "it" I mean that I'm trying to make new friends, get to the gym, enjoy some time to myself, and look after CR as well as be a student), but my time for cooking has been limited at best. So my "hurry up vegan" series isn't just for you: it's for me, too.
My second hurry up vegan recipe is even faster than my first, and it's doubly efficient because it makes for terrific leftovers. It's a simple quinoa salad, and it samples some of the best of summer tastes and produce in about six ingredients (not including the dressing). I threw it together the other night before dinner with a bunch of my fellow post-baccs, who had considerately warned me that they were planning on seafood, and I should probably bring a vegan option along with me, and it was ready in about 30 minutes with the help of my rice cooker (the active prep time itself took about 10 minutes). It's fresh, delicious, and so tasty that a few of my friends requested the recipe.
Friends, here it is.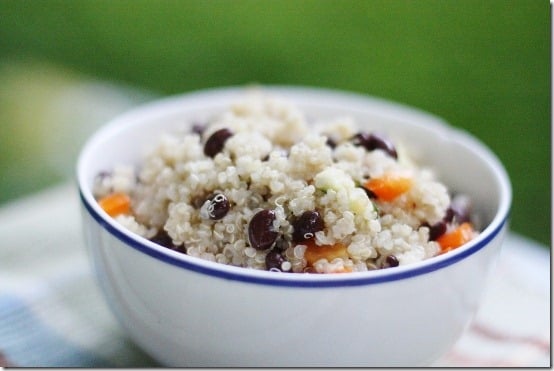 Easy Black Bean and Quinoa Salad with Quick Cumin Dressing (gluten free, soy free)
Author -
Rinse the quinoa through a fine sieve. Place it in a medium sized bowl with 2 cups water. Bring to a boil and reduce to a simmer. Simmer the quinoa for 15 minutes. Turn off the heat, fluff it with a fork, and let it sit for 30 minutes, or until room temperature.

Add chopped vegetables, black beans, and herbs to the quinoa.

Whisk dressing ingredients together. Add to the salad, toss, and serve. Leftovers will keep in an airtight container in the fridge for up to three days.
Could it get any easier?
This salad is nutrient dense, a very complete protein (the quinoa itself is a complete protein, and the beans only compound its protein power), and a wonderful dish to enjoy either warm or cold. I had leftovers for a couple of days, and the salad seemed to get tastier as time went by.
Added bonus? It's awesome with a big scoop of guacamole on top.
Speaking of being in a hurry, the science library is calling my name. Have a great start to the weekend!
xo