 Good morning, all, and happy Menu Plan Monday. It still feels sort of like a holiday here–the streets are relatively quiet, and folks are moving just a little slower than usual. At the same time, one can feel the customary pre-NYE energy in the air–not just excitement for the day, but also the yearly momentum that builds around the idea of fresh beginnings. I've been thinking about how I want to enter 2016, and I'll have some thoughts and reflections to share with tomorrow's post.
For now, I'm super excited to be diving back into some routine dinner menu planning. I kept up meal planning pretty successfully through this past semester, but things got away from me a bit in the last three weeks, with the hectic mixture of finals, holidays, and a lot of client work. This past weekend, I took care to re-stock my pantry a bit with staples (grains, legumes, spices I'd run out of), as well as to clear some space by rearranging items (I put my less-used pantry items up in my higher shelves, and moved everything I use regularly to more accessible storage places). A small action, but one that makes me feel just a little more prepared to jump into my cooking routine again!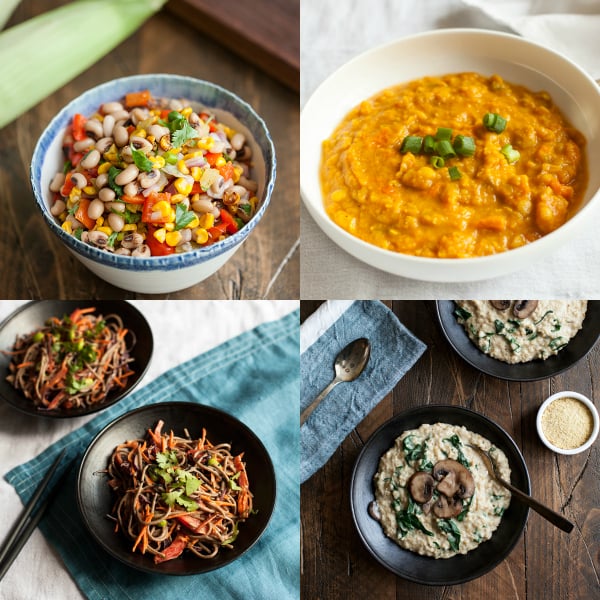 This week's menu features some of my favorite dishes from 2015, including:
Recipes:
•Easy Tahini and Soba Noodle Salad
•My Favorite Savory Steel Cut Oats
•African Spiced Yellow Split Pea and Sweet Potato Soup
•Texas Caviar
Tis the season for black eyed peas, a traditional New Year's food, so I soaked and boiled a big batch of them yesterday, and they'll find their way into the caviar and also a creamy, spicy black eyed pea hummus, which I'll be sharing on the blog tomorrow. Here are the simple staples I've got in the fridge for the week ahead:
Simple Staples:
•Black eyed peas
•Chickpeas
•Red+white quinoa
•Baked sweet potatoes
•Delightfully green tahini dressing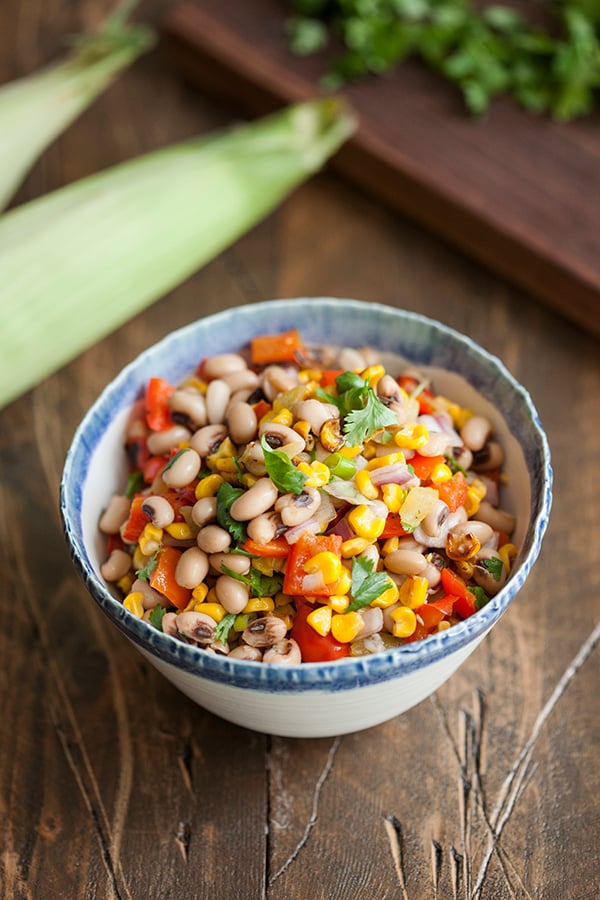 And here's the dinner plan:
Sunday: Easy Tahini and Soba Noodle Salad | Sautéed snow peas
Monday: Butternut squash and brussels sprout bake (a easy recipe I'm making to use up some frozen brussels and squash that I've had in my fridge forever!) | Fennel and red lettuce salad with red endive and simple vinaigrette
Tuesday: African Spiced Yellow Split Pea and Sweet Potato Soup | Big salad with delightfully green tahini dressing
Wednesday: Split pea soup leftovers | Toast | Steamed broccoli with delightfully green tahini dressing
Thursday: Chickpea, cabbage, and wild rice soup (recipe to be shared on the blog next week!) | Big salad with simple vinaigrette
Friday: Moroccan Tempeh and Chickpeas with Prunes and Apricots from Robin Robertson's Fresh From the Vegan Slow Cooker | Basic Massaged Kale Salad from my first cookbook
Saturday: Leftover tempeh and chickpeas | Leftover kale salad
The nice thing about being able to prep a bunch of dinners this week is that I can eat leftovers for lunch every day (in addition to the Texas caviar, which will get a lot of love). It's such a treat when lunch takes care of itself!
And that's the week ahead, friends. I look forward to sharing my new hummus recipe with you tomorrow. On Thursday, a review of my friend Emily's awesome new raw/cooked cookbook, The Rawsome Vegan Cookbook. And on Friday, I'll be reflecting a little bit on going vegan and when the transition feels "real" — a topic that emerged from a question I got from a reader who's new to veganism a few weeks ago. Hope to see you!
xo