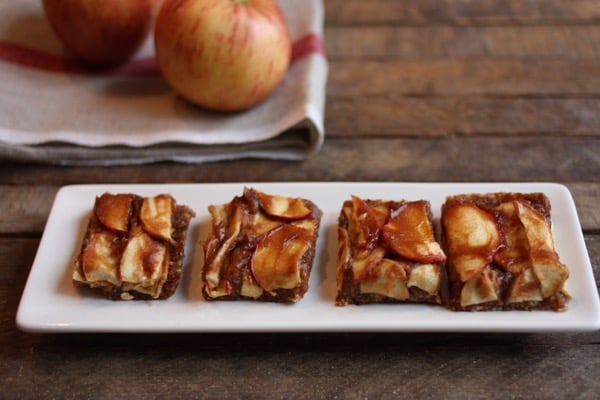 I can't really decide if I think these bars are more appropriately labeled as a "sweet snack" or a "dessert," so I think I'm going to split the difference and call them a "treat." I don't care if you eat them after dinner, or after lunch, or for breakfast. Or for an afternoon snack, perhaps with a nice cup of chai tea. Just make them. And eat them. Because they are delicious and seasonal and heartwarming, and you don't want to miss them.
In spite of all of my raving here, the bars aren't too different from any little goodie you might see on CR. The base is the same formula I use to start off most of my raw energy balls and snack bars: a 1 : 1.25 ratio of nuts to pitted medjool dates. Simple. The topping is two heaping cups of thinly sliced raw apples, which have been drowned in some of my raw, vegan salted caramel sauce.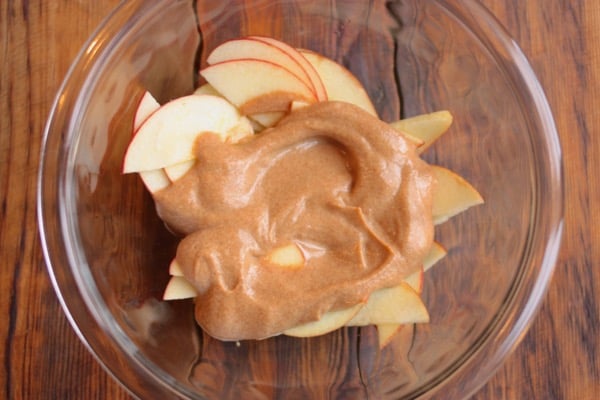 Simply line the apple slices up over the nut/date base, and you have a wonderful raw treat: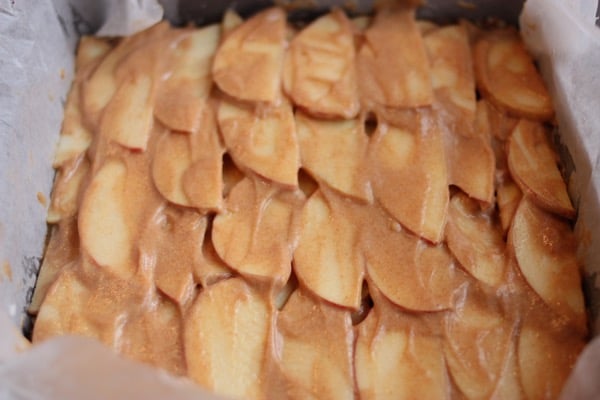 At this point, you can let the bars sit in the fridge for an hour or so, to set, and then slice and enjoy. The apples will be a little crispy/juicy and the bars will be a little messy to cut, but they'll taste perfectly wonderful. If you have a food dehydrator, you can also stick them in the machine for 6 hours, which will make the caramel darker in color (and a little more authentic looking) and will make the apple slices wilt down and stick to the bars.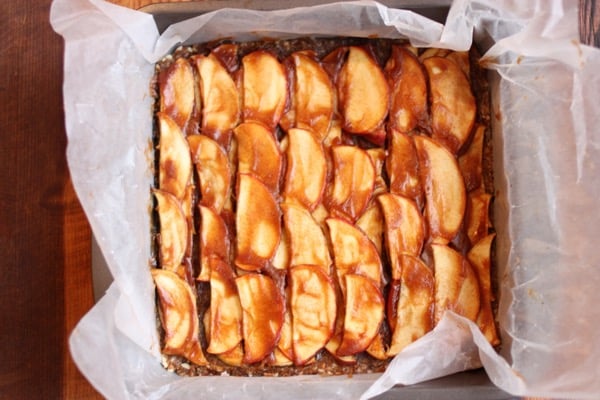 They'll be easier to cut and more portable, but you won't escape a little ooey, gooey, sticky mess. And that's kind of a good thing.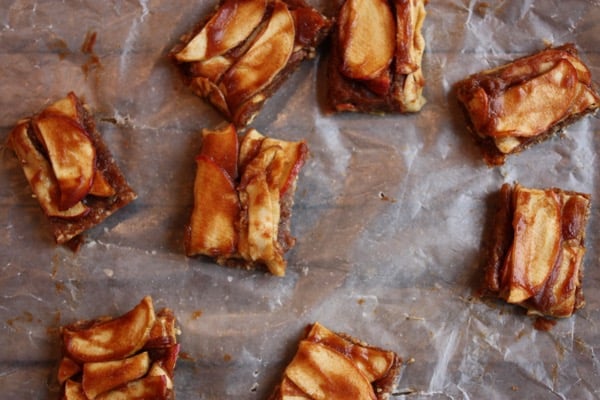 Here's the recipe.
Raw Caramel Apple Pie Bars
Author -
1 1/2

cups

raw almonds

1/4

teaspoon

sea salt

1 2/3

cups

medjool dates

pitted

2

heaping cups apples of choice

sliced into thin (1/4 inch thick or slightly less) semicircles

1

cup

of my raw

vegan salted caramel sauce
Place the nuts, sea salt, and dates into a food processor. Process for 2-3 minutes, or until the nuts are totally broken down and the mixture is uniform and sticking together. When you squeeze a small amount in your hand and it sticks together nicely, you're done.

Press the mixture into an 8 x 8 baking dish that has been lined with parchment or wax paper. Make sure it's distributed evenly through the pan. This is your bar base!

Place the apples in a mixing bowl and cover them with the sauce. Make sure that all of the pieces are evenly coated. Arrange them in two layers on top of the base. For each layer, you can line up the apple slices in rows, with each piece slightly overlapping the one next to it (as pictured).

If you don't have a dehydrator, transfer the bars to the refrigerator and allow them to cool for an hour. Cut them into squares and serve. The apples will still be a bit juicy and crisp, so use a pizza cutter for slicing them. If you do have a dehydrator, place the baking dish into the machine and dehydrate at 115 for 6 hours. Allow the bars to cool, then cut them into squares and serve. Un-dehydrated bars will keep, refrigerated, for 3-4 days (an excuse to eat them faster). Dehydrated bars will keep in the fridge for up to one week.
And here is the finished product. So delightfully good.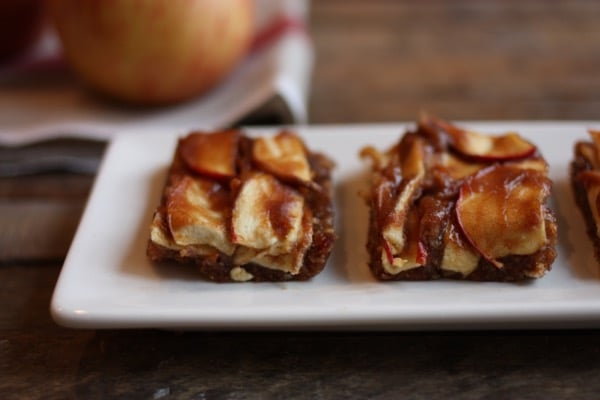 These bars are so great to have in the house during Thanksgiving week–a pick-me-up for you, for friends, for family–and they'll be appropriate all throughout the holiday season. Take them to gatherings, share them with coworkers, and give them to loved ones.
Or, you can just make them right now and eat them all week long, which is what Steven and I will be doing.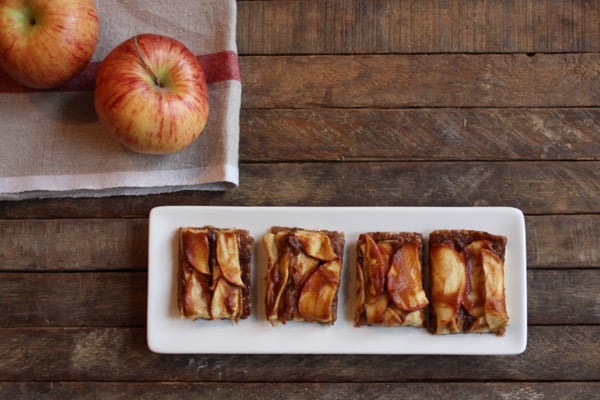 Enjoy! I'll be back tomorrow with my ideas for Thanksgiving 2014 — all vegan, of course. See you soon.
xo