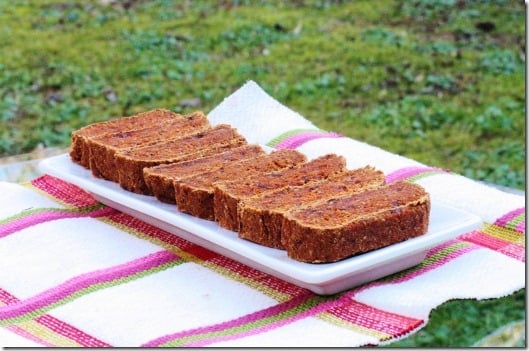 Thanks for the intelligent commentary on yesterday's post. I look forward to more discussions about vegan attire!
Switching gears today, I'm here with a new raw bread recipe—carrot oat bread, to be precise. You may be thinking that I've started to repeat myself: I already have two recipes for raw bread (here and here) that features carrots and/or dried fruit. So what am I doing making another one?
Well, I'll be honest: I have a lot of carrot pulp to use up. That's one reason. And since I'm not in the mood for carrot cupcakes again, bread it is. I am not, however, repeating the same flatbread/cracker like concoctions I've already made—promise! Instead, I'm bringing you a soft, dense, and thick bread, that's a lot more like the real thing than my thinner, crispier breads have been.
The trick here was substituting oat flour for the usual mix of ground nuts/seeds and flax that I typically use. How did I make raw oat flour? By simply grinding up raw oat groats in my coffee grinder (which I don't actually use for coffee; I use it for flax, chia, and grains that I want to make powdery for my recipes). If you have a Vitamix or a grinder, you too can make the homemade raw oat flour; if you don't, you can grind up rolled oats in a food processor, or you can simply use store bought oat flour (Bob's Red Mill makes one that is gluten free, no less).
Raw, Vegan Carrot Oat Bread (gluten free if you use GF oats, soy free)
Makes about 10 slices
2 heaping cups carrot pulp or grated carrot that has been squeezed thoroughly to remove excess moisture
1 cup oat flour
12 prunes, soaked in hot water for 30 min or more and drained
1/4 cup water + extra for blending
1 tsp sea salt
1/4 cup flax
1) Place pulp and prunes in a food processor fitted with the S blade. Process with the 1/4 cup water till the mixture is smooth.
2) Add oat flour, flax, sea salt. Process mixture into a "dough" that forms a ball. You may need more water, but don't assume you will: drizzle it in only if your dough is much too pasty.
3) Shape your "dough" into a cute mini-loaf. Score the top into thick slices, about ten.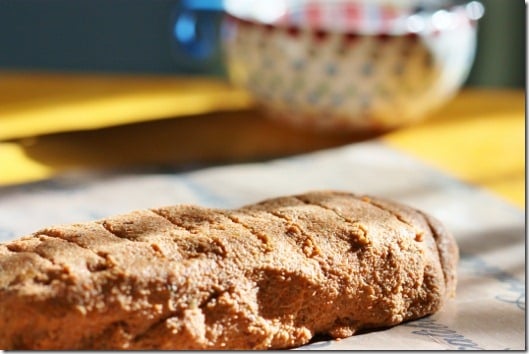 4) Dehydrate at 115 degrees for about 4 hours. Flip it so that the bottom is exposed, and dehydrate for another 3. Slice dough along score marks, and dehydrate the slices for another hour or so. If it's still moist, keep dehydrating, but remember that the bread should be chewy, not crunchy. Don't overdo it!
Alternately, you can bake the bread at 300 for about 40 minutes. However, I urge you to check it often, since I haven't tried this method myself, and I don't want to give you instructions that will ruin it!! It's too cute to ruin: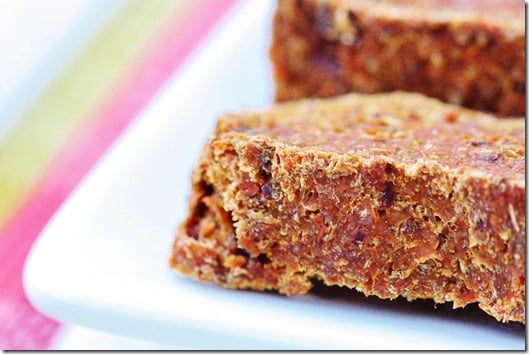 Of all the raw breads I've made, this is by far the most "bready." The slices are quite small, you'll find—they kind of resemble biscotti—but for a loaf that is 100% raw and vegan, they're not bad at all.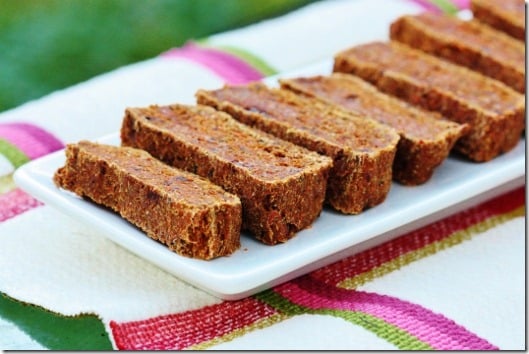 Along with some almond butter and apple? An incredible raw breakfast.
A few other cool things about this recipe: first, since we've all been discussing student-friendly food, note that the ingredients are fairly inexpensive. Prunes are less costly by far than dates, and oats are infinitely less pricey than nuts! Carrots are usually budget-friendly, and flax is cheaper than, say, chia. To say nothing of the fact that the recipe is a chance to reuse juicing leftovers.
Second, this recipe is friendly to my readers who find the volume of nuts/seeds in the raw diet a little intimidating. Though I do think that nuts and seeds have an important purpose in all vegan diets, I totally understand that they're overused in many raw recipes. Oat groats, though unconventional, are a fun alternative.
And the taste? Well, I love it. This bread isn't very sweet; don't expect it to taste like a cupcake in spite of the prunes. I think they give it just enough sweet flavor. It tastes a little "bready" from the oats, and I think the salt lends it a lot of flavor, too. It's a very mild, very basic bread upon which you can stack all sorts of toppings, dips, fruits, and veggies.
Before I go, have you picked up the January issue of VegNews yet?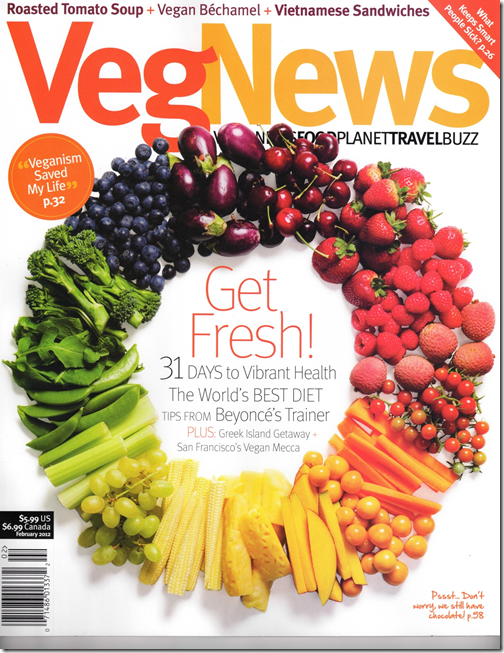 In addition to featuring great articles by Jasmin and Corinne, it also features my regular column, "Raw Done Right." This month's recipe? A wonderful raw pad thai, which was made all the more appealing in Hannah Kaminsky's amazing photography: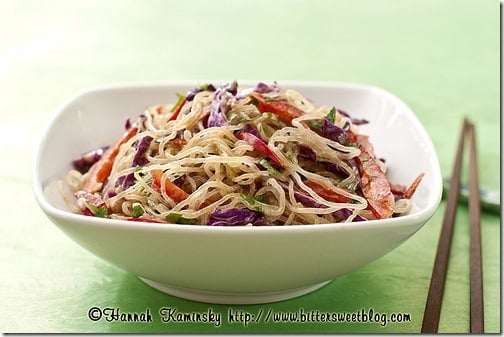 Hannah, will you always make my food look that good?
Check out the latest issue of the magazine for the recipe, and many other mouth-watering delights!
xo