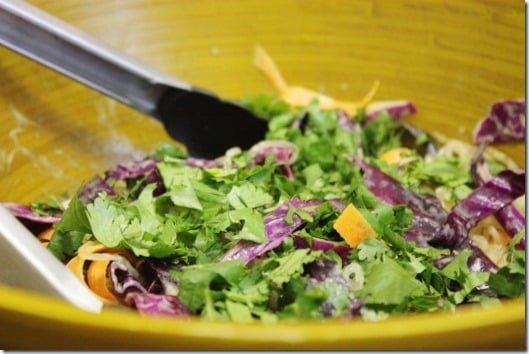 When you move to a new city, it's nice to have friends who welcome you with waiting arms. In my case, this is my friend Andrea, who shares my love of all things raw, whole, and plant-based. She also happens to be an exceptional cook with a culinary background (she grew up in and among restaurants). So when Andrea invited me over for a dinner at her place, I knew I was getting something exceptional, and I was not disappointed.
That's raw pad thai, made with kelp noodles and some pan seared tempeh. Heavenly.
Did you know that the primary ingredient in pad thai—aside from fish sauce, which of course isn't in vegan paid thais—is tamarind juice or paste? I certainly didn't. I often allow Andrea to teach me this sort of stuff: she's culinarily adventurous, and she takes flavors and ingredients seriously. I'm also delighted to see that she's caught the kelp noodle bug! I plan on making my first Sea Tangle order soon, so that I can try this stupendous recipe out for myself. For now, here it is, in all of its nutty, sweet, salty glory.
Note than Anrdrea improved by using tamarind chutney rather than paste, since she didn't have time to get the latter. It's a great tip for busy cooks!
Raw-ish Pad Thai Sauce (high raw, vegan, GF)
Yields 1 1/4 cups
2 Tbsp tamarind paste (or tamarind chutney in a pinch)
2 Tbsp apple cider vinegar
2 Tbsp tamari or nama shoyu
1 Tbsp toasted sesame oil
1/4 tsp thai curry paste or sriracha
2 pitted, soaked dates
1/3 cup tahini
1/4 cup water (or more if you want a thinner consistency)
Blend and pour over kelp noodles, shredded carrots and julienned cabbage. (Bok choy and/or sprouts would also be great).
To make the tempeh as Andrea did, simply pan sear it in coconut oil and a bit of nama shoyu or something salty, until nice and brown.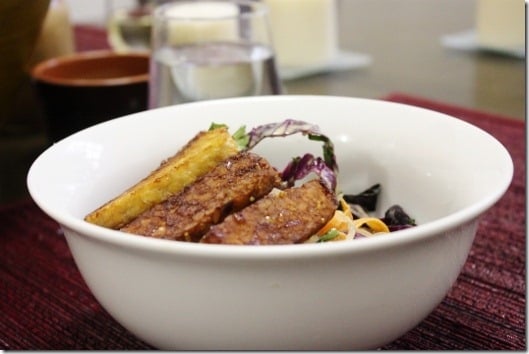 This is a wonderful meal for raw eaters, cooked eaters, vegans and non! The tempeh keeps things filling, but the raw noodles satisfy high raw lovers of light and fresh cuisine. Moreover, the whole dish is very familiar to omnis and anyone who's used to a good noodle bowl. I'd say it's an ideal meal to serve for company.
Thanks to Andrea for a lovely evening—I cannot wait to connect her with Valerie! I suspect they'll have a lot to talk about.
Hobbit House update: Things are still puttering along, slowly and surely. It's hard to focus on unpacking when you have so much other stuff to do, including prepping enough hors d'oeuvres to feed Napoleon's army (more on that later). But I'm getting there.
The week has been full of discoveries about my new place. The not-so-fun ones include realizing that my oven is sort of only half-functional. (That's a pretty annoying thing to realize halfway through roasting eggplant.) The fun ones include finding out that I have a backyard at my disposal: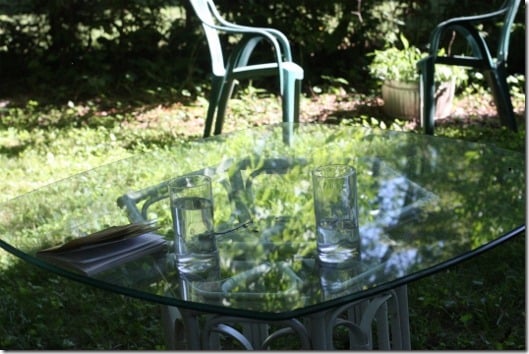 Yes! A yard! Where I can eat, and read, and study! Yards are the quintessential things that NYC children grow up without, and even though we insist we turned out normally and optimally without them, we still tend to go crazy over them when given a chance. Get ready for many CR breakfasts and lunches and dinners out here. Not to mention lunch and tea dates:
To find out who visited me yesterday, you'll just have to hang on till tomorrow. Have a great Saturday, guys!
xo