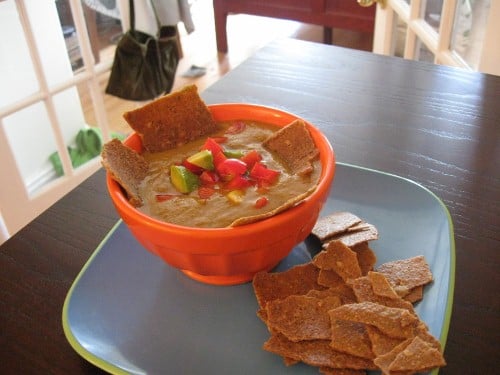 Happy Monday, guys!
Thanks for the lovely feedback to Cory's highly informative guest post!
When people transition to a raw diet, they tend to anticipate missing things. For this reason, most new raw foodists spend a whole lot of time trying to re-create their favorite "cooked" recipes in raw form: raw lasagna, raw noodles, raw "rice," etc. At this point, I'm accustomed enough to the raw lifestyle that I'm more interested in simple preparation than in trying to replicate a cooked diet. But as I was transitioning, I, too, spent a great deal of time mimicking warm dishes, and I still get a great kick out of helping clients to find raw recipes that feel reminiscent of conventional cuisine.
But believe it or not, going also gave me an appreciation of certain foods I'd never liked in cooked form. I've always loved avocados, of course, but I'd never been much of a guacamole lover till I discovered the raw diet (and realized that you can omit the red onion from guac!). I hated cilantro until I discovered avocado and cilantro soup. Even cooked spinach used to give me the heebie jeebies; raw spinach, though, tastes refreshing and delicious. In other words, there are certain dishes and foods I'd rather eat raw, plain and simple.
For instance: raw tortilla soup.
I've never been one for regular 'ole tortilla soup. There are many reasons for this: one is that the soup is often made with chicken or chicken stock. Another is that it's typically heavy on spices and seasonings, and I have a minimalist's palate. It usually carries notes of garlic and onion, which you all know I can't abide by. And finally, it usually feels over salty to me. Last week, though, a client of mine mentioned having been very impressed by a raw tortilla soup. And since I've still got some of the incredible raw blue corn chips that Pure Market Express was kind enough to send me, I got to thinking: could I improve upon the original in raw form?
I hate to pat my own back, but mission accomplished! I'm in love with this soup, and I've been eating it for days. It's spicy without feeling heavy or overwhelming; light enough for a hot summer day, but satisfying enough for evenings. And it really does recall the original in its use of characteristic Mexican spices and flavorings.
Raw Tortilla Soup (serves two people with appetites)
Ingredients:
2 tomatoes, chopped
2 large red bell peppers, chopped
1/4 cup sundried tomatoes, packed
1/4 cup fresh cilantro, packed
2 large stalks celery, chopped
3/4 cup water
1 tbsp lime juice
2-3 tbsp olive oil
1 tsp salt
3/4 tsp cumin
1/2 tsp chili powder
1/4 tsp paprika
1 clove garlic (optional!! raw garlic is powerful, folks)
Dash cayenne pepper (optional)
Optional toppings: tomato, avocado, onion, corn chips
Instructions:
Blend all ingredients in a minus the olive oil in a blender (a high speed blender will work best, but any will do). When the ingredients are well combined, drizzle in the olive oil with the motor running until the whole mixture is creamy and emulsified. Pour into bowls and top with the chopped veggies and the corn chips! Serve alongside more chips, some pita strips, an Ezekiel sprouted wrap that you've warmed in the oven, or simply some chopped veggies for a delicious lunch!
If you don't have raw corn chips — and, let's face it, why they hell would you — go ahead and use the Guiltless Gourmet brand of corn chips, which are made with integrity.
I hope you all enjoy this Mexican inspired treat soon!
xo