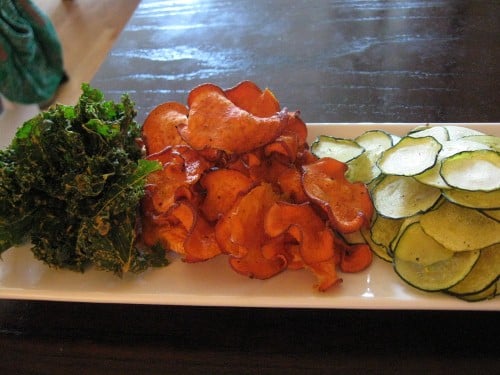 Hey guys!
Happy Memorial Day. It's warm and sunny here in NYC, so I hope anyone who's local is taking some time to enjoy the weather and soak up a little vitamin D!
Starting tomorrow, my schedule will be shifting–not, I'm afraid, for the better. Between this coming week and the end of July, I'll be working later than usual–probably till 9:30 or 10:00 pm each night. This has some unpleasant side effects–less time with my friends, later bedtimes (because I'll have counseling work to do when I get home), and less time to enjoy the long daylight hours. But it's professionally important, so I'm making the best of it!
The real downside of working later will be having less time to cook. Sad face! Creating nourishing and tasty food is my favorite hobby and one of my only creative outlets; it is also, obviously, a huge part of my work as a blogger. I hope you'll all bear with me patiently for the next two months as I work my derriere off, forgiving me when creative recipes don't go up as often as usual. August will afford me more time for fresh and innovative food: that's a promise!
Working past 8:00 pm means dinner at the desk (or on the go). This, in turn, means that, for the next 6-8 weeks, I'll be packing all three meals and snacks every single weekday. Ooof! This will require
Superhuman organization
Weekend planning
Efficient leftover usage
Remembering to freeze excess food
Keeping a checklist in my head each morning of what I'll need for the day, so that I pack it all accordingly.
I've certainly gone through periods of late working hours like this before, so I know what I need to do: the trick is staying energetic and organized, so that I don't fall into the habit of squandering money on takeout or the Whole Foods salad bar.
Packing three meals a day also means relying on more prepared foods than I usually do, which is sort of a bummer in that it quashes my love for all things spontaneous and fresh, but absolutely necessary for my schedule (and sanity). In this busy period of time–and whenever I'm away from my apartment more than usual–foods that will keep me going include:
Nutrient dense salads, packed up the night before work
Sprouted bread sandwiches, filled with marinated veggies, avocado and greens, hummus, or other veggie-based fillings
PB and banana on manna bread. A comfort food fave.
Grain salads–favorite bases for these include quinoa, millet, wheatberries (sprouted or boiled), and brown rice
Raw collard wraps, with various nut pates and nut cheezes as fillings
Snack plates of hummus or nut butter and raw veggies
Larabars, Wild Bars, and Flying Vegan bars (for more on my top energy bar picks, check out this recent post)
Homemade raw trail mix
Lydia's raw crackers
Brown rice sushi rolls from Whole Foods when I'm feeling lazy 🙂
Naturally, other foods will make appearances in what I'm eating, but these will be the fundamentals. Stable, quick to prepare, and transportable.
Another food trend I expect in the next two months is increased use of my dehydrator. You all know how I feel about the dehydrator: it's not an appliance I use often, and if I hadn't been gifted with one, I wouldn't have invested in it: since I'm not strict on the 115 degree law (or enzyme theory in general), I'd be content to bake food at a very low temperature in my oven. However, I do have a dehydrator, and it will come in handy in the coming weeks, as I work to prepare foods on the weekend that will remain shelf-stable and snackable.
This weekend, I decided to fire up the dehydrator with my first batch of portable snacks: veggie chips. In spite of the fact that I have almost no memory of eating regular potato chips (I know I did when I was little, but I don't remember, and didn't have much sentimental attachment to them), I do love a bit of crunch in my life, and I love it even more when it comes with some vitamins and nutrients. What could be better for this than veggie chips, which are painless to make and lack the sodium and low-quality fat content of conventional chips?
Making veggie chips is truly a cinch. Slice whatever veggies you're using (eggplant, zucchini, yam, white potato, turnip, carrot, parsnip, etc.) very thinly–I'd say 1/8 inch is ideal–on a mandolin, in a food processor, or by hand. Toss them in a bit of olive oil or coconut oil, salt, pepper, and any spices you like (Italian spices are great; so is cumin or chili powder, especially on sweet potatoes or yams). Next, arrange all veggies on mesh dehydrator sheets (covered with Teflex if you like) and dehydrate for about 5-8 hours, or however long it takes for the chips to dry out and get crunchy. I used zucchini and sweet potato, like so:
After a night in my dehydrator, they were crispy, salty, and ready for munching! I served them as appetizers in a special lunch for my Mom yesterday:
From left to right, that's leftover tomato tahini kale chips, sweet potato chips, and zucchini chips (which my friend Bitt has also made!).  They were a hit, and I've got a ton leftover to pack up for snackage this week. It's one small item to check off my planning ahead list, and it couldn't possibly have been easier to accomplish.
Before I sign off for the day, I wanted to share this week's nutrient dense salad: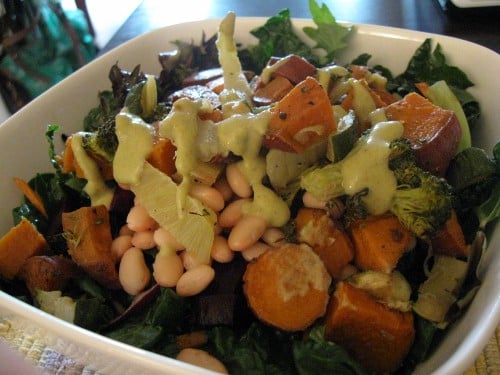 That's chopped sweet potato, massaged kale, white beans, marinated and dehydrated broccoli and fennel, and zucchini dressing.
With that, I'm off to get some editing, reading, and more logistical planning done before the week begins. I'll be back soon. In the meantime, wish me luck!!
xo