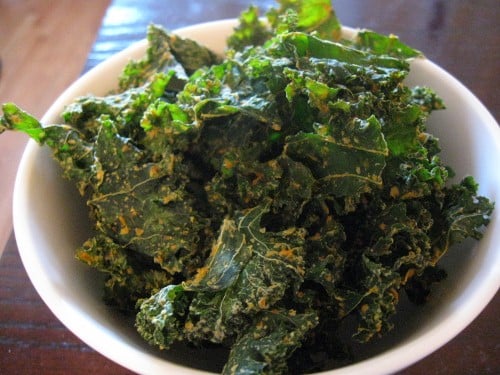 Wow! I'm so glad that you're as into salad dressings (and the nutrient dense salads they help to create) as I am. I've spent the week using my tomato tahini dressing up in various ways, and enjoying them all!
One of my favorite applications so far is to use the dressing as a marinade for kale chips. Most rawcurious eaters (and many non-curious ones, too!) have experimented with kale chips before. I was actually late to jump on the kale chip bandwagon, when I played around with Averie's kale chips in Florida. Now that I've discovered them, I've prepared them in various ways: raw and cooked, dressed up and plain. It had never occurred to me to use tahini on my kale chips, but on Monday, as I dove into a bowl of massaged raw kale and tomato tahini dressing at lunchtime, I thought "why not?" Luckily, I had some kale that was about to lose its freshness in the fridge, and plenty of dressing.
The "recipe"? Easy. Wash, chop, and spin a very small bunch of curly kale (or half a bunch of large kale). Make sure it's quite dry. Then, cover it in 1/4 cup tomato tahini dressing and massage it with your hands till its evenly coated. Load it onto a dehydrator tray, and dehydrate it for 8 hours or so. When it's done, it should look like this (sorry for the blurry photo!):
And they'll smell nice and tangy.
The finished product:
I've found some kale chip recipes to be very heavy; others are far too plain (namely, the ones that only involve oil and sea salt). These are a perfect in between: decidedly flavorful, but not overly heavy or salty. Yum! If you don't have a dehydrator, never fear: you can stick them in an oven that's on low (about 200 or 250) for an hour or two. Test them, and if they need more time, put them back in the oven till crispy!
There's nothing I love more than recipes that can double up in applications: dressings that can be marinades; soups that can be dips; raw "rice" that can be a stuffing or a salad topper–you get the idea!
Hope you try the dressing–and these chips–very soon! I can't wait to hear what you think 🙂 I'll be back soon!
xo