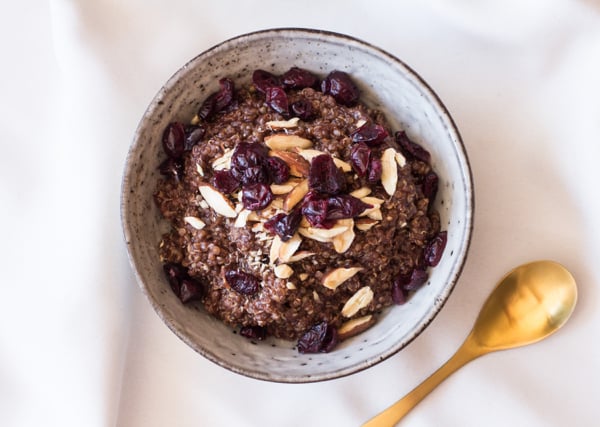 If you've been following the #VVC2013 madness on Instagram, Twitter, or in the recaps, you may by now have seen the generous swag bag, which was stuffed to the brim with cookies, toffees, lip balm and body butter, chips, chocolate, snack bars, coupons, and other goodies. Figuring out how to fit all of my loot into the tiny suitcase I'd packed was harder than solving a Rubik's cube, but I managed, and brought home with me a gaggle of goodies, along with the twenty or so peanut butter samples I had snagged from the conference. The heaviest bit of swag I toted back was a bag of amaranth from Bob's Red Mill.
I'm a little frightened of amaranth. I've tried it a few times, only to dislike it; it's always ended up pasty, and I naturally prefer larger, chewier grains to teeny tiny ones. That said, I decided to regard this bag of amaranth as an opportunity to get to know the ancient grain a little better. Amaranth is relatively high in protein, calcium, and iron, and it's also very high in fiber. It was first cultivated in Central America, and to this day it appears in many traditional Mexican recipes.
At the conference, I confessed to JL and Ginny that I was intimidated of amaranth, and both of them assured me that the best way to enjoy it is to mix it with other grains, like millet or quinoa. I decided to try cooking a half and half batch of quinoa and amaranth, and lo and behold, I really loved the resulting grain mix. Because quinoa is super fluffy and amaranth is denser, the mixture was a nice in between. I also loved the variety of texture here. I used to do oat+millet and barley+oat combinations all the time, and I've sort of forgotten that two grains can be better than one.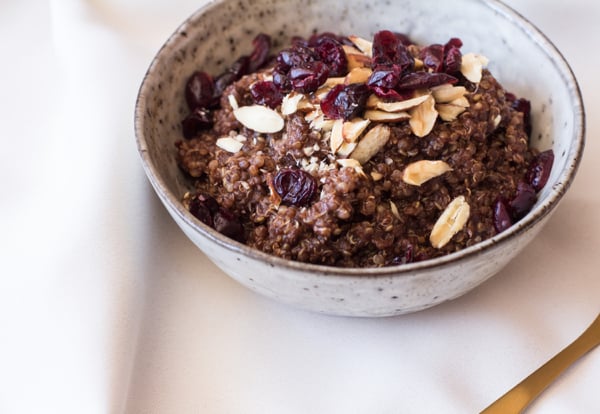 You could do anything you want with the cooked mixture of amaranth and quinoa: serve it with roasted or steamed veggies and a simple tahini dressing (like the one I serve with my raw falafel), pile it on top of a meal sized salad, or use it in a stir fry. Or, you can make the following porridge. Sure, it's (almost) June, and porridge season is behind us, but after a chilly and drizzly long weekend in Portland, this one hit the spot!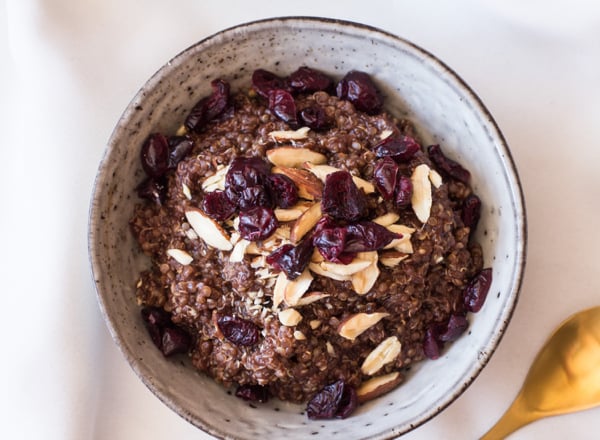 Simple Amaranth and Quinoa Porridge (Gluten Free & Soy Free)
Cuisine:
vegan, gluten free, soy free, no oil, tree nut free option
Author:
Prep time:
Cook time:
Total time:
1/2 cup dry quinoa, rinsed
1/2 cup dry amaranth
2 cups water
Pinch salt
2 cups almond milk
1 tbsp coconut sugar, agave, or maple syrup
2 tbsp flax meal
1/4 cup sliced or slivered almonds (or another nut/seed)
[i]Optional[/i]: fresh blueberries, dried cranberries, or any other fresh or dried fruit
Combine water, salt, and grains in a medium pot and bring to a boil. Lower the heat to a simmer, cover the pot, leaving the lid slightly ajar to let air escape, and cook for 25-30 minutes, or until water is absorbed and grains are tender. At this point, you can use the grains in any way you'd like, or move straight into the porridge. I like to prep the grains in advance and then refrigerate them, so that I can whip up the porridge quickly on the next morning or two.
To make the porridge, combine the almond milk and sweetener in a medium pot and add the grains. Simmer over low heat for a few minutes, then add the flax. Continue to cook until the almond milk has absorbed quite a bit, and the porridge is a desired texture (I like mine creamy, but not liquidy).
Divide porridge into four bowls. Top with the almonds and an extra pinch of sweetener, if desired. Stir in dried fruit, fresh fruit, or any other fixings you like!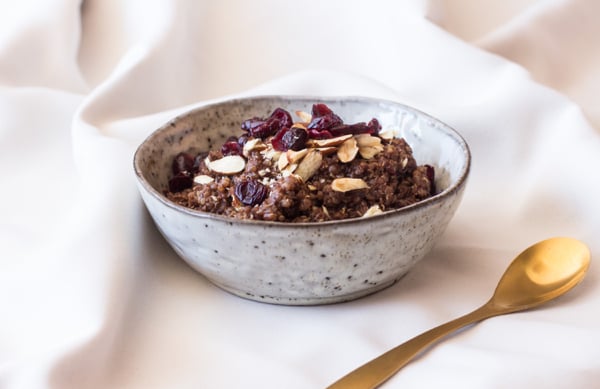 Of course, if you live solo, as I do, you can whip up the grains in advance and then make the porridge in individual servings (so you use a half cup of almond milk, a heaping teaspoon of flax, and just a pinch of sweetener for each serving).
I tend to make my mind up quickly about ingredients (I make my mind up quickly about everything!), but this porridge was a good reminder that preparing something in a new way can often reveal hidden virtues. I'm happy to have amaranth in my life.
Tell me, how do you all like to prepare amaranth? I'm eager for more ideas!
xo