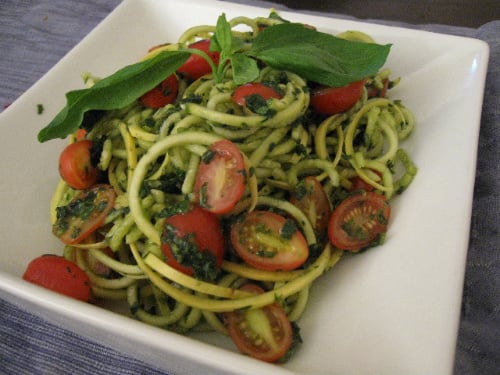 Last Saturday, you heard me extol the virtues of basic recipes that lend themselves to many different variations. Well, there is no more versatile recipe than vegetable pasta. You can dress it with marinara sauce (like the red pepper marinara I love so much), cashew alfredo, various kinds of pesto, macadamia cream sauce (which I've tried before and liked) or even a simple vinaigrette. I've even been known to enjoy raw Caesar dressing over zucchini pasta! The possibilities are endless; vegetable pasta is every bit as versatile and fun as its cooked counterpart.
Last night, I was craving zucchini spaghetti, but I was also wiped out from work and feeling a little lazy. So in spite of the damp and chilly weather, I decided to make one of my favorite summertime recipes: summer squash linguine with fresh basil pesto—a.k.a., slothful single girl's summertime pesto.
The logic behind the title of this recipe is simple:
1)    It's ridiculously easy, and fitting for a slothful mood
2)    It serves one, so it's suitable for single ladies (or gentlemen)
3)    It's best with fresh farmer's market basil in the summer. Last night, I just picked up a small bunch of relatively tasty basil at the grocery store on my way home from work.
4)    I like alliteration, OK? Sue me.
Here's the recipe:
Slothful Single Girl's Summertime Pesto
Ingredients:
2 cups basil, packed
¼ tsp sea salt, or to taste (I used a bit less)
2 tbsp olive oil
Procedure:
Blend all ingredients in a food processor. You'll probably need to stop frequently to scrape down the bowl; you may need to add more oil, so use your judgment.
Serve over a heaping bowl of zucchini linguine and halved cherry tomatoes, and garnish with basil leaves. Enjoy!
Now, there are many more elaborate and tasty pesto recipes out there, and most use nuts. One of my favorites uses pumpkin seeds, and I hope to make it soon. But this minimalist recipe wins the award for speed, and it also has the advantage of being totally neutral, so those of you who honor food combining (like me), can enjoy it in any combination.
I was so impressed with how the yellow squash turned out using my new Paderno Spirooli!! The noodles were thicker and sturdier than the angel hair-like pasta that my Joyce Chen spiralizer used to make: I loved the texture. Check it out:
A photo of the dish: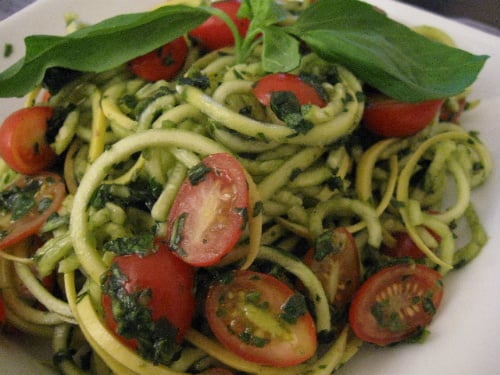 …which I ate alongside a giant salad, obvi:
Of course, this reminds me to remind you all to enter the spiralizer giveaway, if you haven't yet! I'll be announcing the winner on Monday.
I hope your mornings are off to a good start!
xo