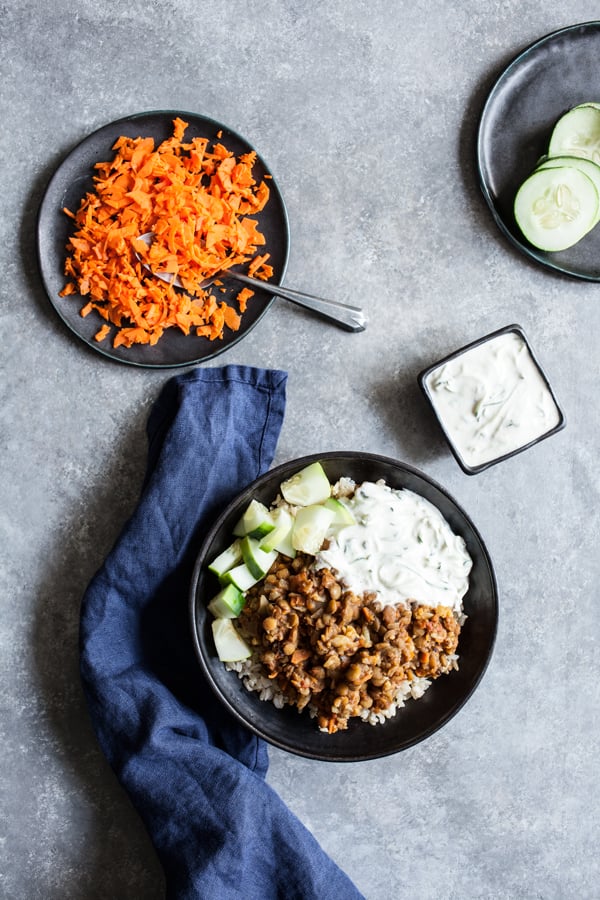 Happy Thursday, everyone! I'm back in town after a short, yet meaningful getaway with Steven. We've stayed close to home for various reasons this summer, but we've also been trying to break our routines when we can and find more time to connect. The past few days helped us to do that, and I'm feeling grateful for them today, as we settle back into the swing of things.
It can be tough to re-adjust after travel, no matter how brief, and I've always found that having some food in the freezer helps to make the return home easier. I love knowing that there's something nourishing waiting for me, and it's a relief not to have to fret about restocking groceries right away. At the moment, I'm savoring defrosted leftovers of these flavorful, slow-cooker spiced lentils and cauliflower, a recipe from Ali Mafucci's fun new book, Inspiralize Everything.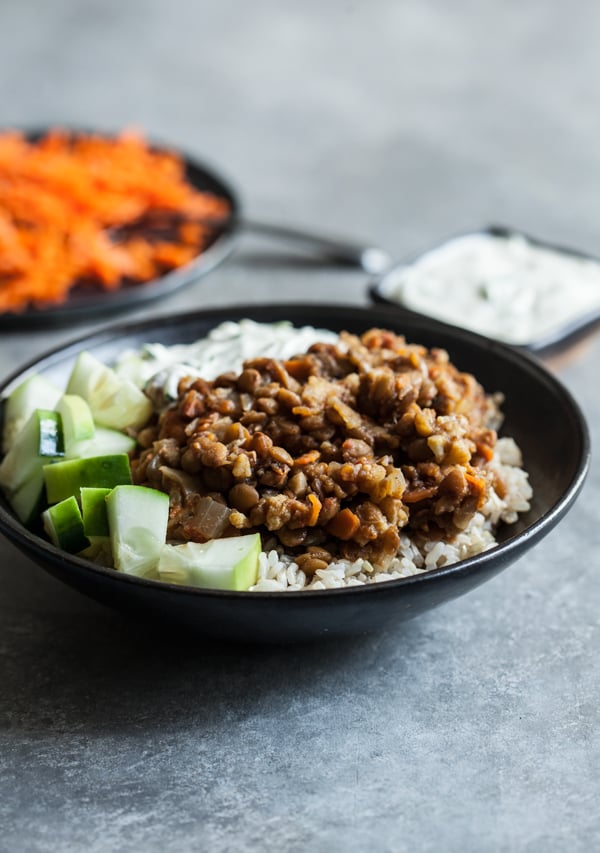 I love spiralized vegetables, but I don't always connect with the way they're presented, often as a means of slashing calories or avoiding carbs. Since I'm not focused on either, I embrace zucchini and carrot pastas–along with the other spiralized veggies I've tried, like jicama or sweet potato–simply as a means of creating something fresh and playful with vegetables. Spiralizers can help to make vegetable-centric meals more appealing for folks who might not naturally be inclined toward eating a lot of produce, and it's always delightful to discover how many veggies lend themselves easily to "noodles" or "rice"!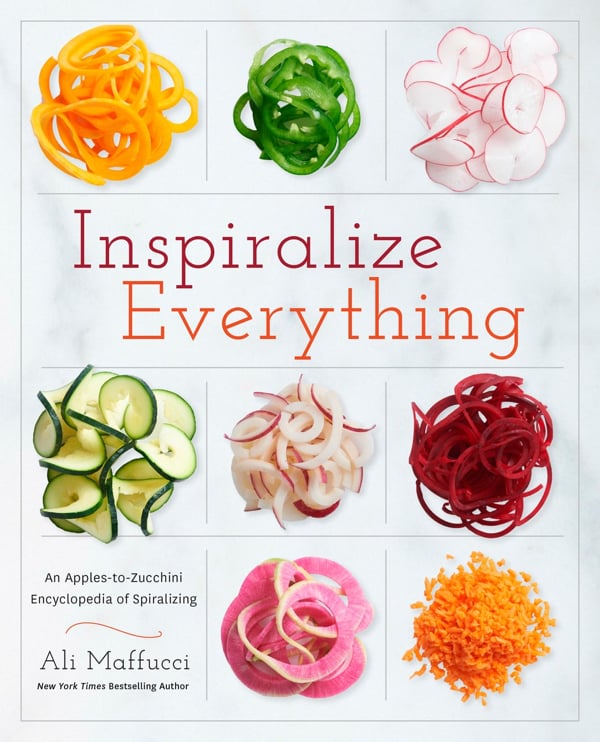 Ali's new cookbook (a follow up to Inspiralized, which I reviewed last year) is all about finding new and exciting uses for the humble spiralizer. The book is a collection of over 100 recipes, each wrapped around a spiralized fruit or vegetable. Ali uses 20 different types of produce, organized alphabetically, and her culinary creativity is on full display. Some of my favorite recipes include zucchini noodle minestrone, cauliflower steaks over roasted garlic tomato turnip noodles, creamy spinach and artichoke sweet potato pasta, and rutabaga gratin. She even has an easy, quick-cooking spiralizer ratatouille.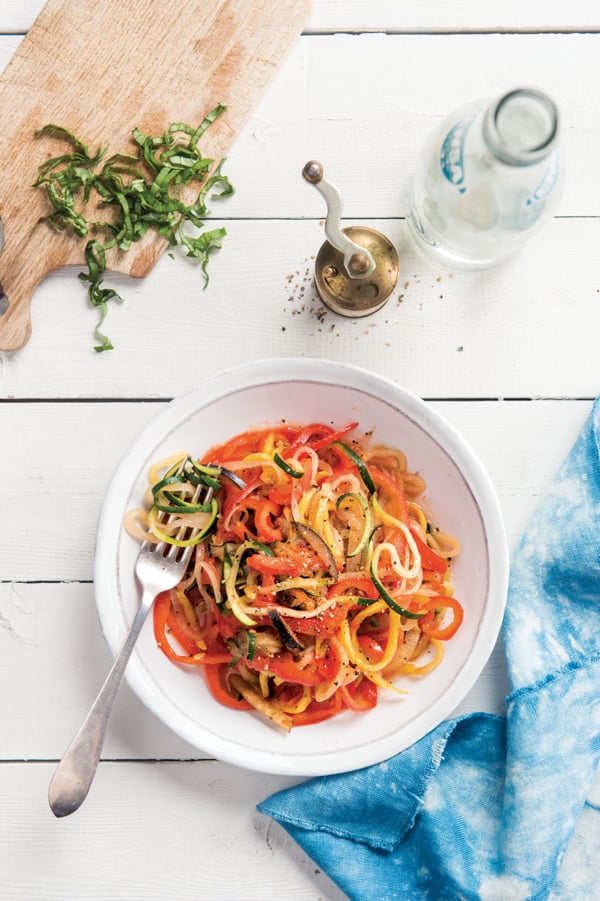 As always, Ali is an upbeat ambassador of spiralizing for everyone. And in this book, I think even more of her personality shines through, including a love of global cuisine, small glimpses into her everyday life at home with her husband (and recipe tester), Lu, and her personal passion for cooking with farm fresh ingredients.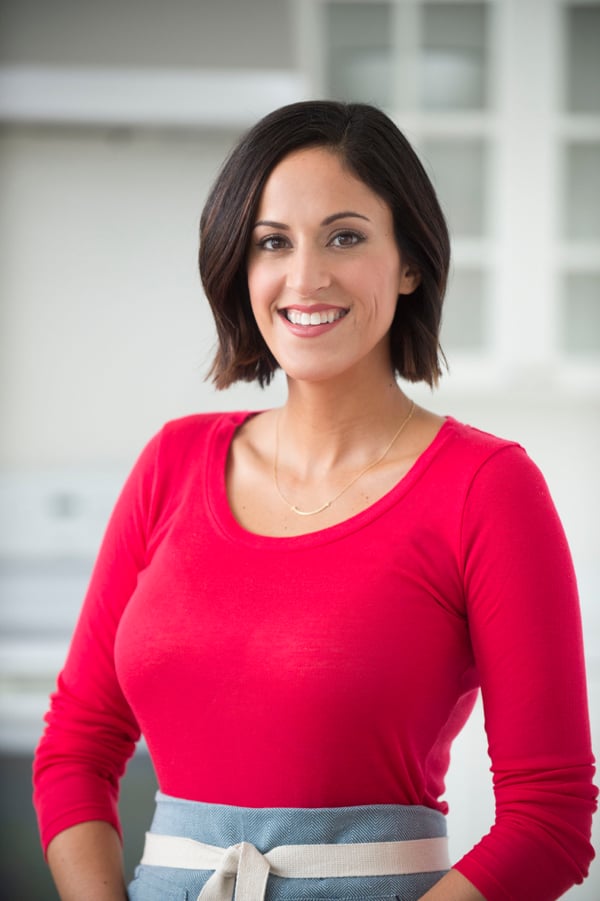 If you've visited her site in the past, then you know that Ali features recipes that are appropriate for a huge variety of different dietary styles, including vegan, raw, paleo, and omnivore. Both of her books are totally vegan-friendly: this one features 22 dedicated vegan recipes, and I'd say that most of the vegetarian recipes and even some of the omni recipes can easily be veganized with the addition of vegan cheese or tofu/tempeh/legumes as an alternative protein option. The book even includes a handy chart in the back that will help you to find options for special diets, food allergies, etc. It's a great collection to keep around if you share your kitchen or home with a group of mixed eaters; anyone who loves veggies will find plenty of options to appreciate!
I always appreciate a new slow cooker recipe, so I was thrilled to see this recipe for slow cooker spiced lentils and cauliflower, served over carrot rice, in the book. Inspired by a dish at one of Ali's favorite Indian restaurants, it's a thick, fragrant, and nutritious stew. I love how the rice is folded into the curry toward the end of cooking, so that it has a little time to soften and meld with the other ingredients without losing its texture.
I add whole grains to most of my meals, so in spite of the fact that actual rice isn't called for in the recipe, I served my curry with a scoop of short-grain brown rice, anyway. Since she's all about customizing, I know Ali would approve 😉 I also adjusted the tomato paste and broth, and while Ali's recipe also calls for coconut cream, I used my cashew raita instead. It was a perfect compliment!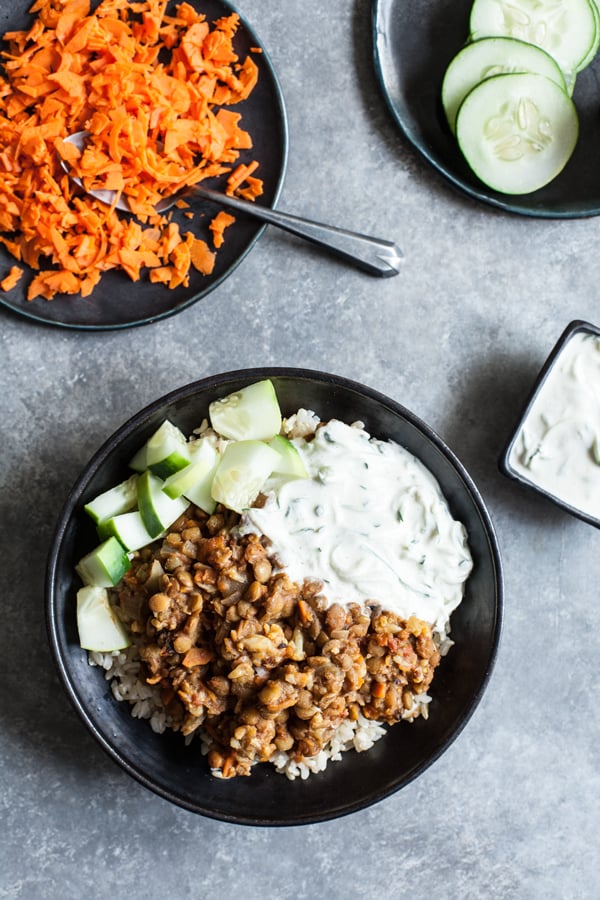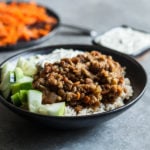 Slow Cooker Spiced Lentils and Cauliflower from Inspiralize Everything
Author -
2

cups

brown lentils

1

onion

diced

2

garlic cloves

minced

1 1/2

teaspoons

minced fresh ginger

2 1/2-3

tablespoons

red curry paste

to taste

1 1/2

teaspoons

garam masala

2

bay leaves

1/2

teaspoon

turmeric

1/2

teaspoon

ground cumin

1/2

teaspoon

salt

plus more as needed; I used 3/4 teaspoon

1/4

teaspoon

cayenne pepper

more to taste

1 14.5-

ounce

can crushed tomatoes

3

tablespoons

tomato paste

4

cups

low-sodium vegetable broth

4

cups

chopped cauliflower florets

8

large carrots

peeled, spiralized, and then roughly chopped or processed in a food processor to create "rice"

1

batch creamy cashew raita

Cooked brown rice

optional, for serving

Large handful fresh cilantro

optional, for garnish
Rinse lentils and place them in a 6-quart slow cooker. Add the onion, garlic, ginger, curry paste, garam masala, bay leaves, turmeric, cumin, salt, and cayenne. Stir to combine thoroughly.

Add the canned tomatoes, tomato paste, broth, and cauliflower. Stir well to combine, making sure the lentils are mostly submerged. Cover and cook on high for 3 1/2 hours.

Stir in the carrot rice and cook together until the lentils and rice are soft but not mushy, about 30 minutes more.

Remove the bay leaves. Serve the mixture over rice, if desired, and top with cashew raita and cilantro sprigs.
Leftover curry will keep in an airtight container in the fridge for up to 5 days and can be frozen for up to 4 weeks.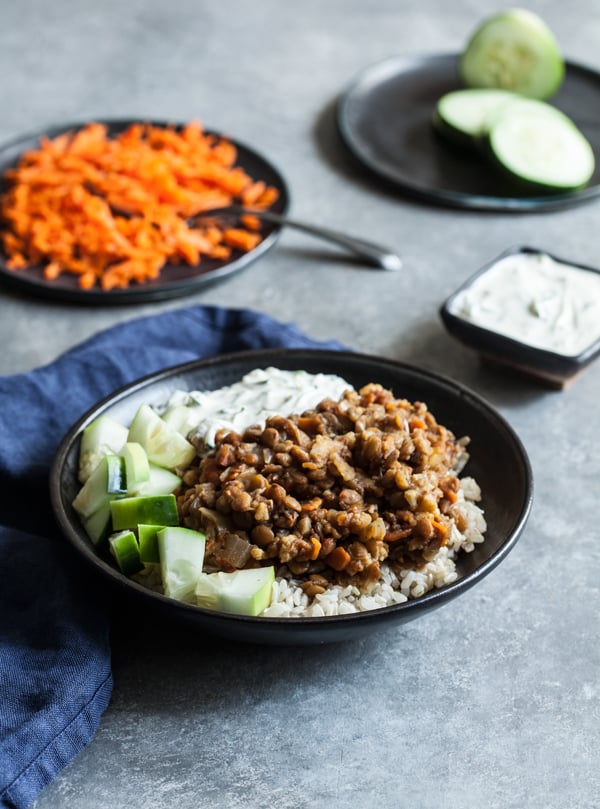 As with many slow cooker recipes, this one yields quite a bit! Feel free to cut the recipe in half if you're using a 4-quart slow cooker. I'm guessing that the recipe would also be great with different types of vegetables, including sweet potato, butternut squash or eggplant, in place of the cauliflower.
To create my noodles, I used Ali's Inspiralizer, which is my spiralizer of choice–definitely the most versatile, sturdy, and easy-to-use that I've found. You can find the Inspiralizer on Ali's website (currently 20% off) or on Amazon, among other sites. If you don't have a spiralizer, you can use a food processor to create the rice for this recipe, and if you'd like to make rice noodles, you can always play around with a julienne peeler, too.
And if you'd like to explore Inspiralize Everything for yourself, you can enter today's giveaway to win a copy of your own! I'll announce the winner in two weeks (US and Canadian residents only, please).
My days are about to get a little fuller soon, and so I'm delighted to have another slow cooker recipe that I can rely on for easy, hassle free batch cooking. Enjoy, and I look forward to checking in for weekend reading.
xo