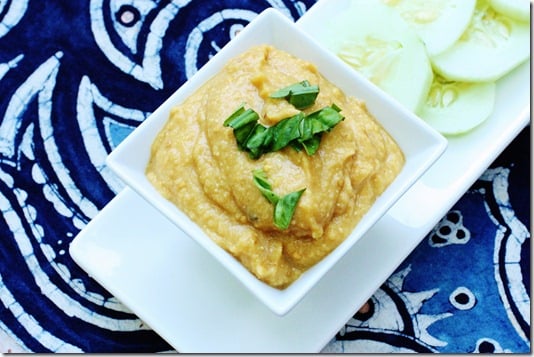 On Saturday of this week, right before leaving for two and a half weeks of travel, I played a game of "how do I use up my produce in a 48 hour period?" I play this game often before I go on a trip, because in general I'm more likely to have a full fridge at any given moment than a threadbare one. I had kale, peppers, eggplant, cucumbers, a zucchini, some strawberries, almond milk, and an apple. I froze the kale, and I knew the peppers, cucumber, zucchini, and apple would make it to NYC if I toted them along with me. The strawberries went into yesterday's vegan, gluten free strawberry pumpkin pancakes. The eggplant would have traveled nicely, too, but since I had a full pantry of legumes and spices, I decided to create a lovechild between babaganoush and red lentil dip.
And it was every bit as tasty as I'd hoped.
You're probably getting a little bored of my fondness of smoked paprika, but please don't. The stuff is really so good it's worth using, and using often. If you can't grill at home, or if you're not in the mood to grill or broil (it's still about 97 degrees in the shade in D.C., so consider me not in the mood to stand over a grill), smoked paprika can help to create a smoky flavor without grill marks. In this recipe, I used it and I used nutritional yeast (also an ingredient I abuse, but the results are always so good it's hard not to) to create a salty, smoky flavor.
Red lentils are one of my favorite legumes because they're so thoroughly low maintenance. Thirty minutes on the stove is about all it takes, and you can shorten that by soaking them first. They're good sources of folate, iron, protein, and vitamin B1, and they've got a soft, versatile texture. The lentils I used this time were part of a wonderful group of legumes I've been given to sample by PNW Co-op Specialty Foods. More on those soon!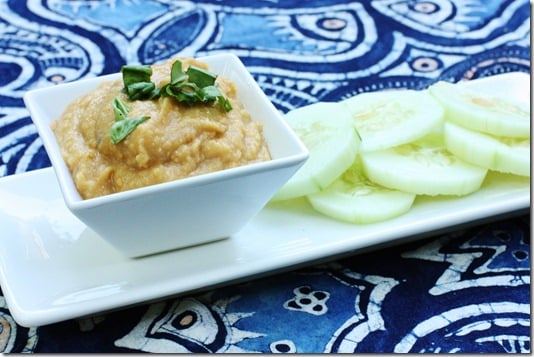 Smoked Eggplant and Red Lentil Dip (vegan, gluten free, soy free)
Makes 6 servings
3/4 cup red lentils, dry
1 1/2 cups water
1 medium eggplant
3 tbsp cup nutritional yeast
1/2 tsp smoked paprika
2 tsp apple cider vinegar
1/2 tsp salt
1/2 tsp cumin
Black pepper to taste
1. Preheat oven to 400 degrees. Prick the eggplant with a fork, then lay it on a foil lined baking sheet. Bake until it's collapsing (about 30-45 minutes, depending on your eggplant). Let it sit for a little while, to cool.
2. While eggplant is cooking, bring water and lentils to a boil. Turn heat to a simmer and let lentils cook with a lid ajar. When the lentils are tender, they're finished. It should take 30 minutes or so.
3. Drain lentils and add to a food processor. Cut eggplant in half and scoop out flesh, and add it, too. Add all remaining ingredients and process till mixture is smooth but retains some texture. Serve with crackers, veggies, or even as a thick dressing!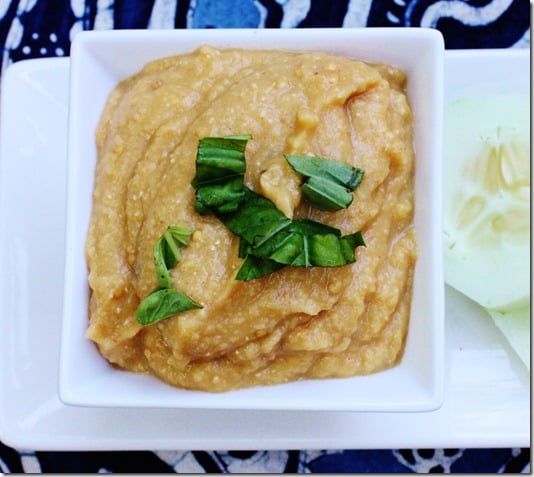 On Friday, when I was showing some of my packed lunches and breakfasts on the blog, Hannah asked how I make time to whip up so many dips and spreads with my schedule. The answer is that you can get a long way with a half hour in front of the food processor! I set aside thirty minutes to make hummus and at least one other sort of dip every weekend. I do sometimes used canned legumes to make it all go faster, but it's amazing how that little investment of time can give me dips and spreads to carry through the busy week and weekend.
On that note, I'm off for tonight. New York is calling! See you all tomorrow.
xo