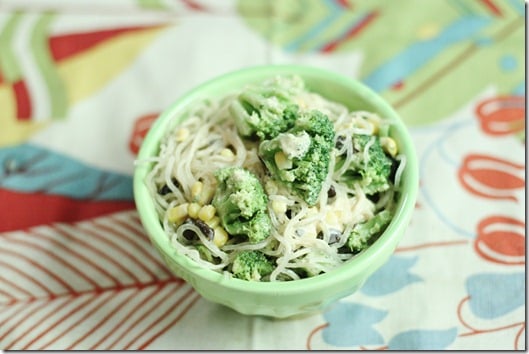 Happy Friday, all!
After a long week of outstanding remarks on body image, fitness, and recovery, I'm here with some food, at last. The beautiful bowl you see above was today's lunch, and it was surprisingly wonderful for a recipe I came up with at random. It's a bowl of kelp noodles, corn, broccoli, and black beans that is pulled together by a tangy Southwestern dressing. And it's a winner.
I made this dressing a few weeks ago for dinner with my cousin. She was impressed, so I set about tweaking the recipe and getting it right for you all. I think I've nailed it. Like many of my dressings, it's a tahini base. I use both lemon and apple cider vinegar here: I find that ACV can bee too tart and overwhelming on its own, while lemon can be too subtle. This is a perfect happy medium. And of course, I had to use smoked paprika, because no southwestern inspired recipe of mine would be complete without it.
Smoky Southwestern Kelp Noodle Bowl with Black Beans and Corn (raw, vegan, gluten free)
Serves 2, dressing yields 1 1/2 cups (so you'll have extra)
1 package (12 oz) kelp noodles (I purchase through Amazon or from the Sea Tangle company online)                                                                                                 1/2 cup black beans
1/2 cup corn, raw or cooked
1 cup broccoli florets, steamed and chopped
For the dressing:
1/3 cup tahini
6 tbsp water
Juice of 1 lemon
2 tbsp apple cider vinegar
1 tbsp tamari
1/2 tsp smoked paprika
1 tbsp maple syrup
1) Mix together dressing ingredients in a blender or food processor till smooth.
2) "Massage" about 1/2 cup of the dressing into the kelp noodles. Add vegetables, and toss again, adding more dressing as needed.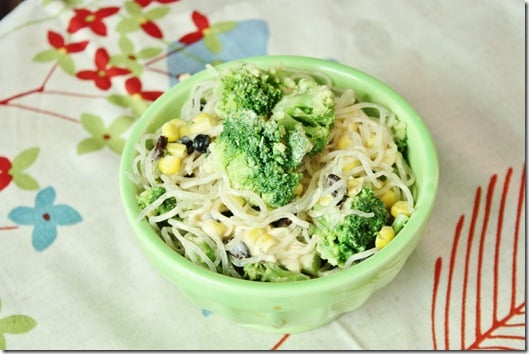 Smoky, tangy, and delicious. My kind of lunch.
I enjoyed this dish along with a big salad and sweet pea hummus. Some nutritional yeast on top is also quite tasty!
Thanks for the lovely remarks about Alex's GR story this week. Today, Alex tweeted me to see what I think of this story from Ecorazzi. To sum it up, Scarlett Johansson is reported to have said that she went on a raw, vegan diet to slim down for The Avengers. She also says that she's "always following some crazy regime," implying that raw veganism is one of them.
Assuming it's accurate, I think the remark is too bad, mostly because I think it's a shame that Johansson always feels pressure to be wedded to a restrictive or bizarre diet. I'm sure the pressure to diet is immense for her, and I feel sympathy for that predicament. Of course, I also think it's a shame that raw veganism would be tossed into the category of "crazy regimes," when so many bloggers and personalities are out there showing us that veganism—raw or not—can be accessible, easy, and fun. But if you approach raw veganism as a crash diet—which Johansson is basically saying she did—it will feel like a crash diet. No surprise there.
I think this community understands that any way of eating can become crazy or radical. That's true of raw veganism, just the way it's also true of high protein diets like Atkins, the Paleo diet, locavorism, and many other eating styles. Intentions matter—are you trying to lose weight, or do you want to embrace a way of eating because you believe that its values are in line with yours? Are you trying to fit into a catsuit, or do you believe that a particular lifestyle will offer you true, lasting health? Only you can know the answer. If you find headlines like this discouraging, don't: Johannson is entitled to diet through raw veganism if she wants to. But that doesn't mean that raw veganism is a "crazy regime" in and of itself. The statement reflects one person's motives, not the lifestyle's broader potential.
What do you guys think? And happy weekend to you all!
xo