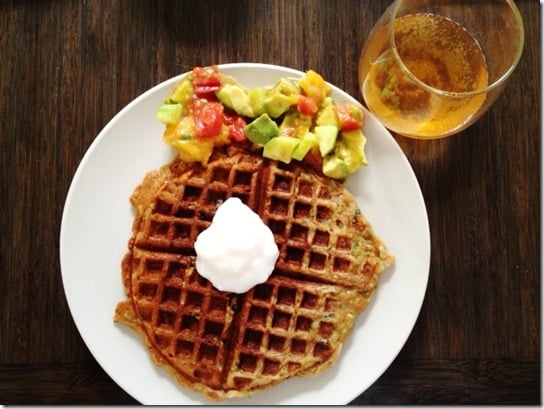 Hey friends! Hope you've been enjoying restful, happy weekends so far. These last two days have been my final gasp of free time before my summer semester ends, so I've been soaking up every bit of restfulness I can. This includes a lovely brunch this morning at Andrea's house, complete with wholesome, healthy, and delicious vegan fare!
Yesterday, as we were planning our meal, Andrea let me know that she was making zucchini pancakes, and would I  perhaps bring a topping? I responded that I'd be glad to. I brought three different things so that we'd have a range of options, but the standout was a fantastic mango, avocado, and heirloom tomato salad with cucumber and chives.
I'll be honest: I struggle with chopping up heirloom tomatoes and putting them into anything, given how costly they are (and how delicious they are all on their own). But I had a tomato that was ready to be overripe, and a mango that was in the same condition. So, last night, I figured that a quite, seasonal salad would be the best way to use them up. And how better to celebrate my rather recent conversion from mango hater to mango eater?
Quick Mango, Avocado, and Heirloom Tomato Salad (raw, vegan, gluten free, soy free)
Serves 2-4
1 ripe ataulfo mango (you can use a small Haden or Tommy Atkins mango, too, but the ataulfo will be incomparably sweet and creamy)
1 medium sized cucumber, diced
1 ripe Haas avocado, diced
1 medium heirloom tomato, diced
2 tbsp chopped chives
2 tbsp fresh lime juice
2 tsp agave syrup
Sea salt to taste
Mix all ingredients together. Let marinate a few hours for maximum flavor!
If you need a hand figuring out the varieties of mango mentioned above, this link is helpful. Big thanks to Janet for giving me a useful primer in mangos a few weeks ago!
The dollop of yogurt you see in the photo above was the Amande yogurt in coconut flavor.
Over time, I've found that the Amande yogurts are my favorite non-homemade vegan yogurts; I like them more than the So Delicious coconut milk yogurts (though I'm still waiting to try the Greek yogurts from that brand). The Amande yogurts are made from cultured almond milk, and while the texture isn't nice and thick the way I love, the flavors are delicious, and the tanginess is there. Two thumbs up.
The waffles, of course, were the star of the event. And how could they not be? Perfectly sweetened, light, fluffy, and packed with zucchini, these were total winners. Notice that the pancake plan got switched to waffle midway: Andrea has a wafflemaker, and decided that it would probably be quicker and easier to prepare them that way. I eat pancakes all the time, but I haven't had a good vegan waffle since I gave my own wafflemaker away before my move to DC (it was just way too heavy to move, given how little I used it), so I was excited about this development.
Andrea based her recipe off of a recent one from Smitten Kitchen. Modifications included omitting the egg, naturally, and she used Bob's Red Mill GF all purpose flour in place of standard all purpose. She traded Grade B maple syrup for sugar, and added some applesauce to the mix. The recipe is posted here in its entirety, courtesy of Andrea, who was kind enough to share it with me in her home, and is now kind enough to share it with all of us on CR!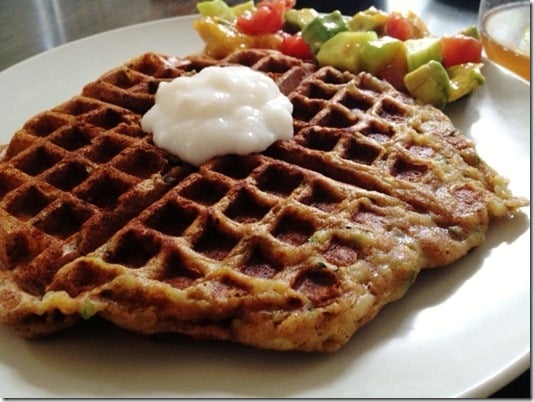 Andrea's Gluten Free, Vegan Zucchini Bread Waffles
Serves 2-3
Zucchini Bread Waffles (or Pancakes)
1 large zucchini, grated
1/2 cup unsweetened apple sauce
3 T olive oil
1/2 teaspoon vanilla extract
1/4 cup "soured" almond milk (to sour, add 1 teaspoon of apple cider vinegar to the measuring cup, then add almond milk to measure 1/4 cup)
2 tablespoons maple syrup or other sweetener to taste
1 – 11/2 cups Bob's Red Mill All-Purpose, Gluten Free Flour Mix
1/4-3/8 teaspoon xanthan gum — according to how much flour you use
1/2 teaspoon baking soda
1/4 teaspoon salt
1 teaspoon cinnamon
1/8 teaspoon nutmeg
Coconut oil spray for waffle machine or griddle
1. Heat up waffle machine or griddle.
2. Mix dry ingredients into large bowl.  Mix wet ingredients into smaller bowl.  Mix wet ingredients into dry ingredients.
3. Spray the griddle or waffle maker. Cook waffles according to the manufacturer instructions or scoop batter onto griddle in 1/4 cup – 1/2 cup sized dollops — depending on how large you want your pancakes.
And if this all wasn't enough, Andrea also shared some of her homemade kombucha with me. Lucky, lucky me.
There's nothing nicer than the chance to catch up with friends over good food and drink—with a little witty banter and straight talk thrown in for good measure. Thanks for brunch, Andrea!
Before I head out, a few reminders:
First, you have only 8 days left to enter my giveaway to win a FREE Breville Juice Fountain plus! Get inspired to make healthy juices with nutrient dense, delicious fruit and vegetable juices by entering now!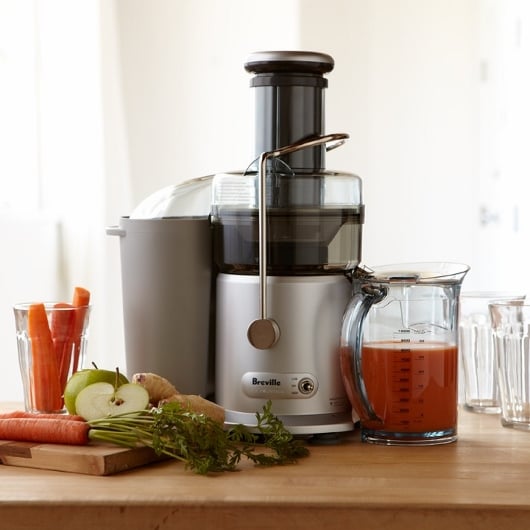 Second, if you missed any of last week's posts, they included a frank examination of my relationship with raw foods (as well as some fantastic resulting comments) and this scrumptious bowl of summery pasta:
Photo courtesy of Food52.
Check it out, and I'll see you back here tomorrow with an easy, high raw meal!
xo