Hello from halftime!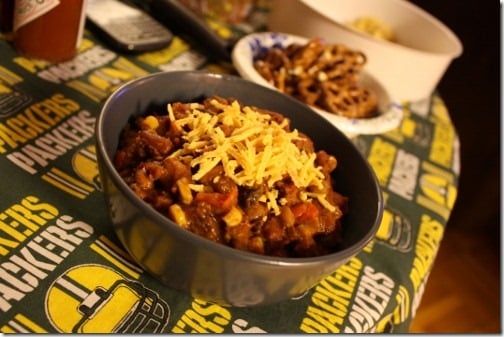 Like the tablecloth?
Obviously, time is of the essence here. In just a few moments, I'll be glued to the TV again. So I just wanted to take a moment to round up my week of game day eats.
There was my artichoke and sun-dried tomato pizza:
My three layer dip: semi-raw, all vegan, and totally crowd-pleasing:
My—well, my friend Kristen's—cheesy hemp nacho chips:
My creamy avocado soup with mango salsa:
My hot n' cheesy vegan spinach artichoke dip:
And tonight, my spicy three bean chili!
I admit, I can't take the main credit for this recipe. It's based heavily on one of my favorites by Colleen Patrick Goudreau, and it's a perennial winner. I did make a few modifications—including a little shredded Daiya topping—so here's my own version of the recipe!
Three Bean Chili (based on a recipe by Colleen Patrick Goudreau; vegan, gluten free, soy free)
Serves 4
Ingredients:
1 tbsp oil, or nonstick oil spray
3 bell peppers, seeded and chopped
1 medium Spanish or yellow onion
2 cloves garlic, minced
2 tbsp chili powder
1 tsp cinnamon
1.5 tsps ground cumin
1.5 tsps dry oregano
2 tbsp tomato paste
6 sundried tomatoes, soaked and chopped
1 can (16 oz) diced tomatoes (I like Muir Glen fire roasted)
1 can (15 oz) canned corn
1 can (15 oz) kidney beans
1 can (15 oz) black beans
1 can (15 oz pinto beans)
Salt and pepper to taste
1/2 cup fresh cilantro
1) Sautee peppers, onion, garlic, chili powder, coriander, cumin, cinnamon, oregano, and cayenne for 5-10 min, until soft and onion is translucent. Stir in tomatoes, sundried tomatoes, tomato paste, corn, and all the beans.
2) Lower heat and simmer for 30-40 minutes, or until chili is fragrant and flavorful. Season with salt and pepper and turn off the heat. Serve topped with Daiya chedder, if desired.
Packers tablecloth optional.
GO PACK!
xo