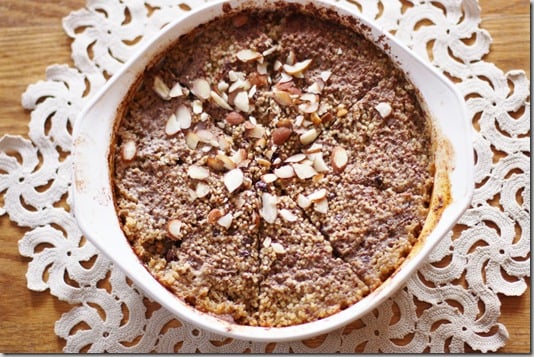 I hope you all had the most lovely of Christmas celebrations! And that those of you who don't observe Christmas had a happy Tuesday. My holiday was low key, which was the right mood for this season. There was gift opening by the tree, followed by hot yoga, followed by some time with a good friend who's in town, and then dinner at the home of a another good friend. My contributions included a farro salad I'll be posting soon, my lentil and sweet potato loaf (a hit last year and this year!), and my vegan pumpkin pie, which I made with an experimental oat crust. Too grainy and not as good as my regular vegan pie crust, so I'll need to fiddle a little more with a whole grain version.
But I'm skipping over the best part of Christmas day, in my opinion, which is Christmas morning breakfast. There's nothing quite as cozy as enjoying something warm beneath the tree. I tend to make porridge of some kind on Christmas, but this year I was curious to see how a baked porridge—using quinoa rather than traditional oats—might turn out. I added currents and coconut milk, and it turned out very nicely indeed.
Odd as it may sound to bake whole grains, rather than simmer them as is the custom, I think it's actually quite a bit easier. You don't have to stop and check it more than once, and you don't have to deal with bubbles and spills. Just be sure to use a baking dish that isn't too shallow, since the liquid will boil in the oven and can easily overflow if you happen to use a dish that's too small or doesn't have high enough sides. You can bake most any grain—oats, quinoa, millet, rice, kasha, farro—and you can choose either a sweet or a savory taste profile. I probably do more sweet/breakfasty grain bakes than savory ones, but I definitely like the dish both ways.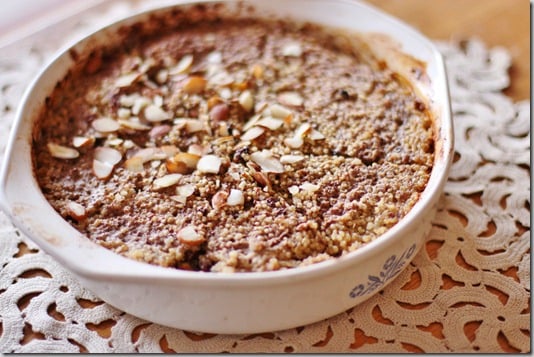 Toasted Almond Quinoa Bake (vegan, gluten free, soy free)
Serves 4-6
1 1/4 cups uncooked quinoa, rinsed
1 cup water
1 1/2 cups coconut milk (full fat or light)
2 tbsp maple syrup
1/4 cup currents
1/4 tsp sea salt
3 tbsp flax meal
2 tsp cinnamon
1/2 tsp nutmeg
1/4 cup almond slivers or slices
1. Preheat oven to 375.
2. Mix all ingredients except almonds together in a casserole or baking dish, making sure that there is at least 1 1/2 inches of extra rim on the sides of the dish. The quinoa will plump up as it cooks.
3. Bake the quinoa for 45 minutes, or until all liquid has absorbed (it may take up to an hour). Sprinkle the almonds on top and bake for another 10 minutes, or until the almonds are a little golden.
4. Allow mixture to cool a bit. Cut into 4-6 slices and serve, topped with a drizzle of coconut milk.
The texture of this breakfast is great—someplace in between porridge and a whole grain cake, if that makes any sense at all. (Probably not.) And I love the faint scent and taste of coconut, not to mention the spices. You could definitely substitute millet, steel cut oats, or kasha here; just be mindful of the fact that they'll have varying baking times. Check on them often.
I hope you'll give this breakfast a try soon. It's easy, delicious, and filling. In the meantime, I hope you continue to enjoy this festive week. I'll be back tomorrow with a new and delicious salad from Food52!
xo