Hello from PDX, everyone! What an unbelievably eventful (and fun) day I've had so far, exploring Portland a little and getting to know some of my absolute favorite vegan bloggers. As someone who's attended a couple of conferences now, I'll say this: sometimes, you look around the room and realize that the only thing you have in common with everyone else is that you all write blogs. Here at Vida Vegan, we hail from different parts of the country, have different jobs, are different ages, and eat different sorts of vegan diets. But we all share a similar world view, at least in so far as our reverence for animal life and passion for activism goes. It's a powerful bond, and I've so enjoyed experiencing it.
Most of my closest blogging buddies started out by reading healthy living blogs (like Eat Like Me). I got sucked into the food blog world with vegan blogs and vegan bloggers. So this weekend, when I met Jess, Janessa, Bryanna, Colleen, and Isa, it felt like a starstruck homecoming to me.
Add to that meeting JL, whose blog I adore, and for whom I wrote one of my most personally meaningful posts. JL, who writes about body image and self-love, food, fitness, and the variety of life experience, is one of the smartest and sassiest bloggers out there, and you should all check out her "stop chasing skinny" series. She is truly awesome:
I also got to meet Bianca, who is a former CR guest poster and my favorite southern belle:
This all happened at the champagne reception last night. There was nut cheese in abundance:
And, after over eight hours of travel and not much food (I packed badly for these flights) I ate a lot of it: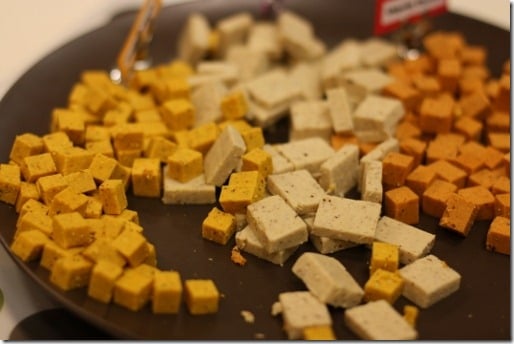 There were also vegan cupcakes: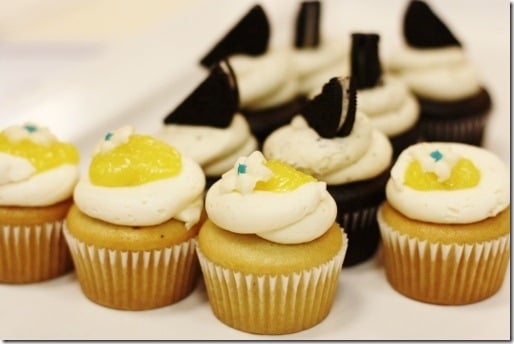 And this amazing, amazing white chocolate nut butter from the lovely Amber, the chef behind Almost Vegan, who's got a cool book in the works: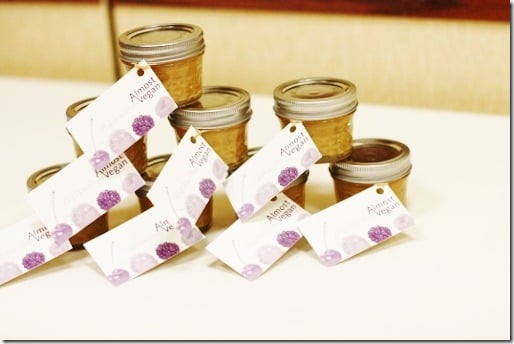 That's us with Janessa.
And then, I stumbled on a table manned by the woman who turned it all around: Jenny Brown of the Woodstock Farm Animal Sanctuary. It was her Thanksliving event, oh so many moons ago, that transformed my veganism from a personal journey—something I was doing solely for me—into a choice I was making for the sake of other living beings (and which I happen to love, too). She was representing the farm with all sorts of good gear:
We chatted for a bit about pre-med life, and how strange it feels to leave one career you love (which we both did) for another that feels too urgent to ignore. She's such an inspiration to me.
As cocktail hour drew to a close, I departed for the next stop in the evening's lineup of delight: dinner at Portobello with my VegNews family.
As you all know, writing for VegNews is a big part of my life: I look forward to my "raw done right" columns with such anticipation, and I find that writing the column is an essential creative outlet for me as I move deeper and deeper into a left brain course of study. Beyond that, the VegNews staff really does feel like family: Elizabeth, the magazine's managing editor, is a good friend:
And Colleen Holland, the magazine's associate publisher, is not only a fearless leader, but also a supporter and champion of her writers' work. I can't tell you how much it meant to me when she recently let me know that she (and the other staff) are thinking of me in the post-bacc program. And then there's Laura, columnist extraordinaire, who we all know is my big girl crush.
I'd heard only the most marvelous things about Portobello, our dining spot, but had no idea that we were all to be treated like royalty last night.
Chef Aaron, who is a marvel, prepared a special seven course tasting menu for us. When I arrived and saw what was in store, I was flabbergasted:
We began with a champagne toast. One of our servers kindly prepared a non-alcoholic grape juice+soda combo for me, and it was great:
I also ordered one of the restaurant's signature "mocktails" (love mocktails!!), which was a mix of cucumber juice, shredded cucumber, mint, lemon, and lemon kombucha. Absolutely amazing. I loved it!
Our first course was a melon amuse bouche with aged balsamic, which I stupidly forgot to capture on film, But I didn't miss the second course: a gargouillou of summer fruits and vegetables in the style of Michel Bras. I have no idea what a gargouillou is, or who Michel Bras is, but gosh these were great. The mushrooms and nectarines blew me away! All with a drizzle of oil and some sea salt:
Next up came our soup course. Three chilled soups: spicy cucumber, tomato consomme, and grape-almond gazpacho:
Amazing. Amazing! The spicy cucumber wasn't too spicy, but it was creamy and subtle and delicious. The tomato consomme actually made me like consomme, which I never have before. And the grape almond? Divine. So creative and rich. I cannot wait to try my own in the Vita at home!
Next was our vegan charcuterie plate: beet tartare, cashew cheese, mushroom rillette, and mustard. It was fabulous. My favorite was the tartare, which I also want to create at home now:
The next course managed to send the entire table of seasoned foodies and tough vegan critics into a state of disbelief, punctuated with groans of pleasure and the occasional declaration of astonishment. It was the potato gnocchi with three sisters and pepper corn vellutata, roast squashes, heirloom peppers, and pole beans, all with a scallion purée.
People, I don't even like gnocchi. And this was insane. So good that Elizabeth, seated next to me, actually licked her bowl dry (E, sorry to overshare). It was incredible. At this point, I thought it couldn't get any better. That was until our next course arrived: the portobello roast with polenta and salsa verde.
It's a stuffed portobello with a caper pesto on top, leaning on a chard wrapped bed of white polenta. The polenta was mild and creamy, and the mushroom flavorful. The caper pesto united the dish with tang and texture. A really stunning dish (and presentation).
Finally, as we went into various states of pleasure-induced shock, out came dessert: a lemon cream and strawberry jam tart. Plus, trays upon trays of Italian cookies, truffles, and chocolate. At this point, I was wondering if I'd entered vegan heaven:
There really are no words to sum up how good this meal was. In my own personal annals of fine dining, this may be the ultimate and unsurpassed highlight. Sure, there are other kinds of meals that rank above or along it: grilling vegetables upstate with Chloe in the summer; big, heaping bowls of raw kale with cheesy red pepper hemp sauce; puts of quinoa and greens and simple drizzles of tamari. Those are the kind of comfort foods that keep me happy, and the memories that intersect with my food. As far as gourmet dining goes, though, this was tops. Period.
But if anything could rival the food, it was the company. I sat across the table from Jasmin Singer, who's been a hero of mine for a while now. Jasmin is one of the creators of Our Hen House, an interactive and varied animal rights site that features fantastic and creative podcasts. Jasmin is a bold, wry, intelligent, and honest voice in the AR community, and she's equal parts funny and thoughtful in person. Plus, she's an NYC gal, and she's really into her green juice. What more could I ask for in a new friend?
When Jasmin told me (upon my stammering "I love your site!!!") that she loves my "work" too, I thought "wait, I have work? What work?" Then I was simply flattered she knew who in the heck I am, especially since I'm new to AR. Jasmin, you made my night.
So did the presence of Allison, who is the cheery, wise, and elegant creator of Allison's Gourmet:
I have tasted Allison's brownies, so I know the woman is a genius chef. But I had no idea she's also so lovely to chat with. Nice to meet you, Allison!
We thanked the restaurant's staff for basically granting us all the best meal of our lives:
And made our way home. In my case, it was back to this cozy hotel room:
With my fab view:
Except it was night when I got home, and straight to bed for me.
Since we discussed some of the challenges and triumphs of eating out post-ED last week, I thought I would throw in my own personal reflection after this sumptuous dinner. In the past, meals and events like this troubled me a lot, not because I actually felt bad about what I'd eaten (though that was sometimes also true), but because people at multi-course meals tend to talk and joke a lot—all in good spirits—about how stuffed they are, how much they've eaten, how they need to go running the next day, and so on. For them, it's all in good fun: for me, these are triggering sentiments, and they used to make me very anxious indeed. Wow, I thought—if people with normal food histories feel like they were gluttonous tonight, how should I be feeling?
Last night, I realized how far I've come as an eater when the few odd jokes about being "stuffed" or unable to get up from the table flew by, and I didn't feel phased at all. I was thrilled with the meal, and felt grateful simply to have experienced something so rare and so good. And in fact, the portions had all been perfect, so that I felt just as full as I wanted to be: no more, no less. Because I felt great, and because I'd enjoyed every bite, the idea that other people might be stuffed meant nothing to me. I went home happy. And this is a new set of feelings, for me, when experiencing a multi-course dinner. Here's to personal growth.
And now, to bed. The fun continues in the morning!
xo