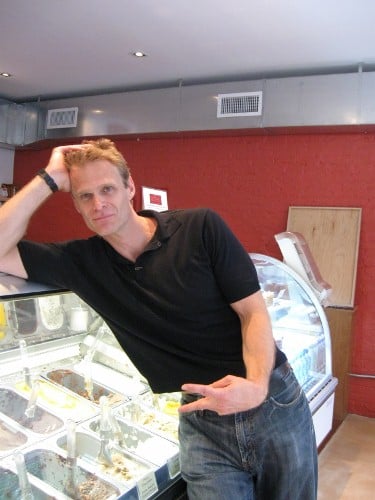 Hey kids.
Is there a much beloved food—a treat, a comfort meal, or an all-American favorite—that you've never quite "gotten"? A dessert, maybe, that others devour with relish and abandon, but you've simply never really liked? Chloe, for example, just doesn't like chocolate. She doesn't dislike it, exactly: she just doesn't crave it, or think about it, or fantasize about it on a semi-regular basis.
Obviously, this is akin to sacrilege in my book! But there are a ton of favorite foods that I simply never liked at all—long before I was vegan. These include, in no particular order:
• Pizza
• Chinese takeout
• Cake
• Any kind of cheese that has a scent (ie, the expensive ones that people love to taste and sample and serve with wine)
• French Fries
So OK. Cake's not for everyone. But there's one standout in the list of foods I never really "got" that shocks everyone, omnivore and vegan alike: ice cream. That's right. As insane as it sounds, I was never much of an ice cream fan! Never bought it, never ate a lot of it, never sought it out. I can't really say why this is: perhaps it's the fact that I'm always cold, so cold treats don't typically entice. Maybe it's the fact that dairy hasn't agreed with me since…well, ever. Maybe it's the fact that ice cream often just strikes me as a little boring.
Maybe I'm just always so distracted by the prospect of chocolate to care about any other kind of dessert 🙂
Whatever the case, I am one of very few individuals who does not count ice cream among their favorite treats—a shame, since there are so many incredible varieties of raw ice cream to savor! I can certainly enjoy it (a scoop of the Oreo ice cream at One Lucky Duck, for instance, is likely to make me really, really happy). I just don't sit around thinking about it.
But I'm weird. Most people adore the stuff. And they're in luck, because there is never a shortage of new brands, flavors, and makers of ice cream. For many years, the ice cream market was a grim scene for vegans: sure, they could find ultra specialty brands, but the cost of shipping was a fortune. Nowadays, vegans have a huge variety of soy and rice-based brands to try. Better yet, there are now at least two major brands available nationwide that use coconut milk as a base: So Delicious and Luna and Larry's Coconut Bliss. If you guys haven't tried these brands, I really recommend them. They're delicious, made with minimal and quality ingredients, and they're a joy even for those of you who aren't vegan, or lactose intolerant, or whatnot. (For more on the Coconut Bliss brand, check out VeggieGirl's recent post!)
Here in New York, we're lucky enough to have a local business that specializes in outstanding vegan ice cream. Stogo has gotten lots of love around the blogosphere these days, and with very good reason: it's the non-vegan vegan ice cream. I do not say this to suggest that vegan ice cream is not a great thing in its own right. But what makes Stogo so wonderful is that it looks and tastes like—and, in my opinion, it surpasses—the best conventional ice cream you've ever had. The stuff is incredible: rich and creamy and decadent enough to please even ice cream snobs. And yet, it's 100% vegan, made with high quality, organic ingredients, and absolutely free of refined sugars, GMOs, preservatives, and artificial flavorings.
A few months ago, I had the great honor of interviewing Rob Sedgwick, co-owner of this wonderful establishment. Rob is a professional actor (in case you were wondering, yes, he's the younger brother of Kyra Sedgwick, so it seems that thespians run in the family!), a member of my gym, and, it turns out, the cousin of an old friend. I'd met Rob quite some years ago, and we'd lost touch; when I learned that he was the owner of Stogo, it was a nice excuse for me to say hello again.
I met up with Rob and his partner, Steve Horn, on an unseasonably rainy and cool late summer day. It wasn't a perfect day for ice cream, but Rob and Steve's warm, affable, and generous attitudes quickly had me excited for my own special tasting. Before digging into the array of Stogo flavors, I had a chance to ask Rob and Steve about their vision for Stogo.
The idea is simple: vegan ice cream that's marketed like regular ice cream. Rather than emphasize the fact that their ice cream is vegan, Rob and Steve focus on the fact that it's really, really good. Good enough to stand alongside Häagen Dazs, Ben and Jerry's, or any other favorite brand. Its excellence is what makes it sell; the fact that it's vegan is what makes it (to me, anyway) truly special.
Rob and Steve are old friends; they met over ten years ago when Rob was working at a restaurant called Goodbye Columbus. A few years ago, Steve told Rob that he was interested in making a great vegan ice cream. Rob concurred, and the two budding entrepreneurs enrolled in Malcolm Stogo's famous ice cream making school. Stogo, who helped to create some of the most popular ice creams on the market (Carvel, Häagen Dazs, TCBY, Columbo) loved their work, but reacted with shock when they told him they wanted to make a vegan product. "Vegan?! [pronounced vay-gan]" he cried. "Vay-ganism?!"
As soon as Mr. Stogo witnessed Rob and Steve's hard work and savvy, though, he began to sing another tune. He, along with Gene Stone (co-author of the bestselling Engine 2 Diet), invested as founders, and Stogo was born. The restaurant opened in December of 2008—hardly an auspicious season for an ice cream launch—but was an instant hit. In the last year, Stogo has been featured  in The New York Times, New York, countless blogs, and various vegetarian and vegan magazines. Meanwhile, it's become the favorite treat stop for vegans all over the city – including my pals Heather, Ashley, and Lindsay!
Rob and I then strolled over to Stogo for an ice cream tasting and a chat about the store's progress. He was gracious enough to answer my most burning questions about the business.
1) Can you say a few words about why you and your partner, Steve Horn, thought to start a vegan ice cream shop?
It was all Steve's idea, and I backed him. He felt that there was nothing out there that was vegan and tasted good, and that there was a better, healthier way to make the stuff. His (and now my) fantasy was a vegan Ben and Jerry's.
2) Part of what I love about Stogo is that the "veganism" angle isn't overplayed: you guys focus on good taste, not a specialized diet. Obviously, I want people to wave the vegan banner confidently, but if not dwelling on the product's veganism is likely to entice those who would never give dairy free ice cream a chance otherwise, I'm sold! Tell me more about how you guys have tried to market the Stogo product and why.
I think your second question relates to what I said above: we want to become the vegan Ben and Jerry's, minus the 'vegan tag.' As we say in our mission statement and to customers in the store, people like to hear more 'dairy free,' 'organic,' 'no refined sugars' etc.—not necessarily vegan, per se. Our basic angle is that we're great tasting place for desert that happens to be healthy.
3) One of the things that distinguishes Stogo from other vegan ice cream brands is that you offer two non-soy bases (coconut milk and hemp milk), and you never use refined sugar. What inspired you to branch out beyond soy?
Again, this was Steve's idea, to give the customer a broader choice. Also, some people have an aversion to soy (most who claim allergies to it are, as you know, reaching). The coconut has more flavor because of the higher fat content, so people who are used to more traditional ice cream are pretty much at home, and the hemp was installed just to give the customer another, perhaps more exotic choice.
4) OK, think quick: what's your favorite Stogo flavor?
My favorites are off the bat chocolate coconut and salted caramel pecan. But we've got a flavor for every taste!
5) What do you imagine for the future of the Stogo brand — and other healthy, enlightened products?
I don't know about other products, but we are thinking either upper west side for our next place [yes please!!!!!] and/or CA. We are still refining the store, and, moreover the product. That doesn't end. We're coming up with new flavors all the time in addition to taking suggestions from customers, employees, anything to make it the best it can be. We're frankly thrilled at the response we've been getting. Also at some point, hopefully soon, we will be getting into the pint business and be at a store near you!
I know that LA weather favors ice cream, but I, for one, am hoping that that next location is the Upper West Side!
After our sit down chat came the highlight of the afternoon: the tasting.
I began with the most popular flavor: salted caramel pecan. Take it from a non-ice cream lover, people: this stuff is amazing. (What IS it about salt and caramel?). Then, I tried the mint chocolate chip (the favorite flavor, apparently, among male clientele). It was also great, but what I really wanted to try were the coconut flavors.
As you all know, I'm not a fan of processed soy (even the organic, non-GMO variety) and I prefer my clients to try coconut milk based ice creams. And the Stogo ice creams are, by far, the best I've ever tried. I tasted chocolate, vanilla, and pina colada, and they all blew me away! So much so that Rob sent me home with a complimentary pint of the chocolate and the pina coloda (the latter was my favorite of the day). Not surprisingly, these didn't last long!
Before heading out, I also had a chance to taste the hemp flavors (not quite creamy enough for me, but good) and to eye the amazing chocolate collection (Fine and Raw is sold here!):
So have I been converted into a diehard ice cream fanatic? Nope. Favorite foods are favorites for a reason, and I'll always prefer dark chocolate or vegan mousse to ice cream. But it was a real treat to have my eyes opened to the wonderful tastes and possibilities of dairy free ice cream.
More importantly, I delight I the fact that, with each passing day, there are more and more vegan businesses working to conquer the notion that vegan dining is a "substitute" or a sacrifice. It isn't. In the hands of capable chefs, vegan foods stand on their own merit as gourmet items to savor and enjoy; they demand no sacrifice from discerning foodies. And restaurants like Stogo are blazing the trail, showing consumers everywhere that good "healthy" and "delicious" can—and always should—coexist.
Thanks, Rob, for such a wonderful day, and for all that you and Steve do.
And now, a new giveaway! For all those of you in New York, or who plan to travel to New  York, I'm giving away twenty dollars worth of Stogo Ice cream! To win it, simply:
1) Comment on this post, letting me know which Stogo flavor you most want to try, and
2) Announce it on your blog or Tweet it.
Winner will be announced two weeks from today.
There's a sweet start to your weekend!
Happy Friday, all.
xo