Only a week ago, I was on my way to upstate NY for Melissa's beautiful wedding. The time has flown since then, filled up by words and friends and bouncing around New York. Yesterday, I was reunited with Chloe (whom I haven't seen in over a year — a record for us, and much too much time), which was wonderful, but I apologize for being a little MIA. Here's my weekly roundup of favorite recipes & reads.
Elenore's Warm Whole Bean Farro Salad with Horseradish Cream
A savory use for coconut bacon — Nicole's awesome gluten-free maple "bacon" doughnuts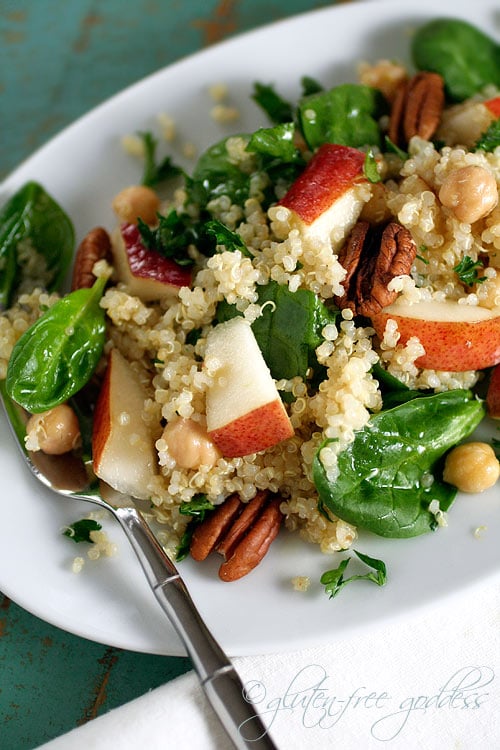 Karina's Quinoa Salad with Pears, Baby Spinach and Chick Peas in a Maple Vinaigrette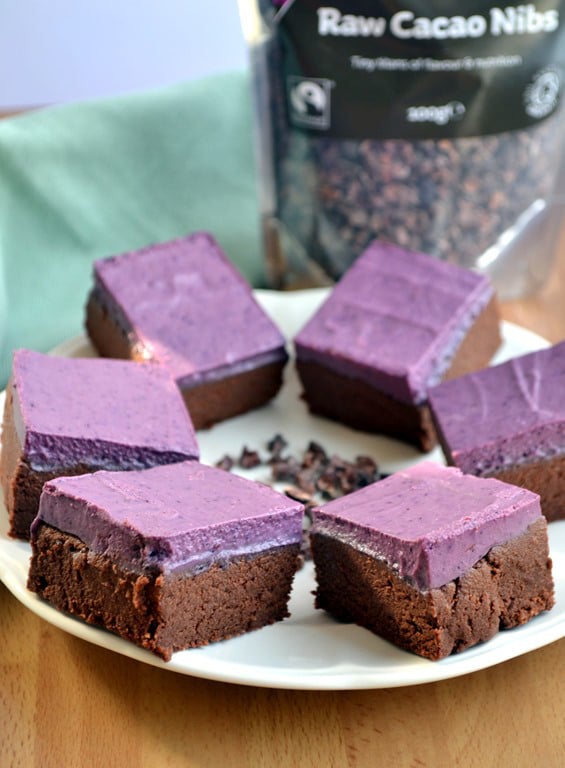 Emma's raw berry cream brownies. These totes remind me of my blackberry cheesecake bars, but with a chocolatey twist. So beautiful!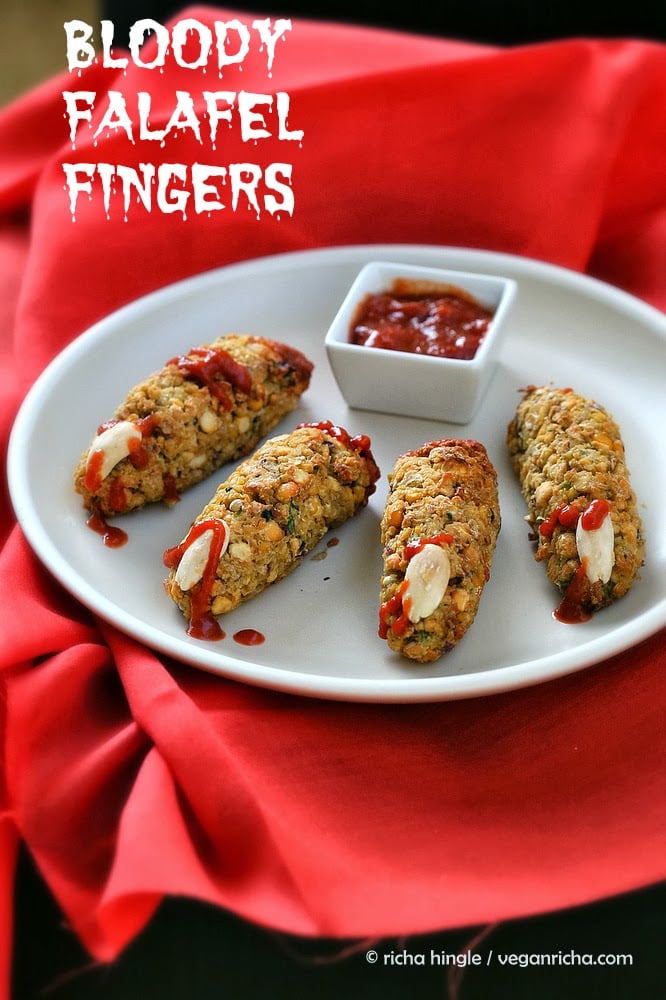 If you liked my witches fingers, check out Richa's awesome falafel fingers–a savory spin on the idea.
Reads
1. Ali Washington, who has contributed a wonderful Green Recovery post to this blog, has a new digital book about body image and health called The Perception Diet. It's focused on giving people tools to change their foundational beliefs about themselves so that they can develop a healthier relationship with food and their bodies.  Most of it is focused on mindset work, but there are definitely some healthy, delicious recipes in it as well. I've enjoyed reading Ali's insights into self-love and self-care, and I appreciate her gentle approach.
2. I've now had two undergrad careers. In my first, I studied the novel. In my most recent, I studied the hard sciences. It has been fascinating to compare and contrast the pedagogical cultures that surround these two disciplines. This week, one of my fave online mags, The Seed, published a piece on integration of arts/creativity into the teaching of the sciences, along with a collection, drawn from their archives, of other articles on the same topic. Tons of really interesting stuff.
3. A fabulous piece by Keri Cronin on the effect and meaning of street artist Banksy's "Sirens of the Lambs." I've been lucky to be in New York during Banksy's current sojourn, and I've spotted one of his works so far (on west 79th). I really, really hope I get to see "Sirens" before I leave.
4. An article by Dr. Lisa Rosenbaum on the question of when a medical treatment is necessary. It pretty much speaks for itself.
5. Diseaseproof by David Katz, MD. David Katz is the founding director of Yale University's Prevention Research Center, Editor-in-Chief of the journal Childhood Obesity, founder and President of the non-profit Turn the Tide Foundation, and medical director for the Integrative Medicine Center at Griffin Hospital, among other things. He's also a prolific HuffPo columnist, and one of my favorites. His columns are always spirited and feature some tongue-in-cheek moments, but they're also balanced, evidence-based, and free of alarmism, which makes them a near anomaly these days.
Diseaseproof is a guide to prevention of chronic disease via lifestyle change. Katz walks his readers through healthy eating habits, exercise, and practical mental shifts that can open the door to the release of unhealthful weight, smoking cessation, and other important steps toward a lower likelihood of disease. It's a great resource for those who are new to wholesome lifestyle habits, and it's of course nice affirmation for those of us who are already choosing whole, plant-oriented diets or have quit smoking (ahem) but sometimes need a reminder that we did the right thing.
For most of my readers, I'd guess that the advice in this book would come as no surprise (don't smoke, eat plants, mostly, choose whole foods, move), and I'm not sure that the recipes would prove enticing. Katz is not vegan nor an advocate of a vegan diet, but he certainly places an overriding emphasis on fruits, vegetables, legumes, whole grains, and healthy fats. If I had to sum his approach up, I'd say that it comes closest to a Mediterranean diet. This resonated with me personally, since the way I eat is pretty close to a vegan nuance of this diet. But Katz makes clear that different people thrive with different dietary styles, that we all have a "sweet spot" of macronutrient balance that works for us, and that you can eat in many different ways to be healthy and strong, so long as the focus is on whole foods and plants, and this rings true to me as well. He writes, "The basics of what constitutes a healthy diet are well established, and they represent the overlap of almost every good diet with one another; however, there is room for variation on the theme of healthy eating, which is good, because it gives each of us options and puts us in the driver's seat."
And at the end of the day, this is why Diseaseproof was a delight to read. While I may be familiar with Katz's basic guidelines, it's his attitude–his approach to healthy living and eating–that I find so refreshing. While many health writers are busy demonizing ingredients, reducing all of mankind's health ills to a single food, or casting hard judgment on those who doesn't share their approaches, Katz accepts variability. "People get very zealous about a particular approach to diet," he writes. "But just as with religion, others with comparable credentials and fervor make a completely different case. The mingling of religious-style zealotry and opinions about nutrition principles is a growing but ominous trend–and it often steers people off course from what truly matters."
I agree. I avoid animal products for ethical and environmental reasons, and I feel passionately about sharing veganism with others on those grounds. I also believe that veganism can be an exceptionally healthful, vibrant way to live, and I'm excited about all of the research that supports plant based diet. But when it comes to nutrition, it seems to me that the evidence we have supports a number of core principles: eat mostly plant foods, eat variety, eat adequate, steady amounts of food, avoid inflammatory, processed foodstuffs. Within that paradigm, there is room for some adaptability and flexibility, and it's very hard to claim that one single diet is the best, or the only, healthy diet. "It's important to remember that science is all about the slow accumulation of evidence and the gradual evolution of understanding," Katz says. "If you put too much stock in the latest media report about what is or isn't good for you or what truly increases or decreases your risk of developing a particular disease, you may end up with a terminal case of health information whiplash."
Katz also makes a strong case for moderation–for a diet that consists primarily of healthful foods, but leaves space for indulgences and exceptions. He's aware of the fact that enjoyment and stress reduction are part of living well, and that fear-mongering can be as problematic in the quest to eat healthily as over-indulgence can be. Health, he says, is "for living the life you want and deserve, for feeling good and functioning at your best. It's not a trial, a penance or a punishment." And he also has little patience for the body-shaming and contempt that can often, unfortunately, be a part of dialogs about healthful lifestyle choices. "Based on my twenty years of clinical practice, I think the weight of shame, blame, and self-recrimination is far heavier than any number of pounds. This burden needs to be set down first…if you're already motivated to change your habits…it's important to realize that doing so is actually far less important than giving up the burden of past weight-loss failures. If you've been unable to change your eating or exercise habits in the past, make a conscious effort to let go of the excess baggage of disappointment, self-blame, or shame." This isn't to say that Katz isn't interested in empowering his readers to make healthful changes: the whole book is focused on useful strategies to that effect! But he's very uninterested in casting judgment or casting stones.
While the prescriptive advice in Diseaseproof may be too fundamental to appeal to this super savvy, health conscious community, I'd say that it's still an enjoyable read for its good sense. And if you're newer to vegetable-centric, healthful cooking, or you have a loved one who is, I think it's a very accessible, appealing source of guidance.
With that, I hope you all enjoyed wonderful weekends!
xo