Hi all. Hope you've had nice weekends so far. I'm sorry to be posting these links so late, but I hope they might give you some good reading material as you charge into the work week!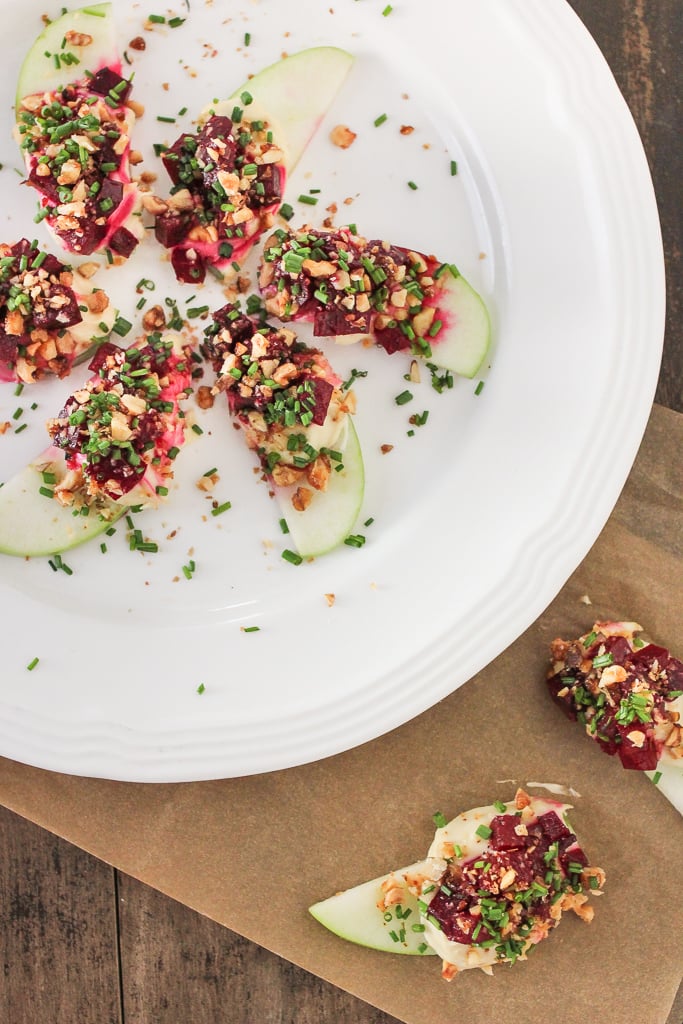 These elegant apples with roasted beet tartare, cashew cheese, and candied walnuts from Ketty of the Luminous Vegans have my name written all over them. So pretty.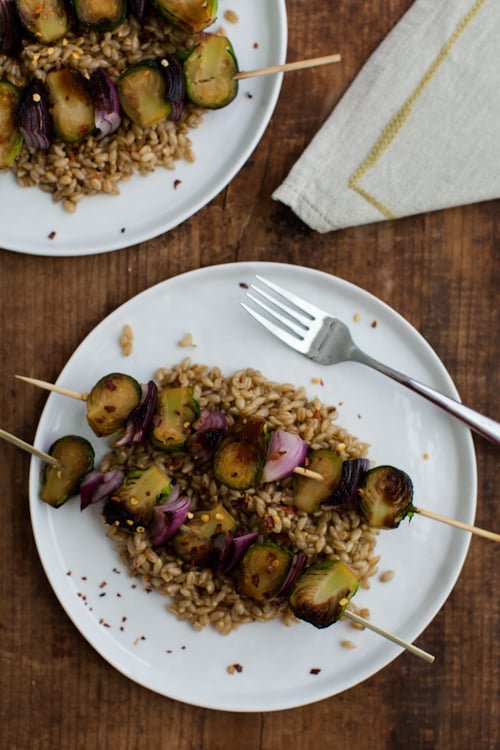 Ella's marinated brussels sprout skewers with ginger barley pilaf look perfectly seasonal and simple.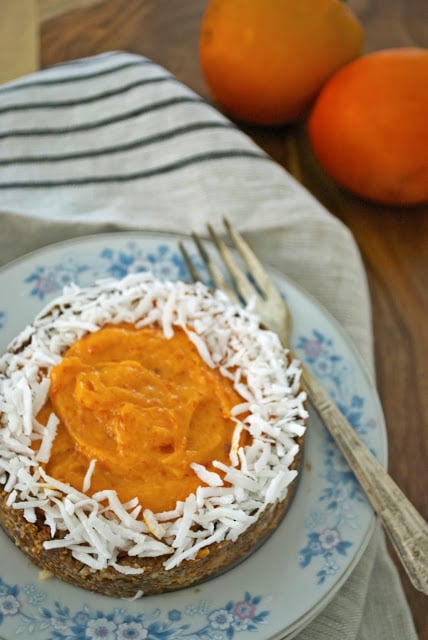 Speaking of seasonal, looking for a seasonal raw dessert? Look no further than Marquis' persimmon cakepie.
If you're maxed out on pumpkin smoothies, but you're still craving an autumnal morning drink, check out Amanda's lovely spiced apple butternut squash smoothie.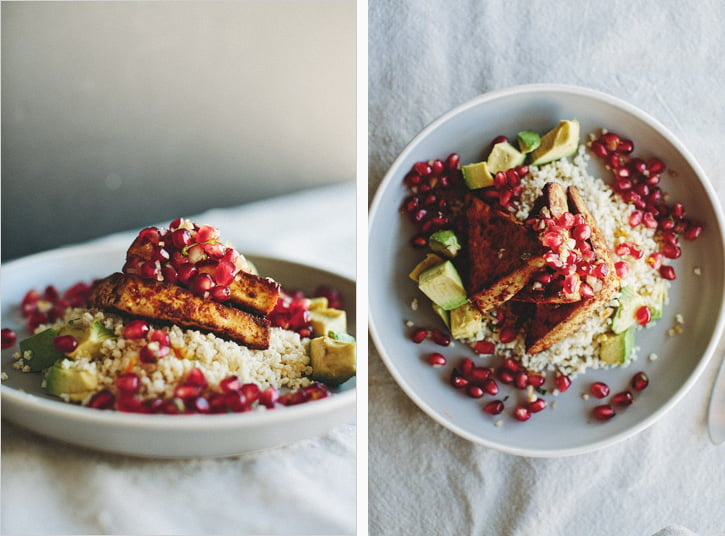 Sarah's chili roasted tofu with minted pomegranate relish is beautiful to look at, full of texture, and incredibly nutritious. What a lovely plate of food.
Reads
1. Thanksgiving is (amazingly) right around the corner. If this is your first vegan (or plant-centric) holiday and you're feeling a little nervous, check out Cadry's 12 very excellent tips for surviving your first vegan Thanksgiving.
2. This week, as you probably heard, the American Heart Association and American College of Cardiology issued new cholesterol guidelines that have now make many more Americans (millions more) will now be eligible and possibly advised by physicians to start taking statins. Statins, such as Lipitor and Zocor, help to lower cholesterol. They're often very effective in treating heart disease, but the new guidelines are controversial, and many people, including a number of health professionals, believe that reliance on statins may engender a false sense of security in patients (which is dangerous, since statins are not always effective on their own) and take attention away from an emphasis on lifestyle change as a means of preventing and reversing heart disease. I was very interested in this highly skeptical op-ed by two MDs in the New York Times.
3. For coverage of the new guidelines that brings in perspectives from both sides, check out this episode of the Diane Rehm show. While I basically agree that the new guidelines are problematic, I did appreciate hearing the perspective of physicians who note that it's hard for them to educate patients about healthy living in the context of contemporary medical practice. How can physicians initiate conversations about healthy diet and exercise when they're struggling to see huge numbers of patients in woefully limited time? Clearly, this is a systemic problem, and the solutions won't be simple.
4. While we're chatting about health, I really enjoyed this article, via Discover, about prehistoric evidence of cancer. While we tend to think about cancer as only a contemporary scourge (and certainly its prevalence is steeply on the rise) the disease has also been a part of the human condition since, apparently, the Pleistocene era, a million years ago. This is also a point made quite brilliantly by Siddartha Mukherjee in The Emporer of All Maladies–a rebuttal of the notion that cancer is exclusively a modern disease.
5. Nine days ago, my friend Jasmin's beloved grandmother, Sherrey Glickman, passed away. Jasmin and her grandmother were exceptionally close, and part of their bond was the fact that Sherrey had gone vegetarian at the age of eighty-six. She wrote a very touching blog post for Our Hen House called "Never Too Late to Change the World: Why I Became Vegetarian at Age 86." It's very inspiring, and if you're so inclined, I highly recommend it.
And speaking of loss, I wanted to give a special mention to this post, written by my friend Kathy, about the loss of her cat, Nelly. Nellycat was a huge part of Kathy's blog, and her presence, I know, will be missed by all Healthy Happy Life readers. In spite of her devastation, Kathy is still producing beautiful words. My heart goes out to her, and I'm sure that other readers are also sending her love and good thoughts.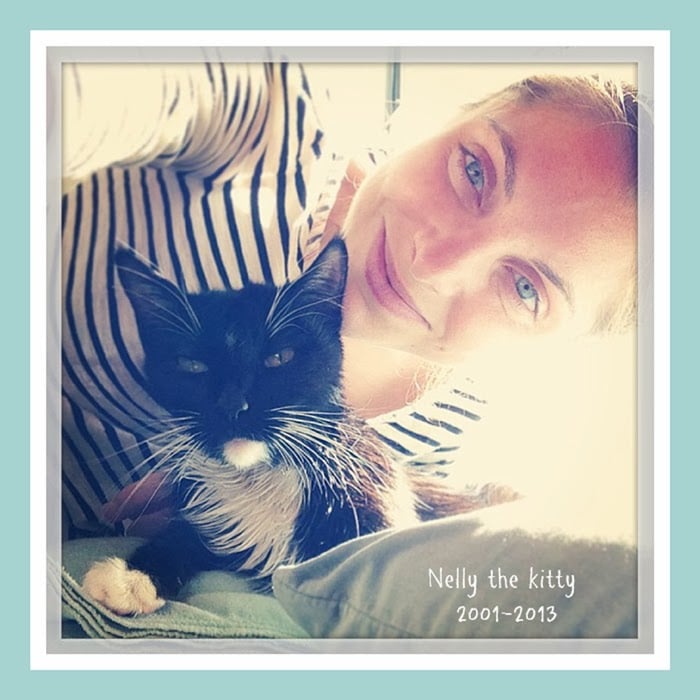 So. A somber assembly of reads this week. Tomorrow, back to food, as usual.
xo