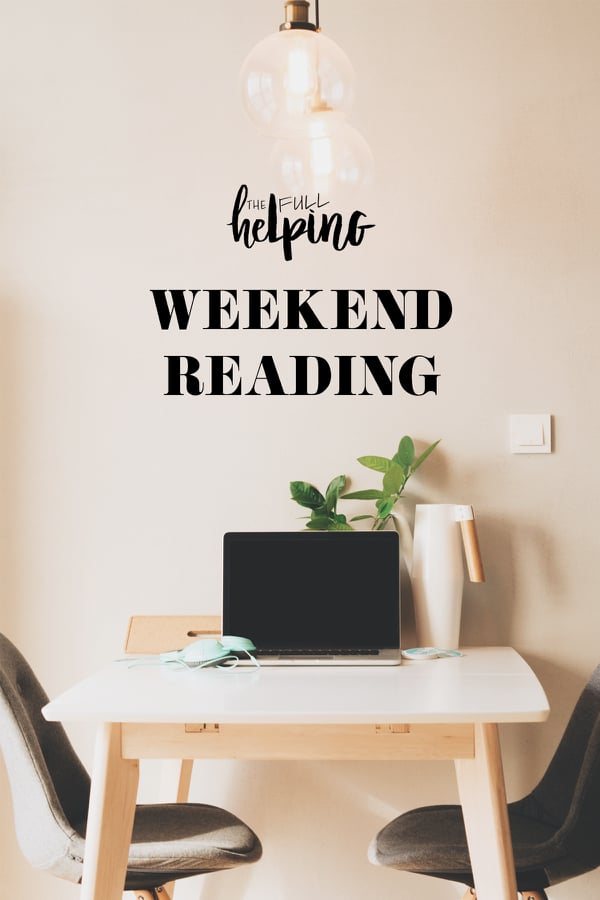 Two weeks ago, right after my summer courses ended, I spent some time getting to know Prague.
It was a trip I had committed to this spring, fresh on the heels of my breakup. I was eager for an escape, but it wasn't just about that. I was also thinking about how I've delayed seeing more of the world for a long time now. My reasoning seemed sensible: I'd think about the cost of travel, the things I needed to do here at home, and the pressures of being in grad school part time (and having a partner who was in school full time). I told myself that, aside from weddings, travel was something that Steven and I should wait to do.
Then our relationship ended, and I was reminded that it's wise to plan and save, but there's also a cost in delaying life experiences too often or for too long. I cling to routine tightly, and while I'm glad that habit gives shape and meaning to my life, I also see that it can keep me trapped if I allow it to.
These thoughts were passing through my mind exactly when a flight alert popped into my email for discounted fare to Prague. It's a city Steven and I had always said we'd like to go to together, one I've been curious about for a long time, and in an uncharacteristically impulsive moment, I bought myself a ticket.
Many months later, in the weeks leading up to the trip, I could feel myself growing nervous and hesitant, all part of my tendency to resist disruption. That I felt so ambivalent about leaving indicated to me that it was high time I wave goodbye to New York for a couple days.
I didn't plan on sharing anything about the trip on my blog, not out of secrecy but because I wanted the freedom to go and have experiences without taking photos or writing down the name of places I ate or taking notes. I'm glad I didn't document the trip too closely; it's not easy for me to simply do or see things without simultaneously crafting a narrative about them, and this is a habit I'm trying to bring into balance. Still, it would be a shame not to share some of the highlights of being away.
One of the nicest things about this trip was that, while I had a certain image of what Prague would look like in my mind, I didn't know a lot about the city or its culture before I arrived. I also did very little by way of planning or setting an itinerary before I arrived.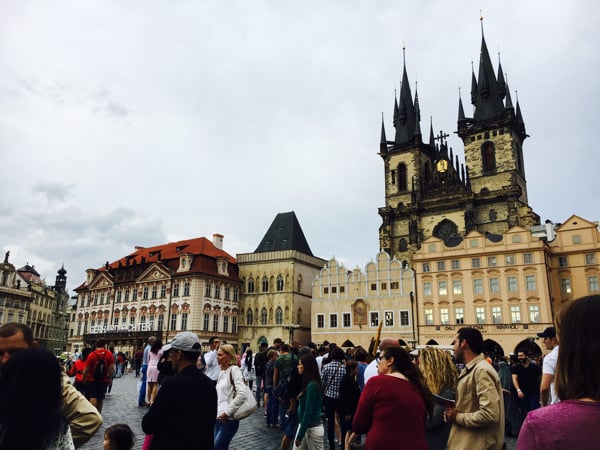 It wasn't until my first couple mornings in the city that I figured out what all I'd do while I was there, and the priorities kept shifting around: I made a list of the city's essential tourist attractions, but I kept getting distracted by activities that are a little more my speed (like neighborhood walks, or exploring coffee shops). I'm glad I saw Vyšehrad fortress, Prague Castle, Old Town Square, and music in the Klementium mirror chapel; I'm glad that finally, on my last night of my trip, I wandered down to the Charles Bridge at sunset.
But this trip mirrored others I've taken in that my favorite moments weren't planned. They included walking by the Vltava at night, after dinner, thinking I really ought to get on the tram to go back to my apartment but wanting to delay my wandering a little longer. Stumbling on Vrtbovská garden by accident and sitting there for hours with my book. Walking through the Karlin district and finding cup after cup of incredible coffee. Getting a loaf of the best rye bread I've ever tasted at Eska bakery, then eating it for breakfast every morning, sliced thickly and toasted and slathered with local jam.
Before I left, I did enough research to know that Prague has plenty of vegan eateries and dining options. these include two well-known restaurants in Old Town, Maitrea and Lehka Hlava, the latter of which is nestled into a beautiful space with a painted starry sky mural. But Prague's vegan scene is exploding, and there are so many other, newer, and off-the-beaten-path options. My favorites included two lovely and cozy Italian restaurants, Pastva and Incruenti, where I ate stellar pesto linguine and risotto, respectively.
For lunch, I loved Moment, which has an awesome atmosphere as well as tasty quesadillas, and Herbivore, which is a great place to sit, work, and help yourself to seconds (or thirds!) of the inexpensive, delicious, and hearty vegan lunch buffet. I was also a great fan of Happy Bean, where I could get killer seitan and hummus wraps, then sit in the park next to the beautiful Kostel Nejsvětějšího Srdce Páně church as I gobbled them down. There's a local farmers market that gets set up near Happy Bean, too, and I was happy to catch it on my last morning in Prague, picking up some berries, bread, and dried fruits before I left.
I was staying in an apartment, which meant that I could cook breakfast at home and pack up sandwiches for simple eating on the days when I knew I'd be on-the-go. It also meant feeling just enough routine and sameness that I didn't find the foreignness of a new place to be overwhelming. I found plenty of local health food stores and grocers (including Country Life, which also has an incredible vegan buffet), but it was actually easy to find most of my everyday staples, like fruit and soy milk and oatmeal, at any of Prague's many tiny food marts.
It was sometimes hard to resist mapping certain kinds of meaning onto the trip. Was I there to help heal a broken heart? To shake off all of the lingering insecurity and woundedness? To remind myself of my independence? To prove that I could give myself the gift of seeing a new place?
I know that I went to Prague for all of those reasons, in varying degrees. But if I had to boil it down, I'd say that I had two hopes for the trip. The first was to get out of the safety of my life in New York and out into the world a little more—something that isn't easy for me, and which will only happen if I give myself a push from time to time.
The second was to make friends with myself again. When I was little, I was blessed with a capacity to keep myself company in a way that made me feel content and fed. It has served me well through so many life experiences, until this past spring, when suddenly it seemed that I didn't really know how to be alone with myself anymore.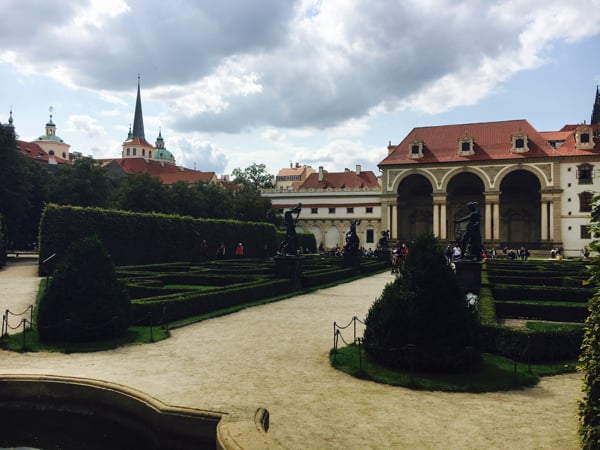 A wise friend recently gave me good advice, which is that, as I gather up the courage and readiness to start exploring romantic connection again, I should also be trying to date myself—to plan activities and experiences that appeal to me in the here and now, rather than delaying them with the intention of sharing them at some point in the future. My trip to Prague was something I'd imagined one day doing with my partner, but then things changed, and I did it anyway. It was a great experience, and in some ways it was all the more rewarding because I had the gifts of solitude, quiet, and space.
Now the challenge is to keep this sense of peace and calm in my own company, to continue crafting a life that is satisfying and interesting and rich, rather than mourning or looking back on the life I thought I'd be having right now. It's a challenge that is connected to a much bigger and broader desire to take life as it comes, without getting overly attached to visions or expectations, and it gives me plenty to work on in the year ahead.
If you get a chance to explore the magic of Praha as a plant-based eater, I definitely recommend all of the standard resources: Happy Cow, etc. But I also definitely recommend downloading the Prague Green City Guide before you go. It not only offers a very extensive list of Prague's vegan restaurant options, but also awesome tips on finding vegan-friendly local boutiques, apparel, accessories, and more.
I also can't say enough good things about the folks who run Taste of Prague. Not a vegan resource, but Zuzi, Jan, Karolina, Anna and Martin have their finger on the pulse of all of Prague's culinary goings-on—including the latest in vegan options—and they have wonderful recommendations for activities and day trips that are more offbeat and personalized than much of what you'll find through online searching or guidebooks.
On that note, I can't believe that I'm back, it's already Labor Day weekend, and September is very much underway. I wish you a nice long weekend, if you've got the time off, and I hope you enjoy this week's roundup of food and reads.
Recipes
While we're on the topic of travel, it feels appropriate to share a recipe from the two most experienced vegan travelers I know. Rika and Doni's Thai fried rice looks so good: perfect for turning days' old rice into something with new life and flavor.
I can't get enough summery pasta recipes right now, and this ultra simple, fresh, garlicky summer spaghetti is one of my new favorite finds.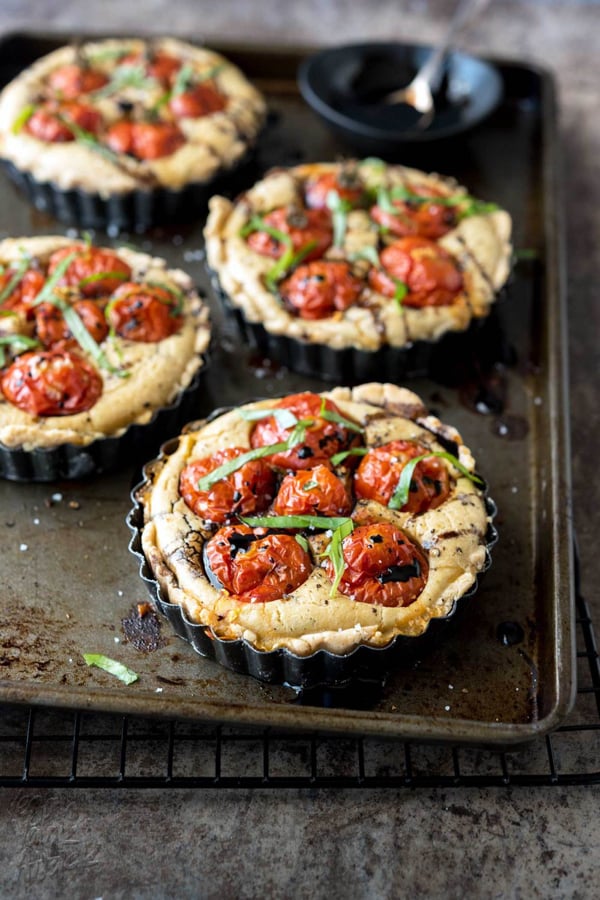 Could Jackie's creamy tomato basil tartlets be any prettier? What a wonderful, late summer recipe for vegan brunch—and they're gluten-free, too.
With a new semester on the horizon I'm all about easy, packable, satisfying vegan lunch options, and I'm bookmarking Sarah's tasty buffalo chickpea wraps to make very soon.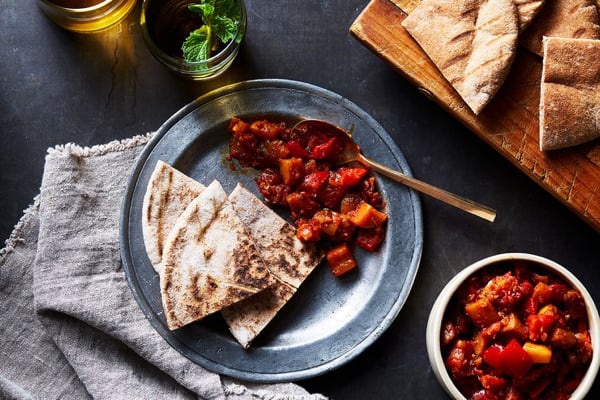 I'd never heard of matbucha until I read Leah's post on Food52, but I'm definitely intrigued. It's similar to caponata in that it's got onion, eggplants, and peppers, but it's also got cooked tomatoes, lots of paprika, and a nice kick of heat. Yum.
Reads
1. Travel is definitely an opportunity to reflect on how food and mealtimes fit into other cultures. I liked this article on meal frequency and patterns around the world, not so much because it draws any value judgments or conclusions, but because it's a reminder that there are so many ways to approach the act of eating.
2. I can't resist: the Periodic Table, in haiku form.
3. As the number of cancer survivors in this country continues to grow, it's more important than ever for there to be robust resources and support in place for those who are healing. This article talks about the importance of the survivorship movement for patients, especially those who find themselves grappling with anxiety or other mental health struggles after treatment.
4. I'm not sure why I was so touched by this video, but I was. A tree in Italy's National Park of Abruzzo, Lazio, and Molise was filmed continuously for one year, and the footage captured how local animals interact with the tree. If you watch the clip (it's only about three minutes long), you'll catch a boar, wolves, and two brown bears, among other animals, each of whom has their own way of relating to the tree as a part of his or her natural habitat.
5. While I was away, I missed the eclipse. I feel as though I had a chance to participate a little, at least, through social media. But I was also happy to see that The Atlantic temporarily reprinted Annie Dillard's wonderful, 1982 essay, "Total Eclipse." I hadn't read it since an undergraduate writing class, and I was really happy to revisit it this week.
Classes are now now officially in session, and I have a busy few weeks ahead. On Wednesday, I'll be back to share a new favorite, make-ahead, packable vegan lunch for transporting to school or work this fall! Till then, happy Sunday.
xo