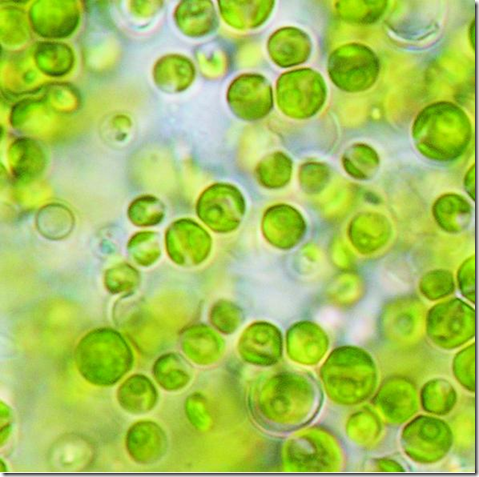 A few of you have noticed that I mentioned chlorella in my recent smoothie posts. It showed up in my cherry vanilla smoothie last week, and it made an appearance yesterday, too, in my Down Dog smoothie (thanks, by the way, for the nice comments on that post—I love it when yogis unite!). It's part of why that smoothie takes on such an incredible, electric green hue:
I've written about chlorella once before, when the Sun Chlorella company sent me a slew of their products:
It was great to have the portable powders and tablets (so easy for life on-the-go) and I also took advantage of the cream. I don't think it reversed time or anything, but the nice fragrance and the silky texture made me smile.
Chlorella fans claim that this green algae is the key to numerous health improvements, including increased energy, mood elevation, and "detoxification." It has, they say, been linked to the healing or reversal of the following conditions:
Cancers
Obesity
Diabetes
Arthritis
Depression
Severe liver damage and liver disorders
Asthma
High blood pressure
Constipation
Infections
Inflammation of joints and tissues
Body odor / breath odor
Degenerative diseases
EFA deficiencies
Magnesium deficiency
There you have it, folks. 75% of the Western world's major health conditions. Of course, before we simply take these statements on faith, we should play a quick game of "what they say / what we know," which I like to play in my head whenever a food is presented to me for its superpowers.
What they say:
Chlorella aids on "detox"
Chlorella helps to heal numerous health afflictions
Chlorella alkalizes the body
Chlorella helps to "neutralize bad air you might breathe in"
Chlorella aids in digestion and elimination
Chlorella can help to eliminate mold in the body
Chlorella enhances the immune system
What we know:
Chlorella contains B-vitamins, magnesium, and a terrific ratio of Omega-3 : Omega-6 EFA's
Chlorella is about 58% protein by composition; a typical serving is about 2 g protein, but those are two grams of complete protein, containing all of the essential amino acids
Chlorella has been shown in some lab studies to aid in tumor shrinkage
Chlorella has been shown in some research studies (conducted on patients with high blood pressure, fibromyalgia, and ulcerative colitis), to help reduce hypertension, support immunity, and reduce cholesterol
Of course, there may be gaps in my research, but this is what I came up with. As you can see, I couldn't verify many of the famous claims, but I was able to find at least a few strongly suggestive studies. There's never anything wrong with getting more animo acid and EFA bang for your buck, nor with boosting your B-vitamin and magnesium intake. So I put chlorella in the category of "superfood" that I'll use when it's available (that is, if I've been gifted with samples, or if I have been able to work it into my budget), and not worry about when it's not.
If you're eating a well rounded and healthy diet, smoothie add-ins like chlorella shouldn't be vital to your health—count on the fruits, veggies, and plant protein for that. But if you have the means to experiment with new, fun ingredients, you can try chlorella out; think of it as an "added bonus" to your diet.
Note that chlorella must be labeled as "cracked cell wall" in order for you to assimilate the nutrients—otherwise, they'll just pass through your system undigested. Hope that clears up any confusion!
While I'm on the topic of questions, a few of you asked how I made the hemp bread and hemp crackers pictured in my weekend lunches:
Pretty much a remake of my normal juice pulp crackers: I ground up 1/2 cup hemp seeds and 1/2 tsp sea salt in my food processor, added about 2 cups pulp and a little water, 4 tbsp flax meal, and let it all mix into a dough. I dehydrated it for about 3-4 hours on each side. Quick and easy—that's what student cooking is all about!
Tomorrow, I'll be back with a raw "wrap" recipe that made for a tasty lunch today. Stay tuned.
xo
Top image source