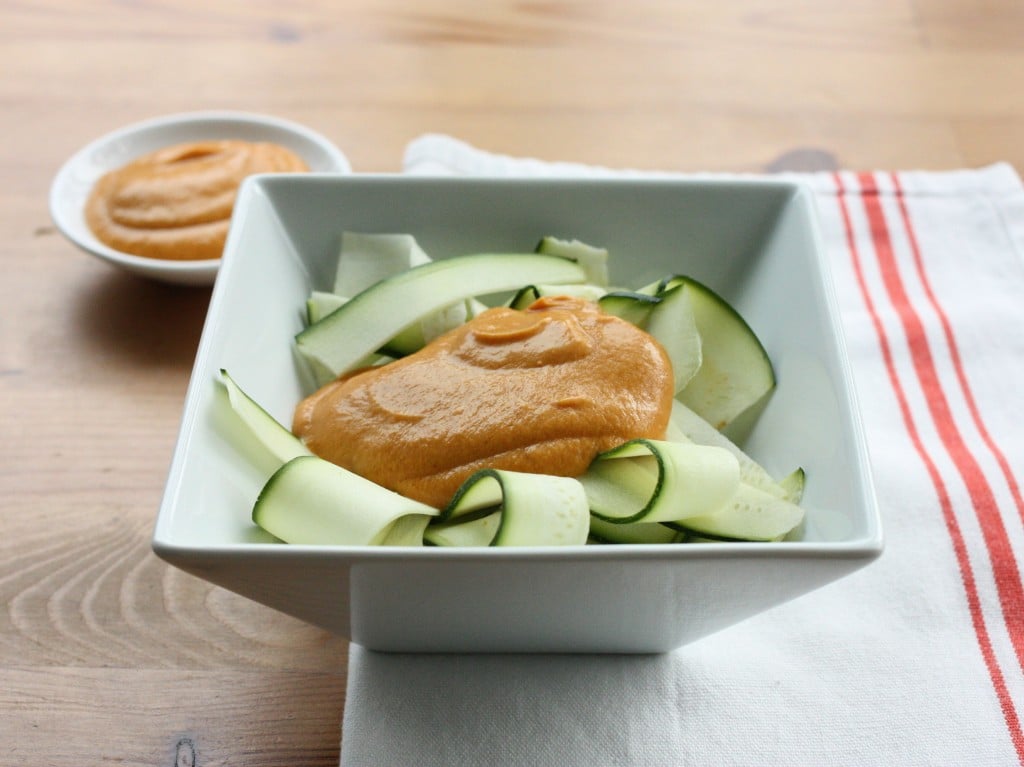 If I had to name a handful of my favorite and most commonly made dishes, zucchini marinara would have to be among them. This dish is a staple for me, and as with all staple dishes, I modify it according to what I have in the fridge. Sometimes I top it with creamy chunks of avocado, sometimes with baked tofu, sometimes with hempesan or toasted walnuts. Mixing lentils into the marinara sauce is lovely, as is guacanara, if you'd like a thicker sauce. Baked parsnips and butternut squash also make a lovely addition. You can check out the recipe for my classic zucchini marinara here.
Tis the season for all things pumpkin, so I recently thought I'd put an autumnal twist on my beloved recipe. I did this by blending up cooked pumpkin puree, fresh tomato, soaked cashews, a pitted date for sweetness, some sea salt, and a touch of nutmeg. While I'd imagine that this sauce is a bit of an acquired taste, it's probably not all that acquired. I know I'm not the only savory/sweet lover in this audience, and I remember being surprised at how many other folks loved the combination of peanut butter and tomato when I shared my peanut butter and tomato sauce.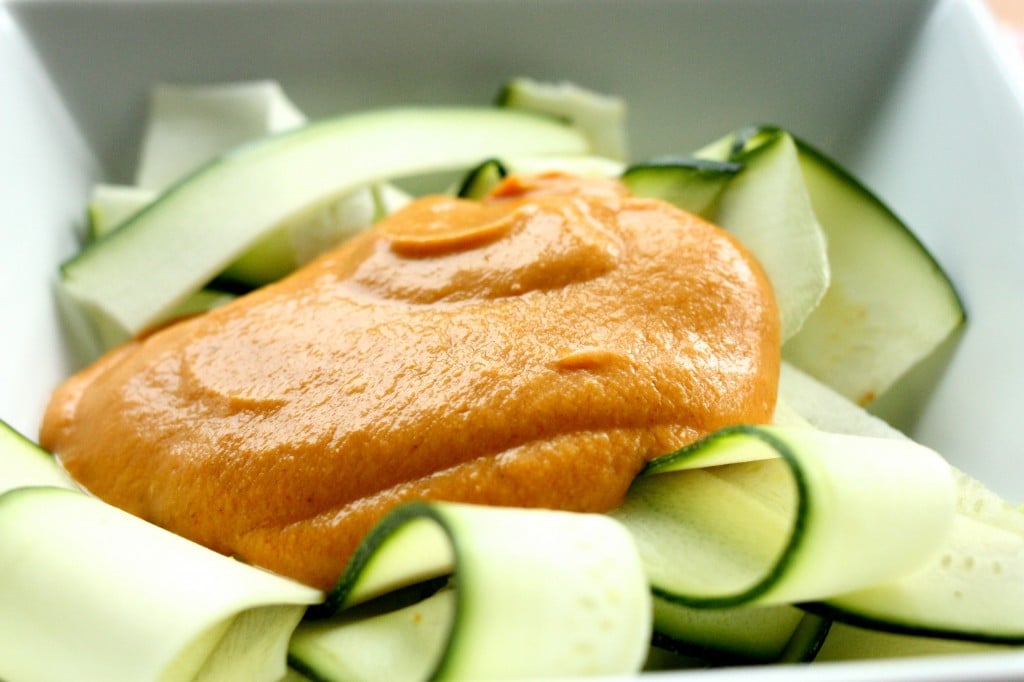 When it comes to zucchini pasta, cashew alfredo can sometimes feel too rich, while marinara on its own can feel a little too light. This sauce is a pretty stellar in-between. Hopefully you'll enjoy it, too.
Zucchini Noodles with Pumpkin and Tomato Cream Sauce
Author -
1

cup

cooked pumpkin puree

homemade or store-bought

1 1/2

cups

chopped tomato

1/4

cup

cashews

soaked at least 2 hours and drained of liquid

Pinch

nutmeg

1/4

teaspoon

sea salt or to taste

1-2

pitted dates

1/4

cup

water

plus extra as needed

Optional flavor add-ins: cinnamon

nutritional yeast, oregano, sundried tomato, almond butter, red wine vinegar, or anything else you like!

2

zucchini

cut into long, thick "noodles" (instructions here) or spiralized
1. Blend the pumpkin, tomato, cashews, nutmeg, salt to taste, dates, and water together in a high speed blender, along with any other additions you like. Add more water if the sauce is too thick for your taste (I enjoyed mine thick for this recipe).

2. Dress noodles with the sauce. Add any additional toppings that suit you, and enjoy! Save extra sauce for leftovers, or to use as a veggie dip.

Serves 2.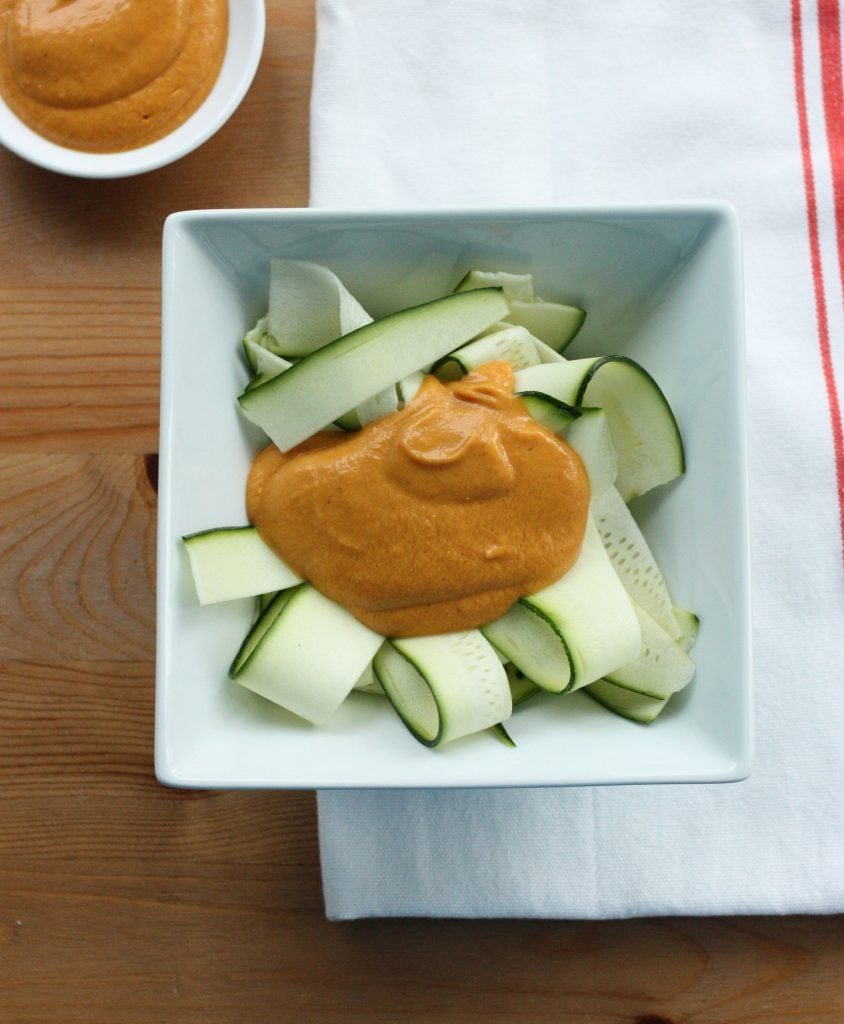 And this, my friends, is an express post, because I'm writing from a bus that's pulling into DC right about now. Thanks so much (as always) for your thoughtful responses to my Weekend Reading posts! I'm happy that you're enjoying them. Speaking of series, it's been very quiet lately as far as Green Recovery submissions go. Know that I'm always excited to get new voices, so if you have a story to share, feel free to email it to me at [email protected] The guidelines are flexible (you can pretty much structure it however you'd like to), the length is flexible, and you can absolutely remain anonymous.
xo