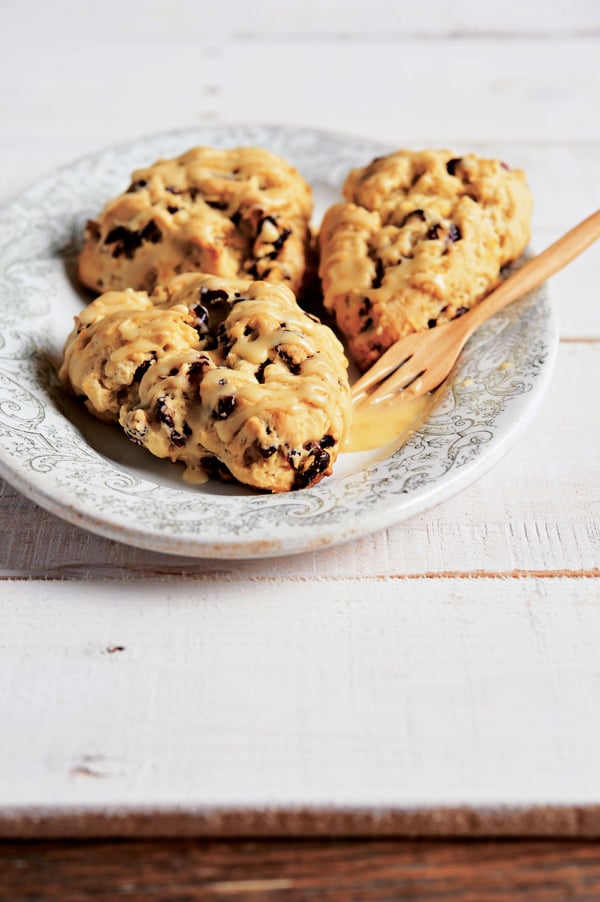 If you've spent any time experimenting with vegan and gluten free baking, then you know that it isn't always easy. I always say that vegan baking with gluten is doable, and gluten free baking with eggs seems pretty doable, but baking that is both gluten free and egg free (not to mention dairy free) can be tough. One peek at Cara Reed's gluten free, vegan cranberry orange scones, pictured above, will show you that, with a little practice. it's more than possible to achieve incredible results.
Cara Reed writes the website Fork and Beans, where she shares gluten free and vegan recipes that are authentic, whimsical, and beautiful to look at. She's got a particular talent for dessert, and this is also an excellent time of year to be introducing you to her work, because she's a bit of a Halloween treat maven! I look forward to her adorable Halloween creations each year.
Cara is also the author of a new book, Decadent Gluten Free Vegan Baking. And it is awesome.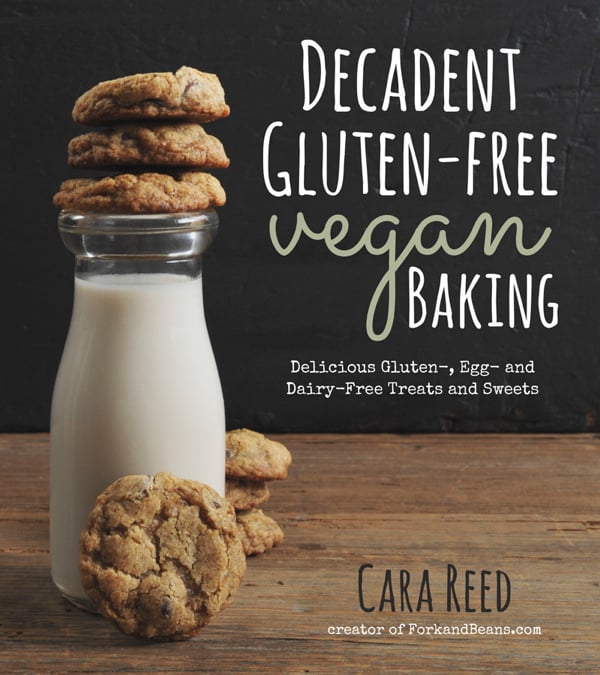 As I said, gluten free and vegan baking is a tough nut to crack, but it's a challenge that Cara rises to beautifully. Her book contains cakes, cookies, quickbreads, muffins, scones, and even a couple of no-bake desserts. Some examples of her artistry include cinnamon coffee cake muffins, jam filled pastry squares, and strawberry swirl cheesecake.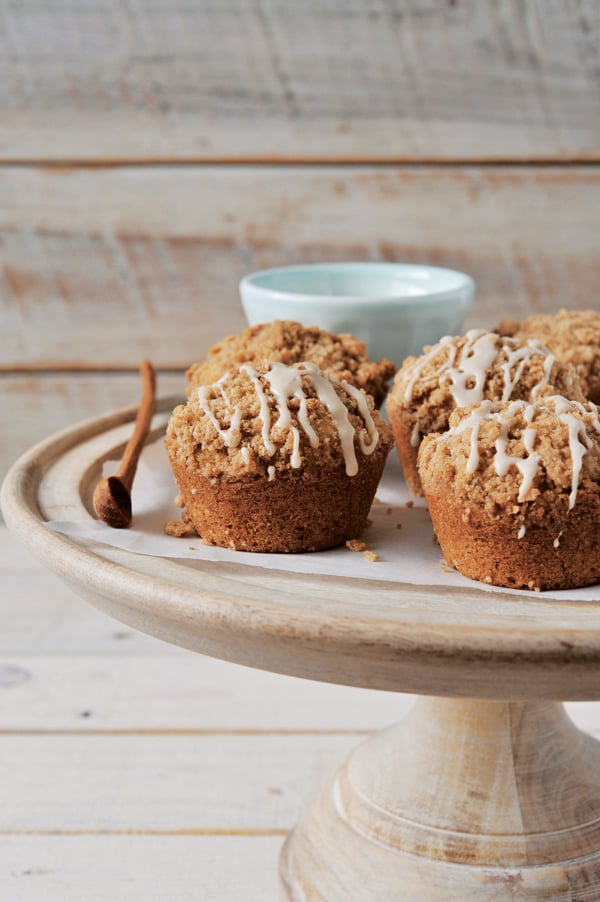 Aside from the fact that the photos are beautiful and the recipes all sound delicious, here's what I love about Cara's book:
–Precision. Baking really is a science, and it's clear that Cara has tested these recipes meticulously. The instructions are detailed and helpful.
–Whimsy. Cara's recipes have a very playful spirit, and the book feels lighthearted and fun.
–Creativity. As with the recipes on her site, Cara manages to channel a lot of traditional dessert favorites, while also offering some offbeat options.
–Ease. Listen, I don't find any baking easy, let along gluten free baking. As with most gluten free baking recipes, many of these call for a couple of specialty products (like xathan gum). But one senses that Cara is trying to keep things easy and accessible for everyone, and as a novice baker, I appreciate that.
I wanted to share a recipe that I think epitomizes Cara's talent and style. It's her cranberry orange scones. I made them this morning, and they were sweet, fragrant, a bit crumbly, and totally tasty.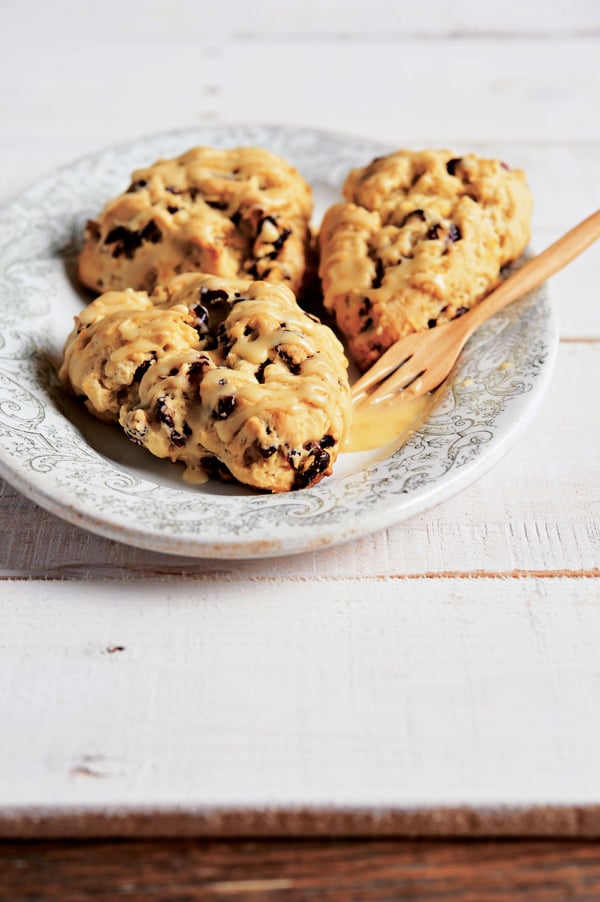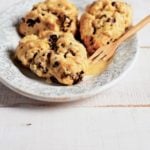 Gluten Free, Vegan Cranberry Orange Scones
Author -
Dry:

2

c/330 g Cara's All-Purpose Blend

see below*

¾

tsp

xanthan gum

1

Tbsp/16 g baking powder

½

tsp

salt

¼

c/50 g granulated sugar

Wet:

5

Tbsp/70 g vegan butter

cold and cubed

1

c/240 ml light coconut milk

canned

2

tsp/4 g orange zest

1

c/120 g dried cranberries

For the "egg" wash:

1

Tbsp/15 ml water

2

tsp/6.5 g cornstarch

For the sugar glaze:

1

c/120 g powdered sugar

1

–2 tsp/5-10 ml orange juice

1

tsp

orange zest

Cara's All-Purpose Blend

Makes 9 cups/1498 g flour blend total

3

c/480 g superfine brown rice flour

3

c/538 g superfine sorghum flour

1 1

?2 c/288 g potato starch

not flour

1 1

?2 c/288 g arrowroot powder

With a spoon

scoop the flours into a measuring cup. Level with a knife and throw everything into a gallon-sized plastic baggie, seal tightly and shake vigorously until well combined. Keep stored in an airtight container.
Preheat oven to 425°F/220°C.

Whisk the flour, xanthan, baking powder, salt and sugar together. With a pastry blender, add the butter into the flour mix until crumbly. Stir in milk. Before you completely combine the dough together, add the zest and cranberries. Mix until flour is completely combined.

Gently pat dough into a circle (approximately 8–inch/20-cm diameter). Slice the scones into 6 pieces and place on a greased baking sheet and coat a thin layer of the "egg" wash by whisking the water and cornstarch together, and then gliding onto the dough with a brush. Bake 15 to 20 minutes or until light browned. Allow to cool on a baking rack for 10 minutes.

To make the glaze, combine all ingredients to make a paste thick enough to stir but not too runny. Coat the tops of the scones with the sugar glaze and serve.

Printed with permission from Decadent Gluten-Free Vegan Baking by Cara Reed. Page Street Publishing (Aug 5, 2014)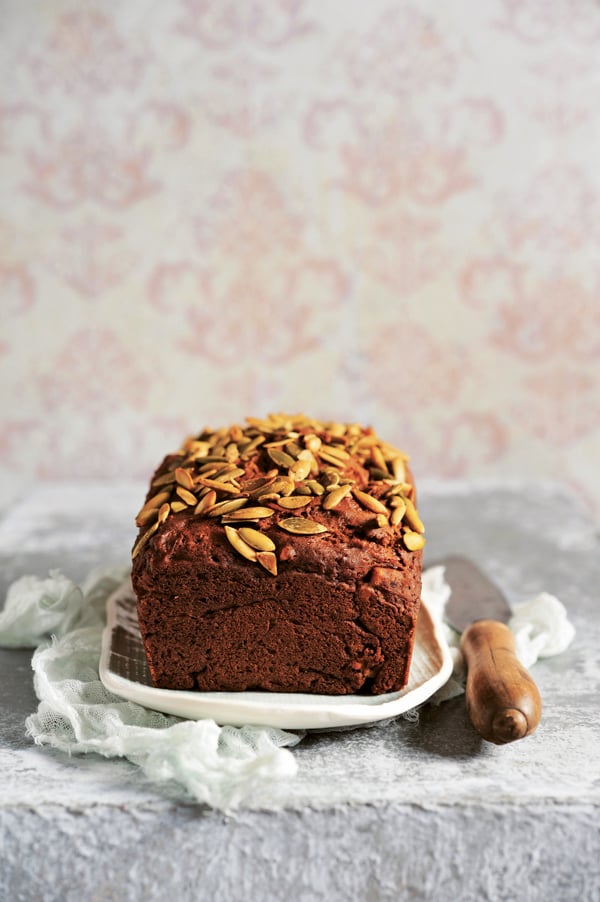 In all, I recommend this book because it feels like a treat. Every recipe, every photo — they're all celebratory. The word "decadent" gets thrown around all the time in the foodie world, but if we're to take it as "self-indulgent," which is one of its meanings, then I think Cara has used it well; this is self-indulgent in the best possible ways. Treat yourself to the book, and to the sweet treats it offers up so generously.
And, if this helps to sweeten the deal: Cara and Page Street Publishing are offering my readers a copy of Decadent Gluten Free Vegan Baking. Enter below! (US and Canada residents only.)
Speaking of giveaways, the winner of Fran Costigan's Vegan Chocolate has been announced and the giveaway is closed. Thanks to everyone who entered!
See you back here for weekend reading, friends.
xo