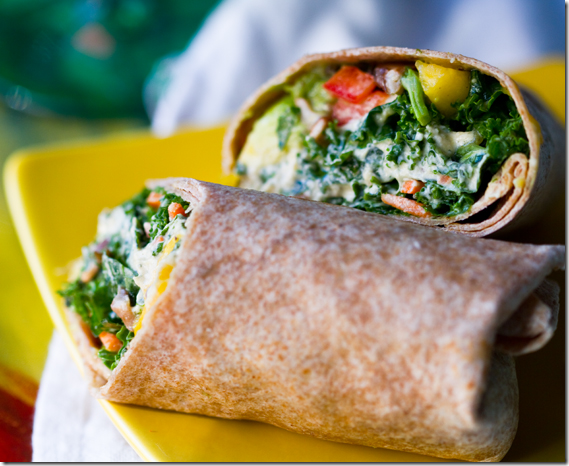 Last week, I told you all about my lovely friendship with Kathy, who is one of the most enterprising and talented vegan chefs I know. I also alluded to a special project that Kathy and I were cooking up, which I'm ready to unveil today: The Kathy and Gena show!
Yes, that's right: I'm banishing my camera-shy side to the curb. All of you who've asked me to do cooking videos, your wish is granted! Now you get to see just how goofy and awkward I am in person.
Of course, none of this would ever have been possible without Kathy, who is a tech mastermind and has the patience of a saint. In spite of the fact that we faced a number of tech issues in this, our first video, Kathy plugged away at the editing process and left us with two fun, entertaining, and beautifully put together videos. Kathy, you are amazing! Thank you for this, and for your watermelon frosty recipe, which is possibly the best thing I've tasted this summer so far.
So what was the theme of our video? As you'll see in a moment, our goal was to share some raw and cooked, vegan summer recipes that would be quick and easy for entertaining, but pretty to serve, too. Most of all, we wanted to give you a few useful how to's, including:
How to "massage" kale salad (finally! I owe you guys a demo)
How to wrap a wrap (seriously, how many of you don't quite know how? I'll be the first to admit that Kathy blew my mind here)
How to make a summery frosty that doubles as a margarita base (AND succeeds in making Gena, the Watermelon Skeptic, love everyone's favorite summer fruit)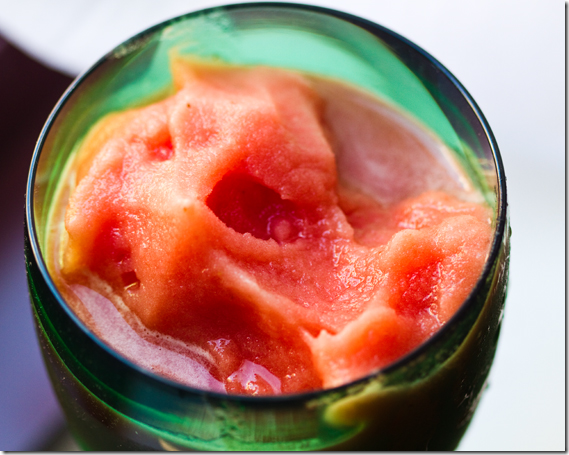 Excited yet? I hope so!!! Todays featured recipes include two CR classics: my hemp hummus (which appeared on the blog this week in some cute zucchini wraps) and my massaged kale salad with outstanding miso sesame dressing, which I've eaten nearly every single day for a week! It also includes Kathy's amazing frosty and photos of her bruschetta trio, which didn't make it onto the video intact, but were absolutely delicious. The recipes can be found in Kathy's recap! Our recipes come together in this amazing wrap: the GK wrap! Stuffed full with hummus, kale salad, mango chunks, and shitake mushrooms, it's a cornucopia of flavor and texture! Wrapped to perfection by the wrapmistress herself, Ms. Kathy.
Enough talk: it's time for you to see for yourself how all this stuff comes together. Let us show you!
Video 1: Hemp Hummus, Kale Salad, and the "GK Wrap":
Video 2: Kathy's Watermelon Frosty!
That's it, guys! The "real me!" As you can see, I'm more of a goofball than the measured prose would suggest!
And if you need a refresher on the recipes:
High Protein Hemp Hummus (vegan, gluten free, soy free)
Makes 4-5 servings
1/4 cup shelled hemp seeds
1 can chickpeas, drained, or 2 cups freshly cooked (heat before blending for ideal consistency)
1/2 tsp salt (or to taste)
2-3 tbsp freshly squeezed lemon juice
1 small clove garlic, minced
1 tbsp tahini (optional)
1/2 tsp cumin
Water
1) Place the hemp seeds in the bowl of a food processor and grind till powdery.
2) Add the chickpeas, salt, lemon, garlic, tahini, and cumin, and begin to process. Add water in a thin stream (stopping to scrape the bowl a few times) until the mixture is smooth and creamy.
3) Garnish with hemp seeds and serve.
Outstanding Miso Sesame Dressing (high raw, vegan, gluten free)
Makes 1 2/3 cups
1/2 cup mellow white miso
1/3 cup agave nectar
1/2 cup tahini (raw is preferable, but roasted is fine, and less costly)
3-4 tbsp tamari
1/2 inch fresh ginger (or 1/2 tsp dry)
1 1/4 cup water
1) Blend all ingredients together on high. Add more water if the mixture is too thick.
To make the kale salad pictured, begin with:
1 bunch curly kale
1 large beefsteak tomato, chopped
1 large bell pepper (or 2 small), chopped
1) De-stem, chop, and wash kale well
2) Add about 1/3-1/2 cup of the miso dressing to the kale. Using your hands, "massage" dressing into salad well, till it's a little wilted in texture.
3) Add tomatoes and peppers, and toss. Serve!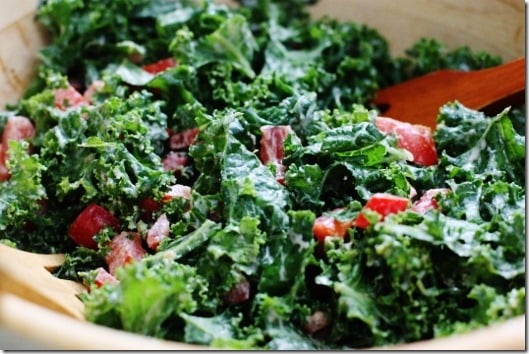 And now, time for some feedback! What do you want to see more of from the Kathy and Gena show?? We're so excited about future episodes and want to take reader requests. Send them now!!
And now, I'm returning to what has been a so far blissful first day home in NYC. Tomorrow morning, I'll start recapping all of my dining adventures for you!! See you then.
xo