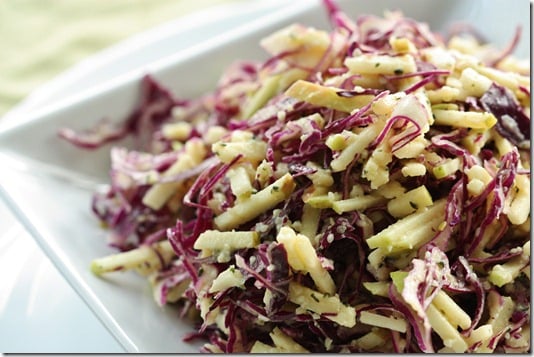 Sorry to be a little quiet in the last few days; I had a big genetics exam this morning. In spite of being busy with studying, I did spend a little time in the kitchen over the weekend, and this tangy, seasonal, crunchy red cabbage and green apple sesame slaw was one of the highlights. It's a perfect, easy side dish for fall.
Certain recipes are just no brainers–we take a peek at the ingredients and think "of course I'll love that." For me, most recipes that include…
raw kale and/or cabbage
squash
sweet potatoes
chickpeas
lentils
carrots
beets
tahini
quinoa
hempseeds
nutritional yeast
apples
bananas
…or a combination of any of those things, is likely to win me over quickly. So it came as little surprise to me that this simple and colorful slaw, which features tart granny smith apple and crunchy red cabbage, was an instant hit.
Cabbage is a perennial favorite of mine: it's inexpensive, easy to find locally, and full of healthful phytonutrients.  My favorite way to enjoy cabbage is raw, shredded thin, and crispy. When it comes together with tart apples, a sweet, salty sesame tahini dressing, and a lot of nutrient dense hemp seeds, the result is quick and easy magic.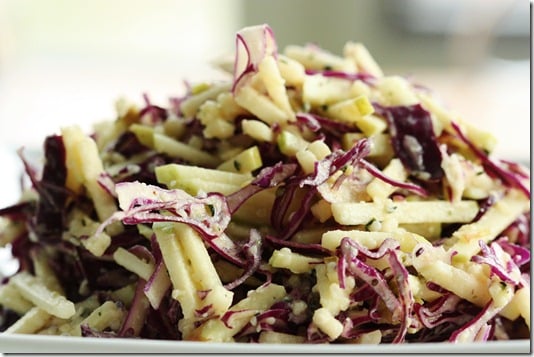 | | | |
| --- | --- | --- |
| Crunchy Red Cabbage and Green Apple Sesame Slaw | | Print |
Recipe type:
salad, side dish
Cuisine:
vegan, gluten free, soy free, nut free
Prep time:
Cook time:
Total time:
Serves:
3-4 small servings
Ingredients
4 heaping cups thinly shredded red cabbage
1 granny smith apples, shredded
3 tablespoons shelled hemp seeds
¼ cup tahini
¼ cup water
2 teaspoons agave nectar or maple syrup
½ teaspoon toasted sesame oil
½ tsp sea salt (to taste)
1 tablespoon apple cider vinegar
Instructions
Whisk dressing ingredients together and set aside.
Dress the shredded vegetables and hemp seeds with dressing; you can use as much as you like, but make sure you coat everything well! Serve.
Notes
Leftover slaw will keep overnight in an airtight container in the fridge.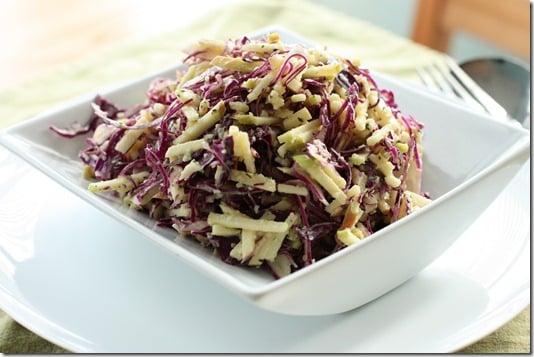 The salad is simple and absolutely delicious in its own right, but to make it more complete as a meal, you can add chickpeas!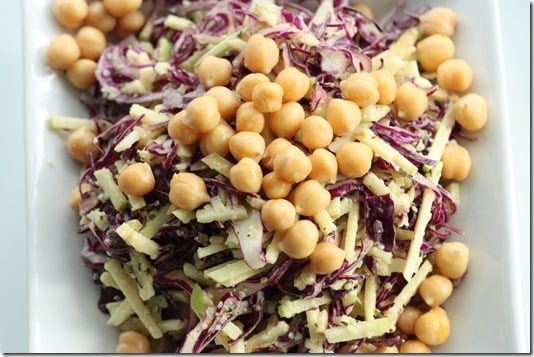 I hope you all enjoy this quick, easy, dish.
Emerging from a marathon weekend of studying always feels a bit like waking up after a dream (a not particularly nice dream). I'm happy that you all were so excited about treats and tonics from Gouter on Friday, and look forward to sharing a couple of tasty recipes this week—especially a new and improved recipe for vegan Thanksgiving stuffing. Till tomorrow!
xo