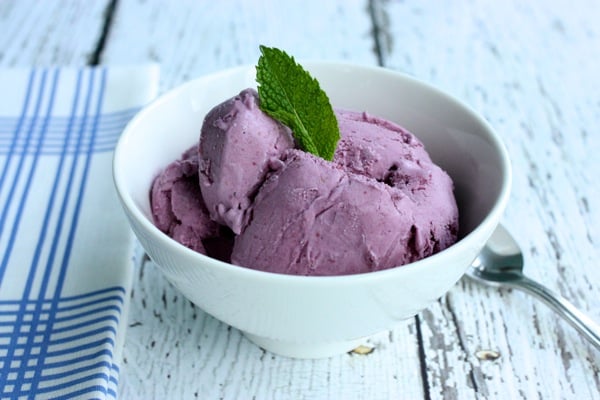 This ice cream is pretty amazing.
It's amazing because you don't have to heat anything, dissolve anything, or thicken anything before you put it in your ice cream maker. It's amazing because it features only five ingredients. It's amazing because it's rich and creamy and the texture will hold up very well to freezing (no frosting, not too much hardening). And it's amazing because it tastes heavenly, a glorious marriage of tart blackberries and sweet, rich coconut and vanilla. I expect to make it many more times before my last steamy D.C. summer draws to a close.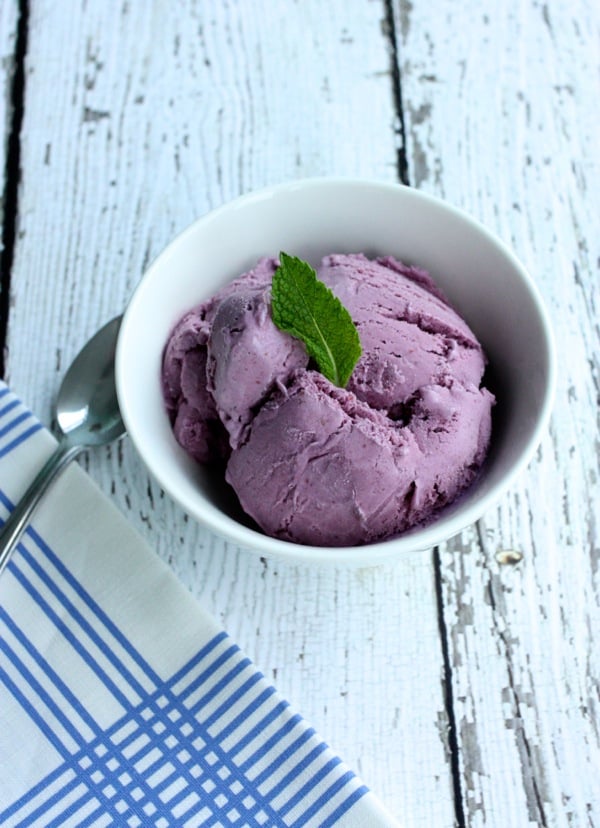 So, I'm pretty new to using an ice cream maker. I bought mine last summer, as I was testing recipes for the book (only one ice cream maker recipe made it in, but it's a good one, and I actually based this ice cream on it). They are pretty awesome machines, and I think mine was a good investment, but I can't say I've gotten very creative with it so far. Too many ice cream recipes seem more complicated or more time intensive than I'd like; there's heating, then dissolving, then cooling, and then churning. It's all well and good, but I'm always happy for an excuse to skip kitchen steps. And this recipe affords me many a shortcut.
It seems to be a fact universally acknowledged that coconut milk is the ideal vegan ice cream base. Well, OK, I take that back: my favorite vegan ice cream is and always will be banana soft serve! But if I'm using a non-dairy milk base for ice cream, then it's definitely coconut. This post from The Kitchn contains some really good instructions on how to make vegan, coconut milk ice cream at home. But it's a little more professional than what I'm about to share, in that you create a "custard" base on the stovetop before you get started.
To make this blackberry ice cream, all you have to do is blend up coconut milk, sugar, vanilla, salt, and blackberries. You can use either a high speed blender or a regular one, but the high speed blender will dissolve the sugar much more efficiently. (If you use a regular blender and there's too much crystallized sugar in the mix, you can give it a quick heating over the stove to dissolve the sugar.) You add the mixture to an ice cream maker, let it churn, and boom: homemade, summery blackberry ice cream, with hardly any fuss. Here's the recipe.
Five Ingredient Vegan Blackberry Coconut Ice Cream
Author -
2

cans full fat coconut milk

cold (keep them in the fridge till ready to use)

3/4

cup

vegan sugar

I used cane sugar; demerara sugar, coconut sugar, and organic white sugar are all fine

Seeds of 1 vanilla bean

Generous pinch salt

1

cup

fresh blackberries
The day before you make the ice cream, refrigerate the ice cream maker basin according to manufacturer instructions.

When the machine is ready, empty the cold coconut milk, the sugar, the vanilla, the salt, and the blackberries into a blender. Blend till they are totally smooth (1-3 minutes).

Transfer the mixture to the ice cream maker. (If it's gotten hot while blending, you may wish to cool it down in the fridge first, but it wasn't necessary for me.) Allow the ice cream to churn for about 20-25 minutes, according to the machine instructions, until it's ready. Transfer the ice cream to a freezer-safe container and allow it to sit in the freezer for a few hours. Serve, garnished with mint if you like.
For the record, my boyfriend takes his ice cream seriously, and he was blown away by this stuff. It didn't last long. I can't recommend it enough, and I also recommend using different kinds of fruits: strawberries, blueberries, peaches, cherries whatever. If you want, you can leave some whole fruit in the ice cream to give it texture. You could also add some different flavors (cinnamon, ginger), but to be honest, I think what makes this ice cream so very special is the simplicity of it, the ease.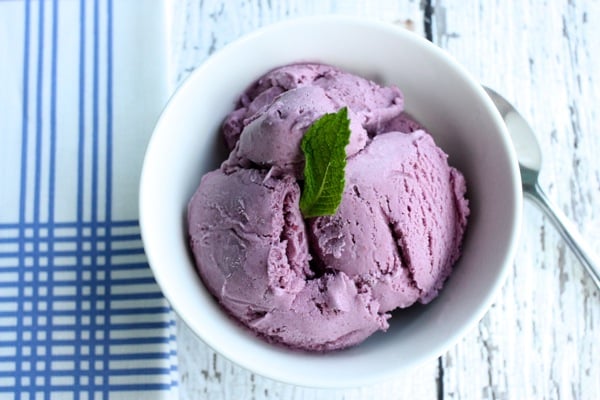 In any case, I hope you'll enjoy it as a cooling summer treat!
Before I go, a head's up that my wonderful friends at 22 Days Nutrition are hosting a fun giveaway to celebrate my book! If you pre-order the book and send them a photo of your reciept, you'll be automatically entered to win $150 worth of their vegan, gluten free, soy free, organic protein powders and bars (a tub of protein and 2 boxes of bars, to be exact, along with a t-shirt and other goodies). It's a fun chance to explore the book while also getting to know this fabulous brand. Check out the details here!
Have a great evening, folks.
xo