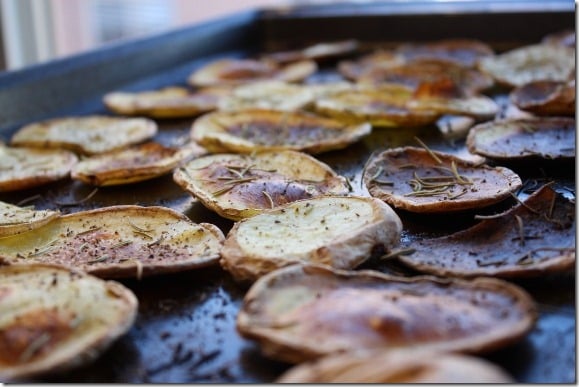 Last week, I was having drinks with a good friend, and we got to the topic of blogging. He claimed that comments sections are the "province of the cowardly." I get what he means, at least with regard to certain kinds of blogs, and certain kinds of commenters, especially those who go by the name "anonymous." But I had to immediately correct him. "My comments section," I said, "is actually what keeps me blogging."
And this is true. Thank you so, so much for the amazing responses today and yesterday to my NEDA post; one reader suggested putting them in PDF format so that anyone who found the discussion useful could access them easily. Not a bad thought.
Getting back to food, I recently promised you a recipe for yukon gold potato chips. Have you noticed that when I promise to post something "tomorrow" or "later this week," what I usually mean is "three weeks from now?" Sorry, guys and gals. These potato chips are coming at you a bit late. But they're no less delicious for the delay.
The recipe really couldn't be any easier. It all began with M's famous delivery box, and the six or seven yukon gold potatoes we didn't know what to do with. M suggested baking them, but the thing was, it was past lunchtime, and I was ravenous. And when I'm ravenous, I'm no fun. So a forty minute bake was out of the question.
Unless, of course, we could slice the 'taters so thinly that they'd crisp up quickly. Which is exactly what we did. Using M's mandoline, I cut two large potatoes into thin slices (I'd say 1/8-1/4 inch is fine). I tossed them in a "glug" of olive oil—maybe 2 tbsp or so—and sea salt and black pepper. I then laid them out on two baking trays and sprinkled them with just over a tablespoon of dried rosemary and another dash of pepper. After about 25 minutes at 400 degrees, they were crispy, crunchy, salty, and superb.
Advantages of these chips, over other chips:
1) Baked, not fried. These golden-brown treats are some raw foodists' idea of a nightmare. But I think that balanced diets of raw and cooked foods can allow for some burnt edges here and there. And if you're hooked on conventional chips, these guys are less caloric and lower in fat.
2) Gluten free-friendly. If you're avoiding gluten, but missing your favorite crackers, these are good enough to distract you. Possibly forever. Or until you make them again.
3) Whole food snack option. Enough with your fancy organic crackers and crisps from Whole Foods or your local health food store. Those are yummy, but they're also making you go broke. OK, maybe not, but these are the real whole foods: nothing but potatoes and spices. I'd recommend them any day as an alternative to conventional crunchy snacks, which have probably been through at least one level of processing!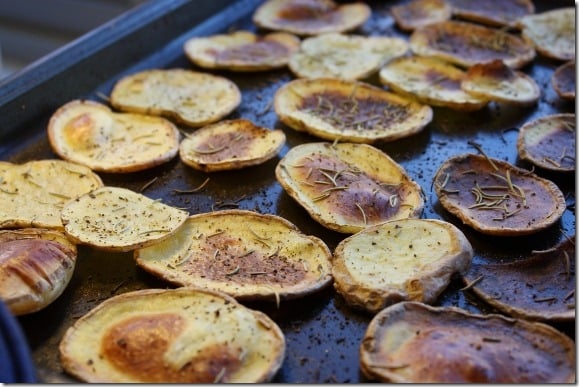 If you need precision with the recipe, here goes:
Yukon Gold Potato Chips with Rosemary and Sea Salt (vegan, gluten and soy free)
Yields about 30-36 chips
2 large Yukon gold potatoes, sliced thinly (1/8-1/4 inch, depending on whether you're using a knife or mandolin)
2 tbsp olive oil
1 tsp sea salt (or to taste)
Black pepper to taste
1 1/2 tbsp dried rosemary
1) Pre-heat oven to 400 degrees
2) Toss the potatoes with 2 tbsp olive oil, salt, and pepper in a mixing bowl.
3) Lay them in a single layer on a baking sheet, and sprinkle the rosemary on top (as well as extra pepper if you like).
4) Bake for 20-25 min, or until very golden and crispy (this will vary with your oven).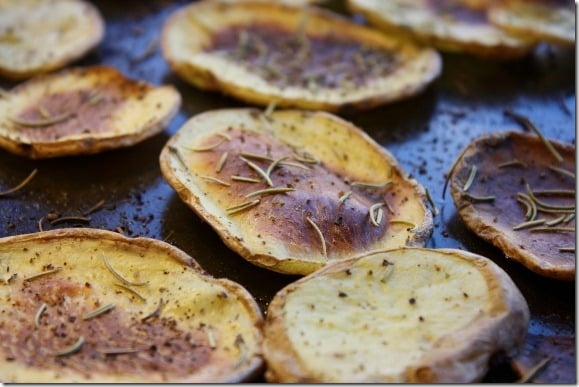 These are a great snack, but they're also very handy as dippers:
This one worked nicely with up in smoke hummus!
Before I go, have any of you checked out my about page recently? There's a cool new photo up, courtesy of M (resident photographer, recipe namer, and the mind behind unexpected, yet excellent flavor pairings). Check it out: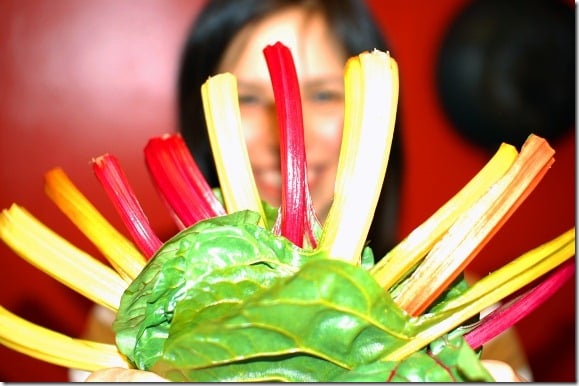 Chard! Beautiful chard! That smile tells you everything you need to know about my reaction to fresh greens.
Adieu for now.
xo