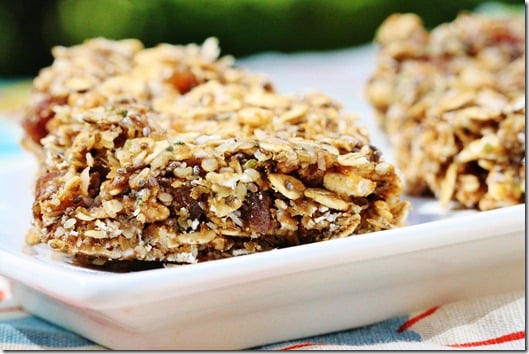 On Tuesday, I shared a recipe for a vegan snack bar with an interesting twist: chickpeas added to the wet ingredients! They were delicious, and packed with nutrition from legumes, Omega-3 rich seeds, hearty and fiber-rich oats, and simple sugars from dried fruit and date paste (tutorial here). I loved them.
So did my friend Anne, who is also a stressed out science student with little cooking time to spare. Apparently, I inspired her to break out the baking mitts, and today, she posted her own scrumptious looking spin on the bars!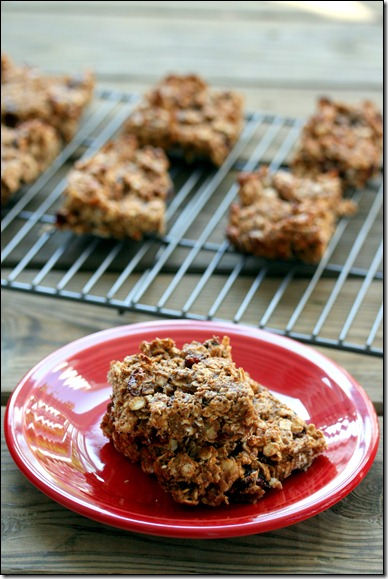 I'm flattered! And I'm also slightly unsettled by this eerie coincidence: when I mentioned earlier this week that I had another bar recipe I wanted to share—this one, a no-bake version—I was actually feeling inspired by Anne's amazing 5-minute, no-bake granola bars, which she used in a guest post for me some time ago. Eerie! I suppose great minds really do think alike.
These bars took me a minute or two longer than five, but they really are worthy of the name, given how amazingly quick they are to make. I used Anne's bars as inspiration, but I was really hoping to make these bars a simple and stress free vehicle for Omega-3 fatty acids (which are no my mind in the context of our oil conversation this week), so you'll see that I used hemp seeds, chia, and flax–the Omega-3 trifecta! I also threw in some delicious, all natural dried apricots, in honor of my Mom, who is the intended recipient of this recipe. The resulting bars aren't the most photogenic I've ever made, but they sure are some of the most delicious and easy.
Super Speedy, No Bake Omega-3 Vegan Snack Bars (vegan, gluten free with appropriate rolled oats, soy free)
Makes 12-14 bars
Dry ingredients
1 1/2 cup rolled oats (buy certified GF oats if you're allergic to gluten)
1 cup puffed brown rice (I used Arrowhead Mills)
1/3 cup hemp seeds
1/4 cup dried coconut
1/3 cup finely chopped apricot (raisins, goji berries, or cranberries will all be great–be creative!)
4 tbsp chia seed
2 tbsp flax meal
2 tsp cinnamon (optional)
Wet ingredients
1/2 cup date paste, agave or maple syrup (date paste is slightly less sweet, so you may use a bit more of you use it)
6 tbsp salt-kissed vanilla sunflower seed butter OR peanut butter
1) Mix dry ingredients in a mixing bowl.
2) Mix wet ingredients by hand or in a blender or food processor.
3) Pour wet ingredients over dry, mix well, and press down into a shallow, rectangular baking dish lined with saran wrap. Cover with another layer of saran, and press down evenly to form a smooth surface. Refrigerate for a few hours, cut into 12-14 bars, and serve!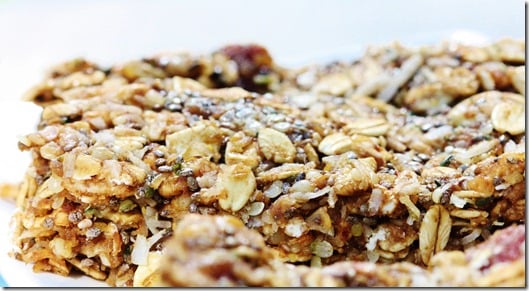 These bars are sinfully delicious, and they're so remarkably easy. If I have the time to prepare something the day before an exam, you know it's quick.
And worth making.
You can really taste both the coconut and the apricot in here—perfect, since these are two of my Mom's favorite flavors. And what I taste, and love, is the healthy fat from the hemp and chia and flax, the protein from hemp and oats, the high fiber content, and the sweet kick of dried fruit and date paste. A simple, wining snack.
Anne and I have so much in common: editorial backgrounds, shared dreams of working in health care, and a shared passion for great food. Including snack bars. We're also both a little serious, a little sassy, and a little silly: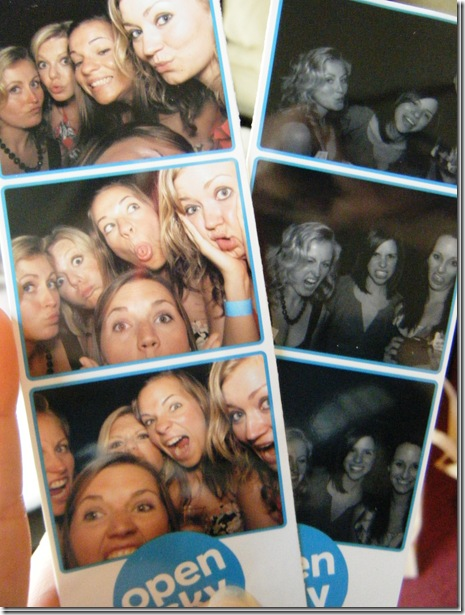 No, Anne. I was not tipsy in the photo booth.
Can't wait till she and I get to hang out in DC!
Enjoy these speedy snacks, folks—and see you tomorrow after my biochem exam.
xo