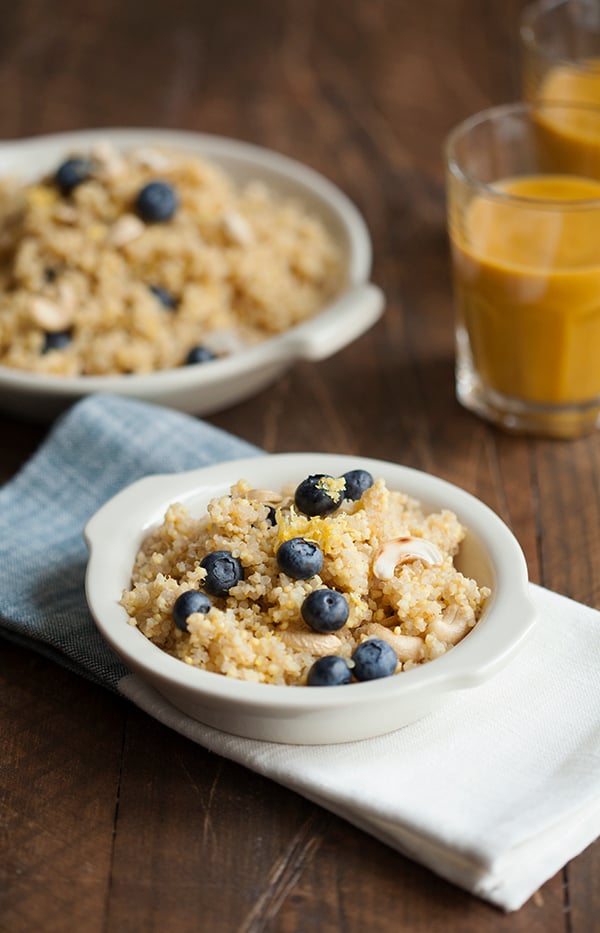 Within the world of whole grains, I think it's safe to say that millet is a bit of an underdog. This isn't because it's lacking in nutritional value: millet is rich in a number of minerals, but its high content of magnesium (one serving of cooked millet provides about 20% of your RDA) is particularly notable. Magnesium is associated with stress reduction, blood pressure reduction, and reduced risk of heart attack. Low magnesium levels have been linked to Type 2 diabetes and migraines in addition to numerous other chronic diseases. (1,2) Though plant-based diets tend to be rich in magnesium–bananas, soy beans, dark leafy greens, pumpkin and sunflower seeds, black beans, and cashews are all good sources–it never hurts to hone in on foods that deliver this crucial nutrient efficiently.
Still. Millet doesn't quite have the familiar appeal of rice, nor is it as popular as quinoa. Part of this may be a texture thing–it's easy to undercook millet, making it too dry, or to overcook it, which results in mush. Millet also lacks the pleasantly nutty flavor of buckwheat or quinoa, and its mild taste demands bolder seasoning than other whole grains–or so I've found.
One of the best tips I've gotten about millet is to try cooking it with other grains, and especially with quinoa. I tried it this week for the first time, hoping to add some variety to my steady breakfast routine of oats. I really enjoyed the results; the millet grains seemed to take on a crunchy, distinctive character when mixed with the softer grains of quinoa. It was a nice contrast of texture, and it worked perfectly for an easy breakfast dish.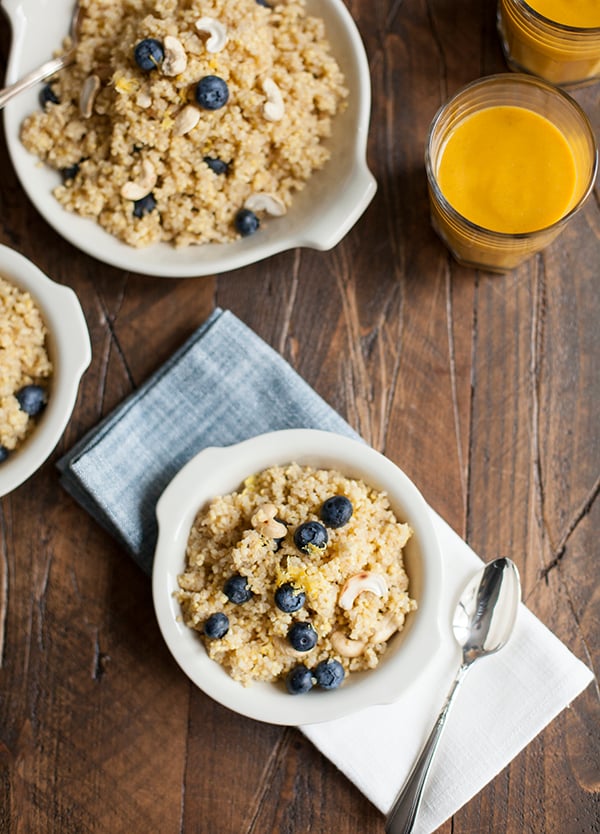 We're heading into a long weekend, in which many of us will be cooking lots of food with family and friends. This super simple recipe may be a refreshing change of pace, something low-maintenance and comforting. I had a week of busy mornings, and making a big batch of this breakfast dish made for quick, easy, and portable breakfasts. I loved the delicate flavor of lemon and its contrast with sweet blueberries. And I loved the crunch and nutty flavor that the toasted cashews added to the dish.
I hope you guys will try it and enjoy it. If you're not a millet lover and don't think you're destined to become one anytime soon, the dish would also be great with plain quinoa. And, with a slightly longer cooking time (30 minutes or so), you could use brown basmati rice as well.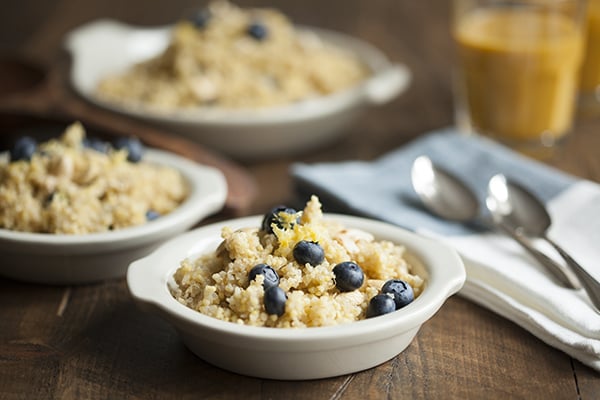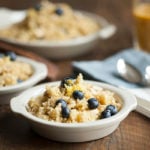 Lemon Scented Quinoa and Millet Breakfast with Blueberries (gluten free)
Author -
Place the millet and the quinoa in a fine sieve. Rinse the grains under water for a minute and shake them dry.

Add the grains to a pot, along with the water, maple syrup, and salt. Bring the mixture to a boil and lower it to a simmer. Simmer for 15 minutes, or until all of the water has been absorbed. Add the lemon zest and juice to the pot, fluff the grains lightly with a fork, cover, and allow them to rest for 15 minutes.

While the grains cook and rest, toast your cashews in a small skillet over low heat until they're lightly golden (this step isn't necessary if you have roasted cashews already).

To prepare the dish, simply mix the blueberries and cashews into the quinoa. Divide into bowls and serve, topped with a little extra lemon zest for garnish, if desired.
The millet makes for a great breakfast on its own, or accompanied by additional fruit or a smoothie (as you can see, I enjoyed it with a banana/orange/mango combination–yum!).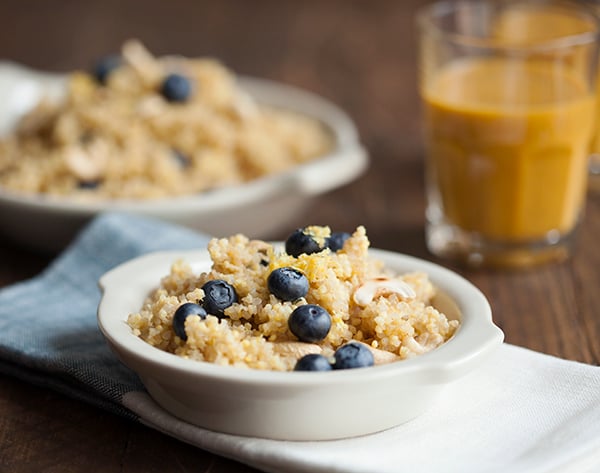 I also think it would be amazing with a little dollop of sweet cashew cream–I'll have to keep that in mind next time!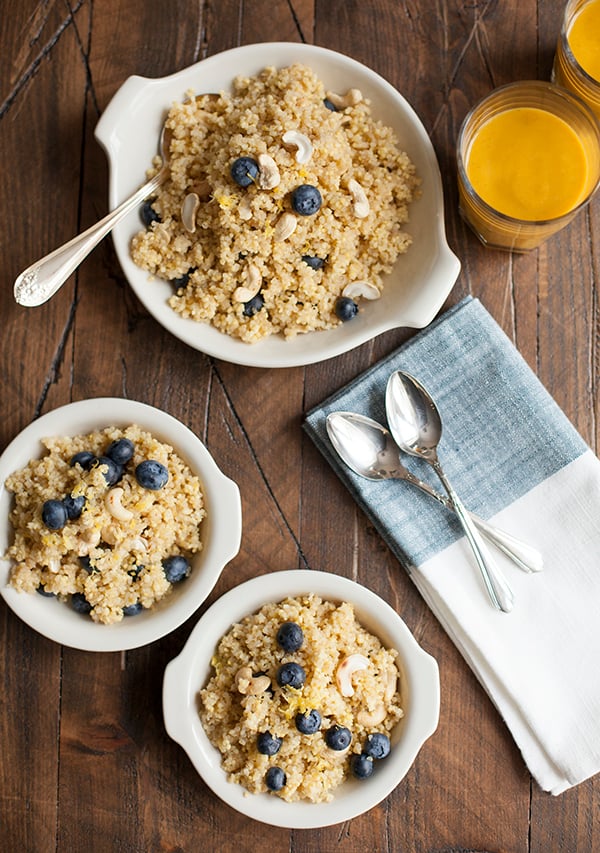 A few tasty add-ins might be vanilla bean or extract or some sliced apricots, fresh or dry. As you can see, it's a simple enough recipe to withstand plenty of variation.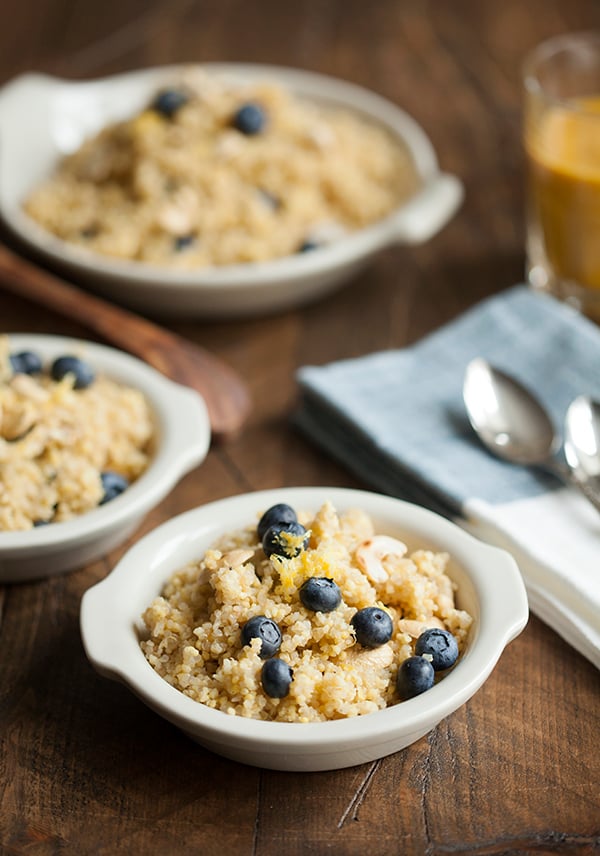 If you're looking for other ideas for a bag of millet, check out my cream of millet, coconut, and ginger porridge: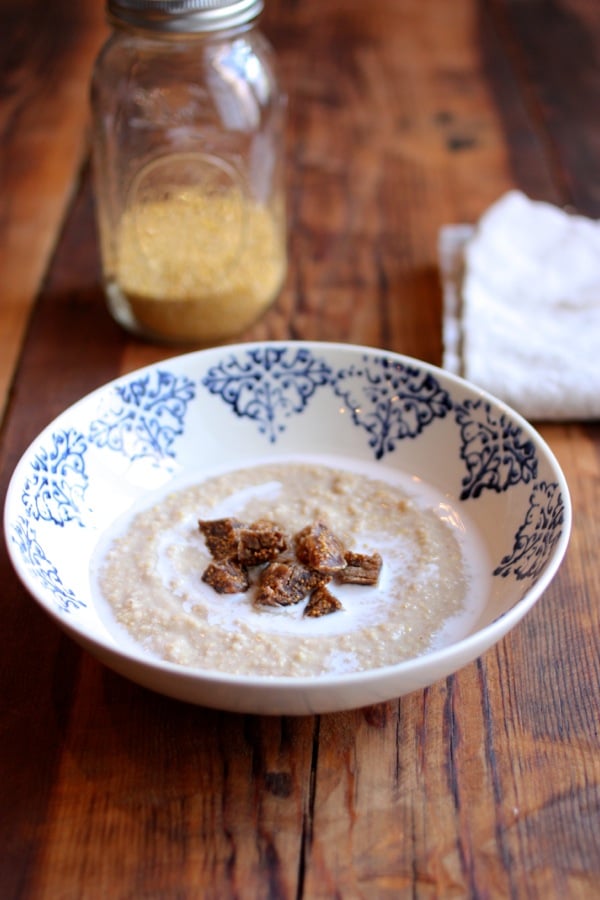 Or my millet tabouli: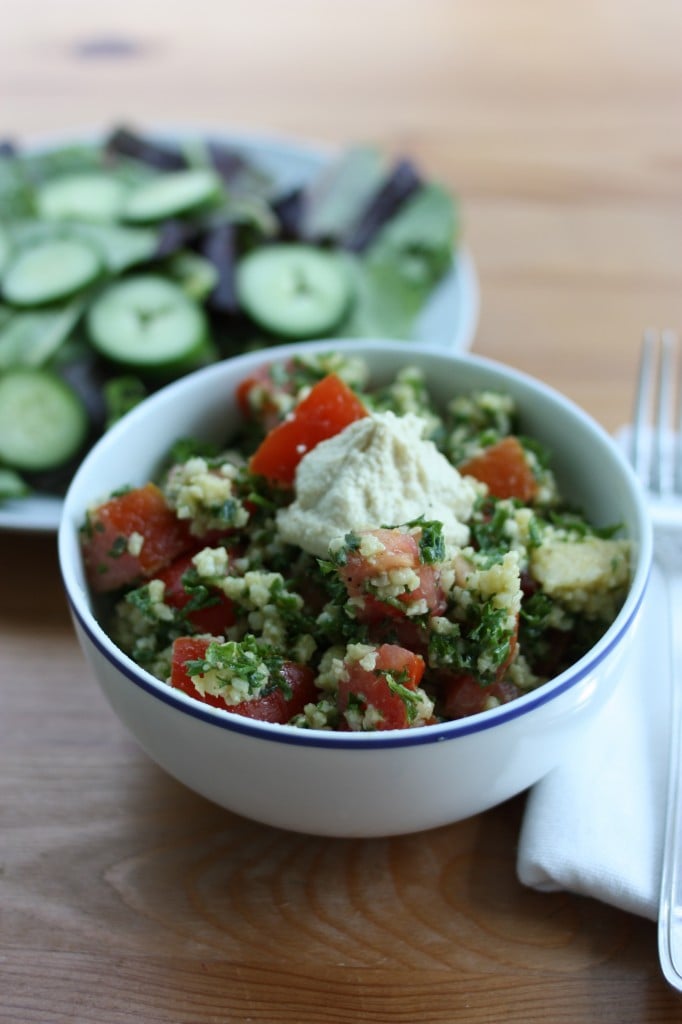 The Kitchn also has a pretty great millet cooking tutorial, and a collection of recipe links.
On that note, I wish you all a nice weekend–and if you're traveling or celebrating with family, safe and happy travels. I'll be back on Sunday for weekend reading, of course!
xo
1. Bain LK, Myint PK, Jennings A, Lentjes MA, Luben RN, Khaw KT, Wareham NJ, Welch AA. The relationship between dietary magnesium intake, stroke and its major risk factors, blood pressure and cholesterol, in the EPIC-Norfolk cohort. Int J Cardiol. 2015 May 31;196:108-114.
2. Volpe SL. Magnesium in disease prevention and overall health. Adv Nutr. 2013 May 1;4(3):378S-83S. Review.