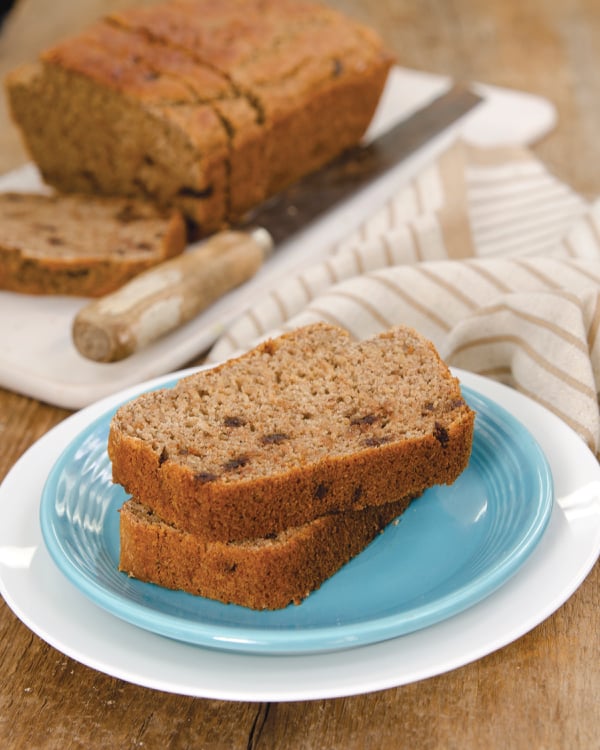 Those of us who love to cook retain, I think, a special sort of reverence for our very first cookbook authors. My forays into cooking coincided for the most part with my journey into veganism, and I still remember my first, well loved plant-based cookbooks: Vegan With a Vengeance, The Moosewood Restaurant New Classics, The Enchanted Broccoli Forest, and all I could get my hands on by Deborah Madison.
I also was fortunate enough to read about Dreena Burton's Eat, Drink, and Be Vegan on another blog, and I promptly purchased it. The book was a delight to look at and read, but it also gave me that special feeling of synchronicity that we all have with certain food writers, the feeling that Dreena knew my tastes exactly, and had crafted recipe after recipe that incorporated all of my favorite things (after all, it was the first cookbook I'd ever seen that had an entire chapter devoted to hummus!). I soon picked up Vive le Vegan!, too, and it's no understatement to say that Dreena taught me a lot of what I know about plant-based cooking. To this day, I channel a lot of inspiration from her work into my own recipes, and I'm so grateful to her for having contributed so much to my culinary foundation. The publication of Let Them Eat Vegan! a few years ago only increased the number of Dreena-inspired dinners that have made it into my regular rotation (you can read my review of that book here).
My love of Dreena's food has only been enhanced by the fact that we've gotten to know each other through the years. She is as warm, insightful, and classy as she seems to be through her food writing, and I have always taken great pleasure in our emails, as well as our all-too-brief time together at the second Vida Vegan Con.
In many ways, Dreena's new book, Plant-Powered Families, is the one that a her readers have always been waiting for. Dreena is a mom of three vegan kids, and all of her books include kid-friendly recipes, tips on vegan parenting, and insights into feeding a vegan family healthily and well. In spite of how much veganism is growing, there continues to be a real lack of resources, support, and knowledge about vegan parenting, which is why Dreena's contributions are so vital.
The new book is everything that I hoped it would be: not only an excellent, foolproof collection of recipes, but also a trusty resource for those who have questions about the nutritional basics of feeding vegan kids. It includes plenty of useful FAQs, including questions about protein, iron, and calcium, two weeks' worth of nutritions, well-balanced meal plans, sample nutritional information, charts with the nutrient values of common plant-based ingredients, and plenty of parenting tips, including guidance on packing school lunches, hosting kids' birthday parties, and preparing "weegans" (as Dreena calls them) for peer pressure surrounding their diets. It also features an enthusiastic preface from Dr. Neal Barnard.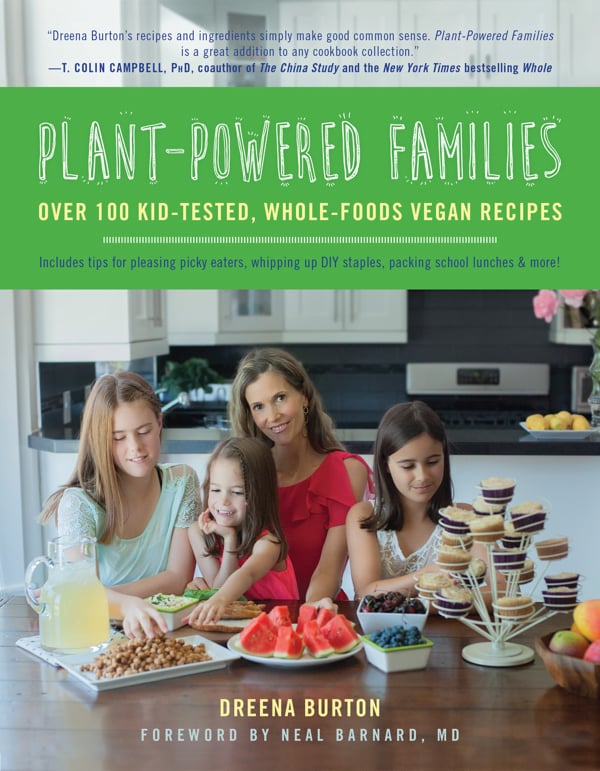 I'm not a vegan parent, but it is possible that I might be one day, and I'd rely on this book wholeheartedly for guidance. Dreena's perspective on health is so wonderfully balanced: her recipes are health-conscious and whole foods oriented, and she's very knowledgeable about nutrition. At the same time, she creates recipes that are flavorful, indulgent, and fun–the kind of foods that kids really love to eat. This book is proof that feeding children an ethically minded, compassionate, and nutritiously conscious plant-based diet need not involve any deprivation or sacrifices in taste.
Moreover, this isn't just a book for parents. It's a great resource for all any and all vegan food lovers. Some of my favorite recipe picks include Dreena's "chunky monkey" smoothie, her apple lentil dal, her potato-meets-egg salad, her ultimate cashew cheese, and her sunflower artichoke burgers. The dessert offerings are numerous, and they include such tasty treats as sticky almond blondies and vanilla bean chocolate chip cookies. Yum!
Throughout the book, Dreena is incredibly sensitive to those who eat modified or specialized diets. Many of her recipes include gluten free options, oil-free options, nut-free options, and even suggestions for parents of picky eaters or kids with food aversions (for example, she'll explain how to modify spices for kids who don't care for heavily spiced food). The result is a collection that feels inclusive and considerate.
I wanted to share with you all a recipe that seems to speak to what this book has to offer. I decided to go with Dreena's "Best Banana Bread (or Muffins)"–after all, how could I argue with that name? This recipe feels so perfectly "Dreena" to me–a spin on a homey classic that's amazingly healthy and delicious at the same time. I always have overripe bananas here at home, and I can't wait to make this bread soon. If you're gluten free, note Dreena's suggested gluten-free modification. The recipe is reprinted with generous permission of BenBella books.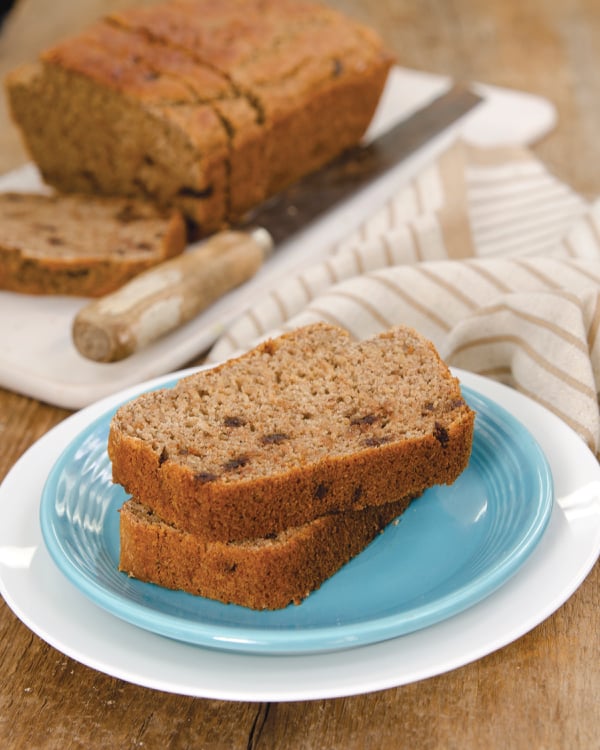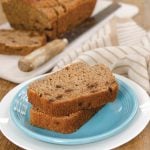 Best Banana Bread (or Muffins) From Dreena Burton's Plant-Powered Families (gluten free option)
Author -
1

cup

whole wheat pastry flour

or 1 cup plus 3–4 tablespoons spelt flour; see note for gluten-free version

3/4

cup

oat flour

2

teaspoons

baking powder

1/2

teaspoon

baking soda

1/2

teaspoon

cinnamon

1/2

teaspoon

freshly ground nutmeg

1/4

teaspoon

sea salt

1

cup

pureed overripe banana

see note

1/2

cup

plain nondairy milk

1/3

cup

pure maple syrup

1

teaspoon

pure vanilla extract

3

–4 tablespoons nondairy chocolate chips

optional
Preheat oven to 350°F. Wipe or spray a loaf pan with oil and line with a strip of parchment paper.

In a large bowl, mix the flours, baking powder, baking soda, cinnamon, nutmeg, and sea salt. In a separate bowl, combine the pureed banana, milk, maple syrup, and vanilla extract. Add the wet mixture to the dry, then add the chocolate chips, and stir through until just well combined (don't overmix).

Pour batter into pan and bake for 43–48 minutes, until golden and a toothpick or skewer inserted in the center comes out clean.

Gluten-Free Option: Replace all the flour with 2 full cups of certified gluten-free oat flour, or with 13/4 cups gluten-free flour blend (ex: Bob's Red Mill) plus 1/2 cup and 2 tablespoons almond meal and 3/4 teaspoon xanthan gum.

Banana Note: Puree several medium-large overripe bananas in a blender or with an immersion blender and deep cup, then measure to get your 1 cup.

Kitchen Tip: To make muffins instead of a quick bread, pour mixture into a 12-cup muffin pan fitted with cupcake liners. Bake for 17–20 minutes, or until a toothpick inserted comes out clean. Remove, let cool for a few minutes in pan, and then transfer to a cooling rack to cool completely.
I'd love nothing more than to give a CR reader a chance to experience this informative, rich collection firsthand. So, Dreena and her publishers have generously offered a giveaway copy of Plant-Powered Families to one US or Canadian reader. The giveaway will run for two weeks, and you can enter to win below.
Good luck with the giveaway, folks! And kudos/thanks to Dreena for this awesome new resource. I'll be back later this week with a summery recipe to send you off with for the July 4th weekend!
xo