I think it's appropriate that my first post of 2015 should be a tribute to Heather Crosby's lovely cookbook, YumUniverse. I'm sure that most of my readers are quite familiar with Heather and her work; her website is a veritable treasure trove of plant-based recipes, and it's also a fabulous source of information for the plant-based newbie (everything from stocking your pantry to sprouting 101). Heather's passion and willingness to roll up her sleeves and help the aspiring vegetable eater get started truly sets her blog apart, and now that same spirit animates her collection of recipes.
In this book, you'll find an incredible array of healthful, tasty vegan meals. Some notable examples (ranging from snacks to dessert):
Buffalo Roasted Cauliflower
Shredded Brussels Sprouts & Kale with Miso Dijon Sauce
Sweet Potato Sauce
Roasted Butternut Squash Soup
Individual Super-Veggie Pot Pies
Creamy Broccoli & Red Pepper Macaroni
Maca & Chicory Root Latte
Maple Spice Sandwich Cream Cookies
Pretty Pretty Pie Crust
Easy Vanilla Bean Ice Cream
Hot Fudge Sauce
Salted Caramel Sauce
Yum, indeed!
While the recipes are truly enticing, however, I'm even more impressed by the time and care that Heather has put into her introductory chapters, which will walk you through everything you could possibly need to know about outfitting a vegan (or vegan-leaning) kitchen, mastering techniques, and familiarizing yourself with ingredients. The book is incredibly comprehensive, and no detail is left behind. It's also full of useful, everyday meal planning strategies, including tips on how to compose an on-the-go salad or breakfast, tips on freezing fruits and veggies, and (my favorite!) a whole array of sandwich/toast ideas. Once again: yum.
I wanted to share a recipe from the book that seems to capture Heather's creativity, playfulness, and her combination of health-savvy and taste-oriented. How could I resist introducing you all to her amazing maple spice sandwich cream cookies? These guys are so fantastic; the spiced cashew cream filling is dessert enough, but when sandwiched between two tender-yet-crispy cookies, it's heaven.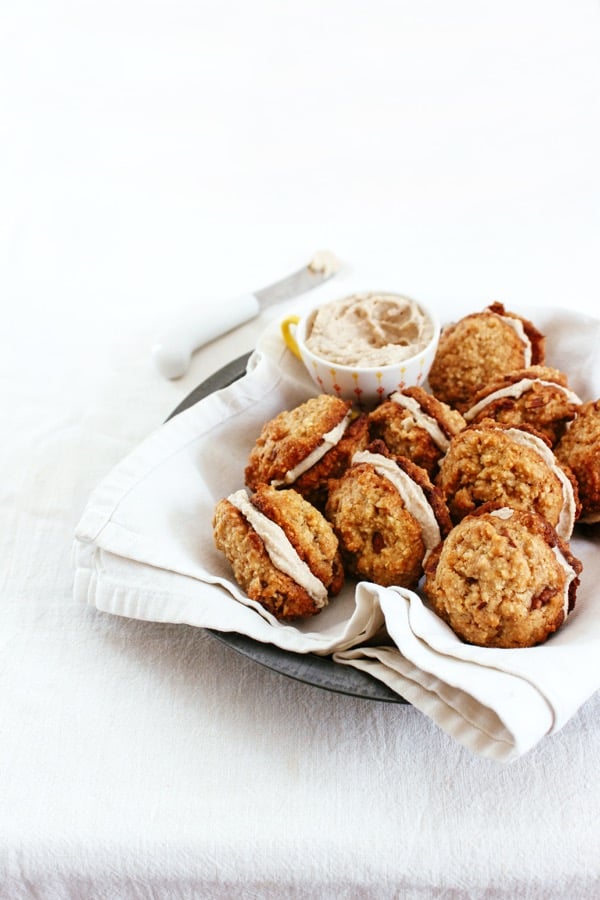 Maple Spice Sandwich Cream Cookies from Heather Crosby's Yumuniverse
Author -
Spiced Cream:
1

cup

cashews

soaked

½

teaspoon

ground cinnamon

1

teaspoon

lemon juice

Pinch

sea salt

Pinch

ground clove

Pinch

ground nutmeg

Pinch

ground cardamom*
Wet:
¼

cup

+ 2 tablespoons maple syrup

¼

cup

+ 1 tablespoon coconut oil

2

teaspoons

vanilla extract

2

tablespoons

hot water
Dry:
1 ½

cups

almond flour

2/3

cup

brown rice flour

3

tablespoons

Sucanat

1

teaspoon

baking powder

¾

teaspoon

sea salt
Fold-ins:
½

cup

rolled oats

½

cup

raw pecans

toasted and chopped
Preheat oven to 325°F and line a baking sheet with parchment paper.

Blend together all Spiced Cream ingredients until smooth and pop in the fridge to chill for 2–4 hours.

In a medium-sized bowl, whisk or blend together all wet ingredients and set aside.

In a large bowl, sift together dry ingredients. Fold wet ingredients into dry, and then add fold-ins.

Spoon dough into 2" rounds onto baking sheet. Press them down a touch with your hand or a silicone spatula. (They don't collapse when baking, so the height they go in is the height they come out.)

Bake 10–12 minutes. Remove from oven and cool on baking sheet. Transfer to fridge to chill.

Remove Spiced Cream from fridge and spread some on one cooled cookie. Close with another. Repeat until all cookies are made into magical sandwiches.

psst! You can skip the Spiced Cream and just make oatmeal cookies here. Try adding the spice from the cream into the batter first or adding ¼ cup raisins.
At this time of year, I know that a lot of my readers are considering dietary changes. If you've been thinking about going vegan (or more vegan), then I can assure you that YumUniverse is as useful and practical a guidebook as it is a feast for the eyes and tastebuds. I'd love for one of my readers to be gifted with this wonderful cookbook, so enter below to win one free copy (US and Canada only, please).
Good luck, readers.
It's my last night here in Vieques, and while I do look forward to seeing my beloved NYC again (late) tomorrow night, I'm awfully sad to be leaving such a beautiful place. I'll be back in my usual routine on Sunday with weekend reading. Till then, have a wonderful weekend.
xo