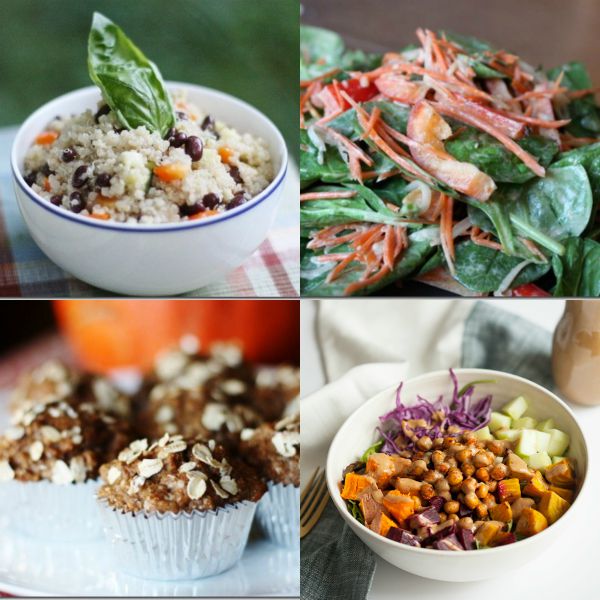 Happy Monday, everyone! I hope you're all getting a good start to the work week.
I'm excited to be sharing a second installment of what I hope will be a regular blog feature: a list of the batch cooking staples and recipes that will get me through the week, as well as a rundown of my weekly dinner plan. I just started these last week, so check out my kickoff post for more details. Basically, I'm trying to show you how I batch cook and prepare food for the week, so that I have a fridge that's well stocked with leftovers and equipped for quick, weeknight meals. I think batch cooking is a really essential tool for staying well-nourished on a busy schedule, and as I share these posts, I also welcome your prep and planning tips!
As I mentioned in last week's post, I tend to divide my weekend batch cooking into two categories: staples and recipes. Staples are all of the cooked and prepared ingredients that I'll need for my everyday lunch bowls, breakfasts, and as dinner components. They include cooked whole grains, legumes, salad dressings, and dips/spreads (like hummus, which I make on most weekends). Recipes include anything that Steven and I will eat for dinner and use as leftovers, including soups, stews, pastas, grain dishes, casseroles, and the normal array of plant-based dinner fare.
Here's what's on the menu this week:
Batch cooking staples:
•1 double pot quinoa (7-8 cups, cooked)
•1 pot chickpeas
•1 batch balsamic tahini dressing
•1 batch sweet Dijon vinaigrette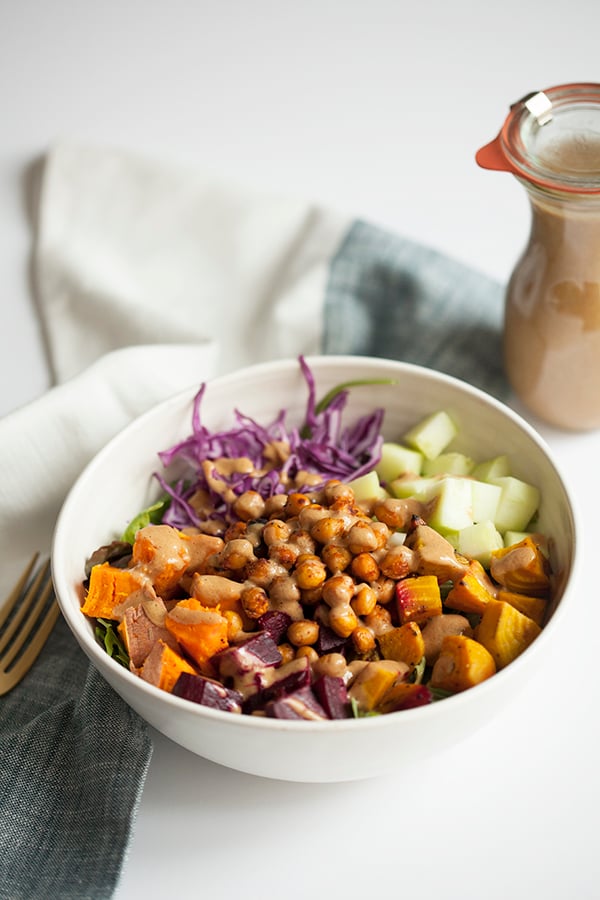 Recipes:
•Easy black bean and quinoa salad with quick cumin dressing (this is an all time blog favorite, and I give it to nearly all of my nutrition clients! This week, I made it as a contribution to a new student potluck on Columbia's campus).
•1 dozen apple oat muffins, for breakfasts and snacks on campus. Recipe adapted from this recipe for banana, oat, and chia muffins, but I used 1 heaping cup apple sauce in place of bananas.
•Roasted tomato & rice soup (recipe to be shared on Thursday on the blog!).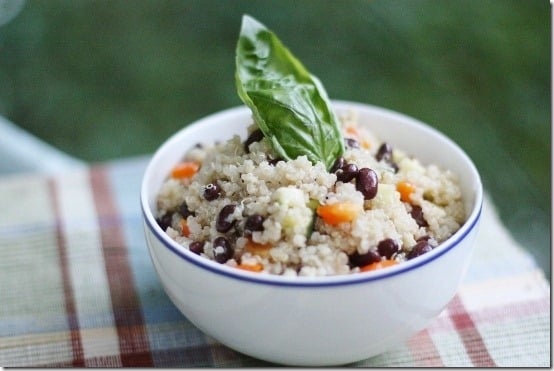 And here's the weekly dinner plan!
Sunday/Monday:
•Roasted tomato rice soup / balsamic tahini massaged kale salad
Tuesday:
•Sweet Dijon baked tempeh with celeriac, yukon gold potato, and apple mash (inspired by this recipe) / quick sautéed greens 
Wednesday (no class this week!):
•Easy mashed chickpea and roasted red pepper quesadillas (based on these recent and beloved quesadillas, but with some sort of creamy chickpea mash in place of the sweet potato + white beans) / arugula and cherry tomato salad with balsamic tahini dressing
Thursday / Friday:
•White Bean and Polenta casserole (this will be inspired by, but very liberally adapted from, Alicia Silverstone's recipe for polenta casserole with seitan from The Kind Diet) / roasted broccoli + sweet Dijon vinaigrette on Thursday and a repeat of the arugula + cherry tomato salad on Friday with our leftovers
Saturday night: Dinner out with Steven's family
In all, it should be a super tasty week. I'm really excited about the celeriac mash, which is a great excuse to use one of my favorite root vegetables, and the casserole will be an adventure–I'll re-create it for the blog if it's a success.
A few notes about how I made my prep easier this weekend:
•When I made quinoa for the easy black bean and quinoa salad, I made a full double pot (about 7 cups cooked, 2 cups dry). I knew I'd be bringing the black bean and quinoa salad to the potluck, and I still wanted cooked quinoa for salads/lunch bowls through the week. As long as I was cooking up quinoa, I figured I'd make a batch for the potluck contribution and a batch for me. I picked up extra black beans, too (these were from the can). It worked out nicely, as you can see from today's lunch bowl (which also included kale salad leftovers).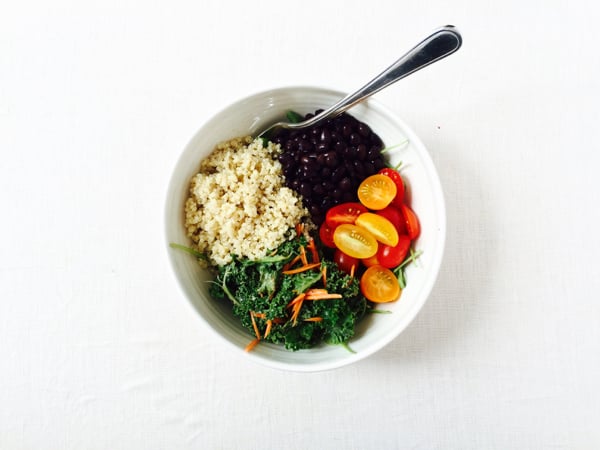 •The sweet Dijon vinaigrette was primarily a marinade this week, but I did make 1.5x times the recipe, so that I'd have a bit leftover
•While I roasted the tomatoes for the soup, I also popped two sweet potatoes in the oven to roast–I'll use those for various lunches–and I roasted red peppers for the quesadillas Wednesday. Whenever I've got the oven on to roast, I try to multitask!
And that's it! Here's to a tasty week of vegan food.
I can't believe I'm saying this, but Food52 Vegan publishes tomorrow (!). I'll be tuning back in tomorrow with a special recipe share from the book, and I hope to see you then.
xo