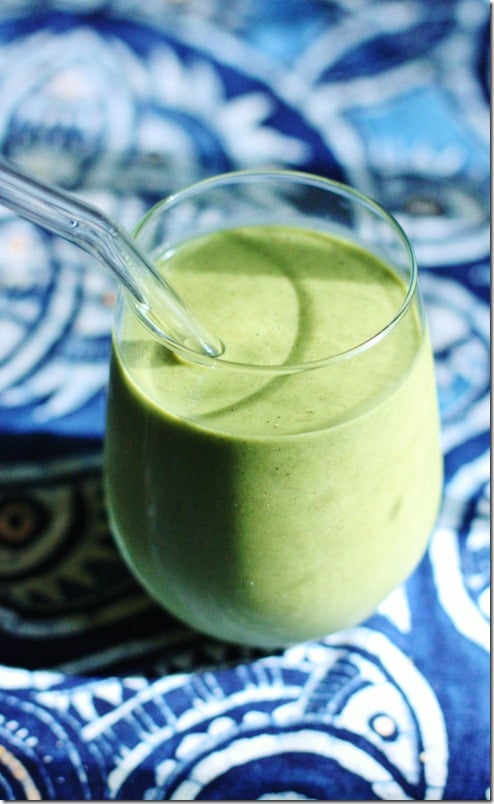 Almost there! Biochem in the morning, and Orgo lab exam on Thursday eve, and then this semester is finally done; good riddance to it. As I study glycolysis and fatty acid oxidation and all of that, I'm simultaneously filling up with the very energy sources I'm reading about: fats, carbs, and proteins, and the sugars and fatty acids and amino acid products they provide. I've said before that I try to be sure my meals (be they a simple lunch salad or something more complex) have all three of these macronutrient food groups; if one meal is less well rounded than usual (for example, when I'm in the mood for a primarily nut based raw dish that's a bit low on the complex carbs), I'll be mindful to fill up on whatever was missing in another meal.
In other words, you don't have to obey the protein/carb/fat formula at the expense of your cravings and tastes within each meal, but overall balance is a good goal. And when a meal can serve up all three components at once, so much the better. Most of my smoothies are infused with a little vegan protein (usually a protein powder and/or hemp seeds) and a source of fat (avocado, nut butters, and homemade nut/seed milks are the norm). These things, along with fruit sugar, help to keep me full and energized, and this parsley pineapple smoothie is no exception. What is exceptional is the addition of an herb that we usually associate with savory food; what gives?
Nothing, really. Putting herbs like cilantro and parsley into a blended drink is certainly no weirder than using broccoli—and last week, we established that broccoli can be very delightful in a smoothie!! I've also been known to add celery to my smoothies, and leafy greens—spinach and kale and romaine—are a constant.
It took me a relatively long time to get used to green smoothies; my logic was always "I eat greens by the metric ton each day; why should I need to blend them up?" The answer is that, so far as I know, you really can't get too many greens. So long as you digest them well, more is probably better. I also like the funky color. And if you have a hard time munching on salads all the time, green smoothies are an efficient and easy way to get more greens into your diet without any "ick" factor.
So long as you use only a small handful of parsley in this recipe—I literally used a small fistful—you shouldn't be able to taste it. Pineapple and banana cover the taste up well, and avocado adds some serious creaminess. If you do like the parsley taste (which I do), go ahead and add some more to the recipe. Parsley is a very good source of folate and Vitamin C, and it's also rich in flavonoids, which are thought to aid in immunity and disease prevention. Parsley is also a very mild diuretic, so it's a great thing to juice or blend or chop into salads when you're "in your moon," as the yogis say. Or if you're a little bloated for any other reason.
If you don't have parsley, try cilantro in this recipe. It's also fantastic, and goes well with the tropical theme!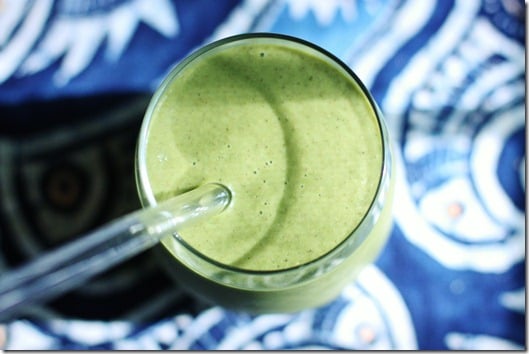 Parsley & Pineapple Green Smoothie (vegan, raw, gluten free, soy free)
Serves 1
1 cup pineapple
1/2 small banana
1/4 avocado
2 tbsp hemp protein
1 cup hemp/almond/soy/cashew/rice/coconut milk (+ extra if needed)
1 small fistful parsley
1 small fistful spinach (if the combination of two kinds of leafy green is too much for you, leave this out!)
Blend all ingredients in a high speed blender till smooth. Enjoy!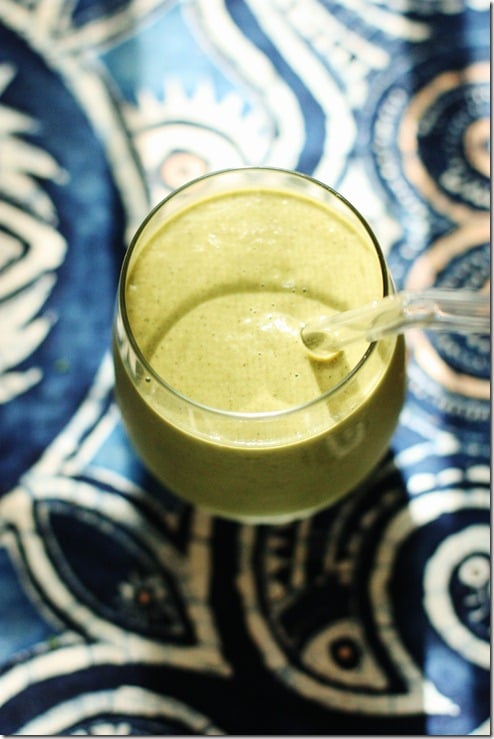 With that, it's back to the books I go. Hope this smoothie gets you excited for warm summer days and tropical flavors ahead!
xo