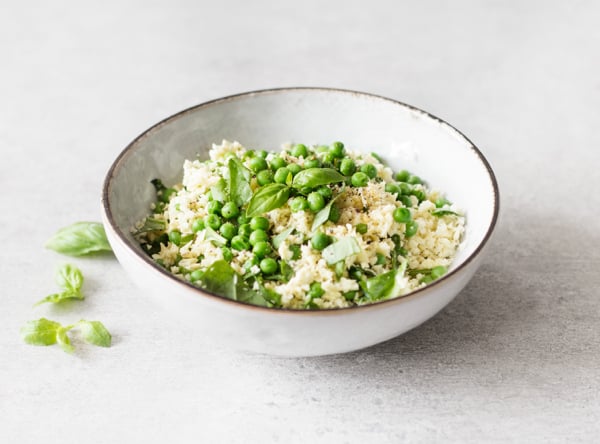 Having just vented about not having quite enough time to cook on my hands, I actually found myself with a few extra minutes during my break between classes yesterday. I was determined to make something fast and tasty, and I find that that's often when raw food recipes come in handy. Parsnip "rice" is one of my favorites, and this recipe for parsnip rice with hemp seeds, spring peas, and basil is a perfect way to brighten it up for spring.
Parsnip rice is my favorite of all veggie "rice" dishes. I really love jicama, but jicama rice can be a little watery (unless you dehydrate it). Cauliflower rice is great, but it can be a little bland. Parsnip rice has a unique sweetness, and it stands up well to flavoring with herbs and spices. Plus, the texture is just right. I never expected to enjoy parsnips raw, but the first time I made my raw parsnip sushi rice, I was hooked.
This recipe is brightened up with green peas and fresh summer basil (starting to appear at farmer's markets!), along with a squeeze of lemon. For variety of taste, as well as a protein and healthy fat boost, I've thrown in some hemp seeds and oil. Pumpkin seeds, sunflower seeds, and cashews could all be good here. Nutritional yeast would also be a nice addition, although I use nooch so often that I think I need to train myself to adopt some variety.
No matter what, it's hard to mess this recipe up. And, aside from the cleaning involved (food processor, that is), it's incredibly fast and easy to make: I was done in about 10 minutes. Seriously.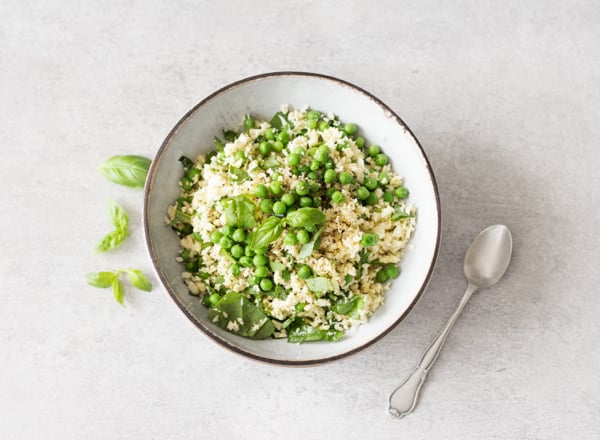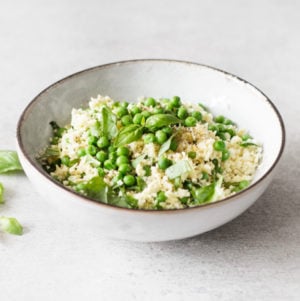 Parsnip Rice with Hemp Seeds, Spring Peas, and Basil
Author -
Yields:
3
-4 small servings
1

heaping cup green peas

frozen and thawed, or fresh

1

lb

parsnips

peeled and roughly chopped

2

tablespoons

hemp seeds

1/4

teaspoon

sea salt

Dash of black pepper

1

tablespoon

olive or hemp oil

1

tablespoons

lemon juice

Small handful

about 1/4 cup chopped fresh basil
Bring a small pot of water to a boil. Blanch the peas until bright green and tender. Submerge in ice water to stop cooking and preserve color; drain and set aside.

Place the parsnips, hemp seeds, sea salt, and pepper into the bowl of a food processor fitted with the S blade. Process till the mixture is finely chopped and resembles rice.

Turn parsnip mixture into a bowl, and toss with the peas, oil, lemon, and basil. Adjust seasoning to taste and serve.
Leftover rice will keep overnight in an airtight container in the fridge.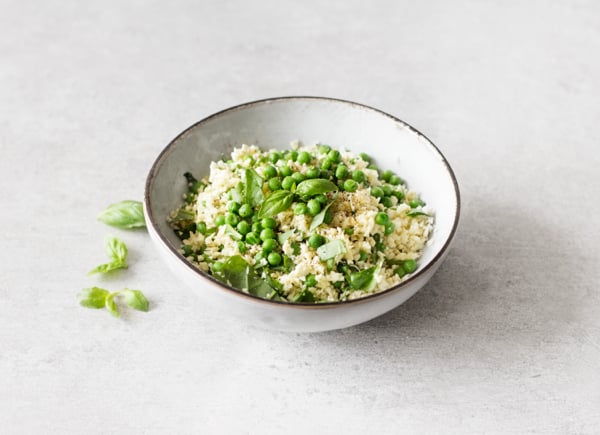 5 ideas for how to serve this dish:
1. Stuff it into romaine, chard, or collard leaves, and top with chickpeas or black beans for easy vegetable tacos.

2. Spread it onto nori sheets, top with some fresh, julienned vegetables, and roll up into sushi.

3. Serve it atop a nutrient dense salad.

4. Bake a marinated portobello mushroom cap, and stuff it with the parsnip rice as a part of your dinner.

5. Eat plain, along with a salad—add a generous helping of legumes to the salad to make the meal well rounded.
So just as I was stressing out badly about the lack of time in which to make food, I stumbled on a recipe that was both blog-worthy and easy enough to make on a busy school day. Phew. I guess I should take my own advice sometimes, and remember that healthful, flavorful food can be super simple.
I hope you all enjoy this delightful parsnip recipe! And I'll catch you back here tomorrow.
xo