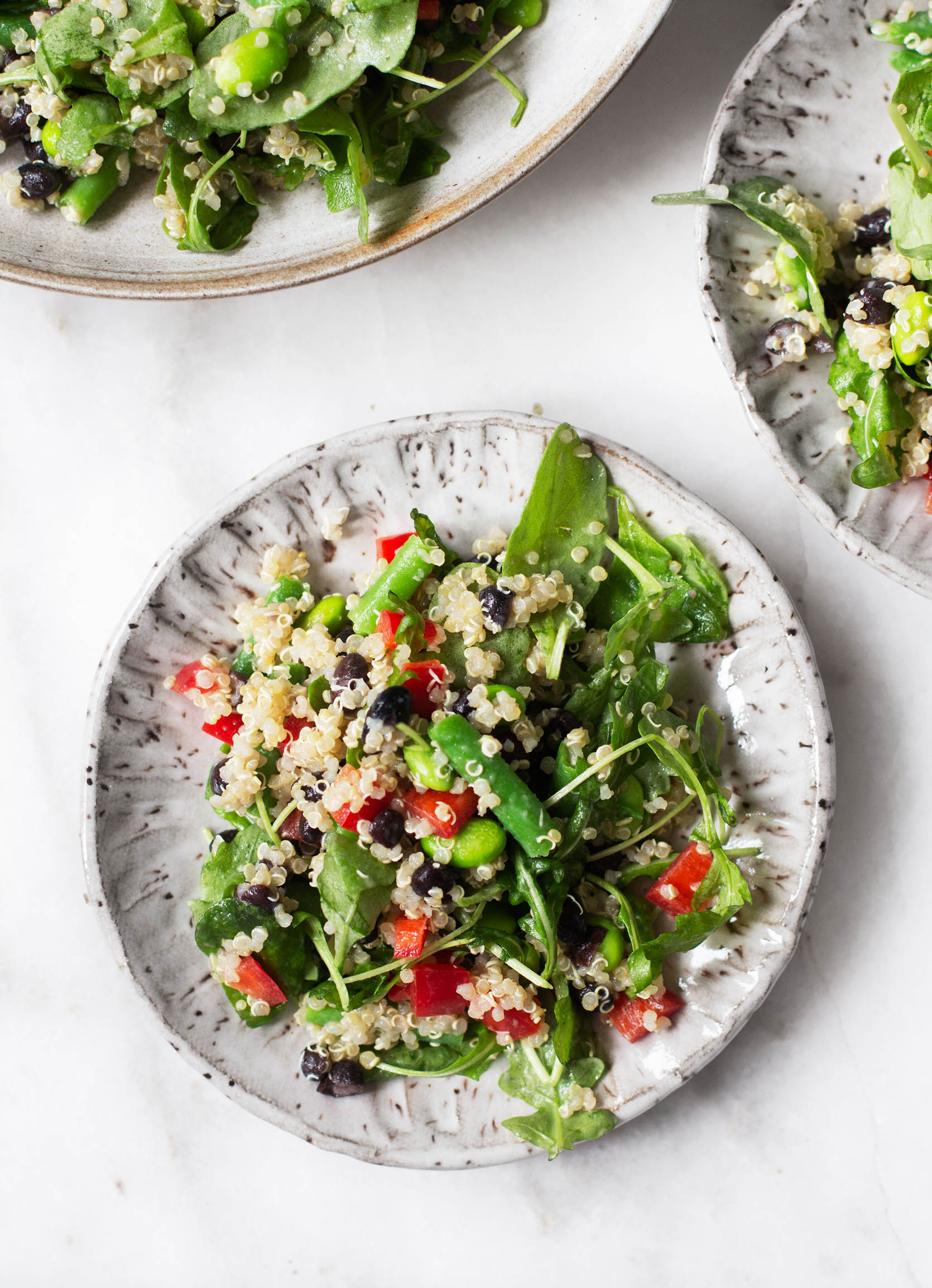 It can be daunting to ponder vegan options for summer cookouts. Is it best to go with something for the grill, like veggie burgers or tempeh skewers? Maybe it's better to make a crowd-pleasing side, like macaroni salad. Or a traditional summer dessert, like cherry cobbler, is best. This protein-packed bean & quinoa salad isn't necessarily standard cookout fare, but it's hearty and crowd-pleasing nonetheless.
This salad is substantial enough to be a meal, but light enough to serve as a side. It was inspired by the idea of a traditional three bean salad, but it became pretty untraditional along the way.
An Unusual Three Bean Salad
Traditional three bean salads are served cold and contain a mixture of beans, whether green, waxed, or pulses. They're plenty nutritious, but I've always felt that they could use a little extra substance. I've been adding quinoa to most of my salads lately, like this Caesar salad and this BLT salad. I figured it wouldn't hurt to keep the theme going and add quinoa to a three bean salad, too.
Protein-Packed Bean & Quinoa Salad Ingredients
This salad features black and kidney beans, along with shelled edamame. I've never paired these three ingredients before! Usually when I make a salad, it's one type of legume or another. However, I really like the way that the size and textures of the different beans work together. Thanks to steamed green beans, this three bean salad is truly a four bean salad.
To make all of the flavors come alive, I added a roasted garlic vinaigrette.I tend to eat a lot of roasted garlic during these months because I'm often roasting tomatoes or peppers. It's easy to wrap a head of garlic and add it to the tray or nestle whole cloves between veggies. I love how roasting mellows the sharpness of garlic.
I wasn't prepared for how much I'd love this roasted garlic dressing, but it's a new keeper for sure! If you have a favorite vinaigrette that you use for summer salads, you can substitute it and save yourself the step of turning on the oven.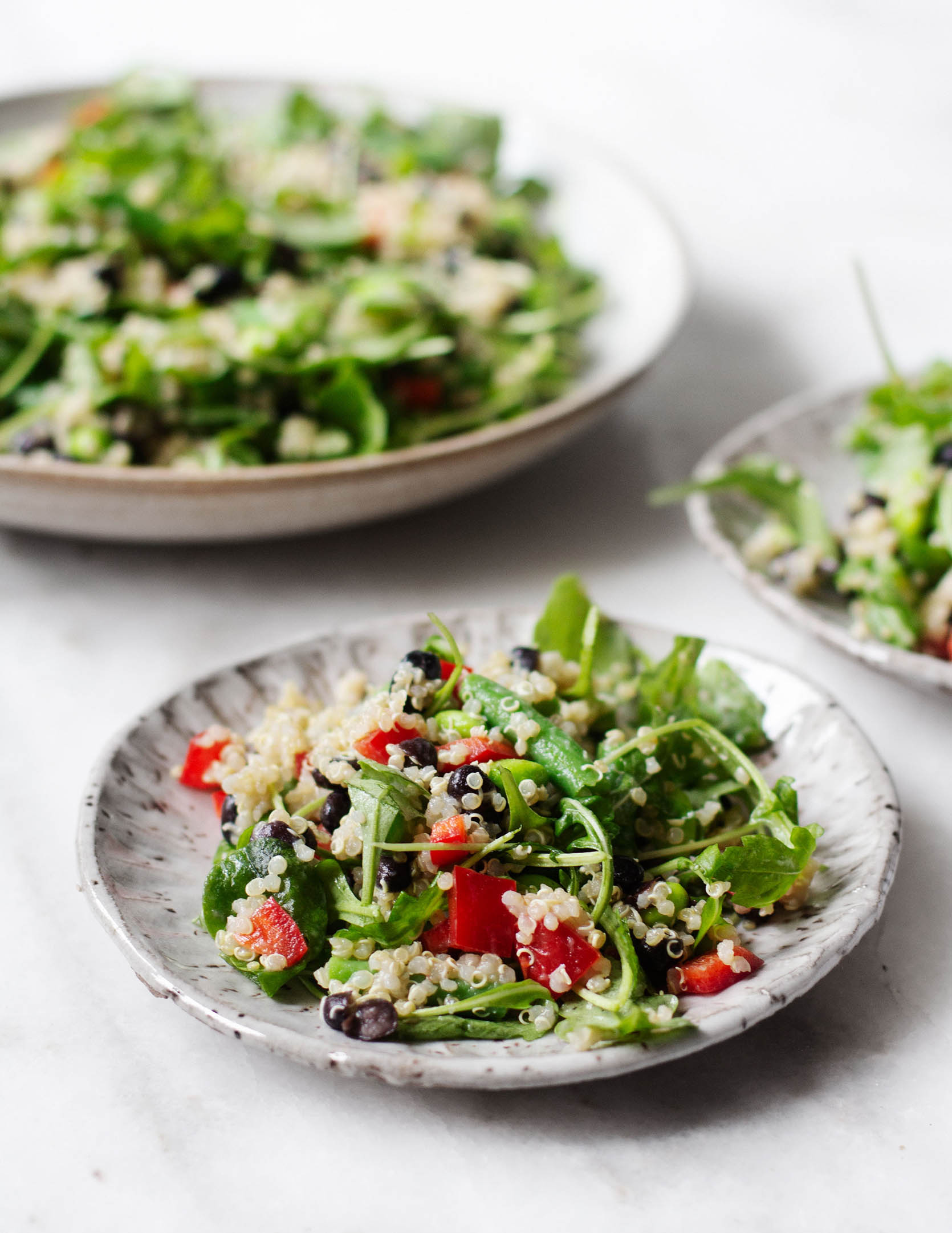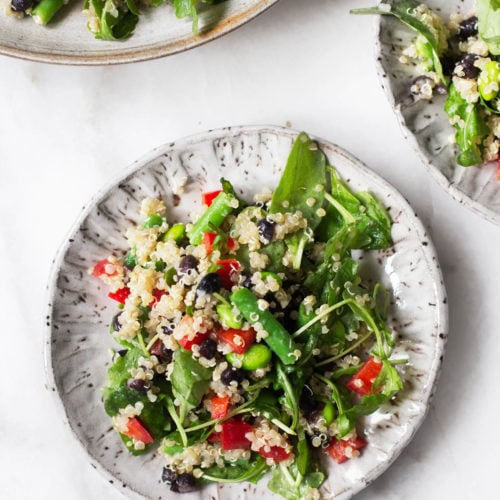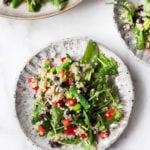 Protein-Packed Bean & Quinoa Salad
Author -
For the salad:
3/4

cups

uncooked quinoa (or 2 1/2 cups cooked quinoa)

1

cup

shelled edamame, fresh or frozen and defrosted

2

cups

green beans, steamed or boiled and cut into 1-inch pieces

1

cup

chopped, roasted red bell peppers (from the jar or fresh)

1 1/2

cups

cooked kidney beans (1 can, drained and rinsed)

1 1/2

cups

cooked black beans (1 can, drained and rinsed)

3-4

loosely packed cups baby arugula or salad greens

1/4

cup

snipped chives or chopped green onion tops (optional)
For the Roasted Garlic Vinaigrette
1

whole head garlic, top sliced off crosswise

1/3

cup

olive oil, plus extra for roasting the garlic

1/4

cup

freshly squeezed lemon juice

1

tablespoon

apple cider vinegar

2

teaspoons

Dijon mustard

1

teaspoon

maple syrup or agave

1

teaspoon

fine salt

Black pepper to taste
Preheat your oven to 375F. Drizzle a little olive oil over the head of the garlic and rub it over the exposed garlic cloves. Wrap the garlic in foil, place it on a baking sheet, and roast for 30-35 minutes, or until the cloves are soft and fragrant.

While the garlic roasts, rinse the quinoa through a fine sieve. Transfer the quinoa and 1 ½ cups water to a small pot. Bring the mixture to a boil, cover, and reduce heat to low. Simmer for 15 minutes, or until the quinoa has absorbed all of the water. Fluff the quinoa with a fork, re-cover, and allow it to rest while you prepare the rest of the salad.

When the garlic is ready, squeeze all of the cloves out of the garlic head into a blender or a food processor. Add all remaining dressing ingredients. Blend the dressing till smooth.

To prepare the salad, pile the edamame, green beans, bell pepper, kidney beans, black beans, and arugula into an extra large mixing bowl. Add the cooked quinoa, the chives or green onions if using, and then the vinaigrette. Toss the salad well to combine, then adjust salt and pepper to taste. Serve.
Salad leftovers can be stored in an airtight container for up to 2 days in the fridge.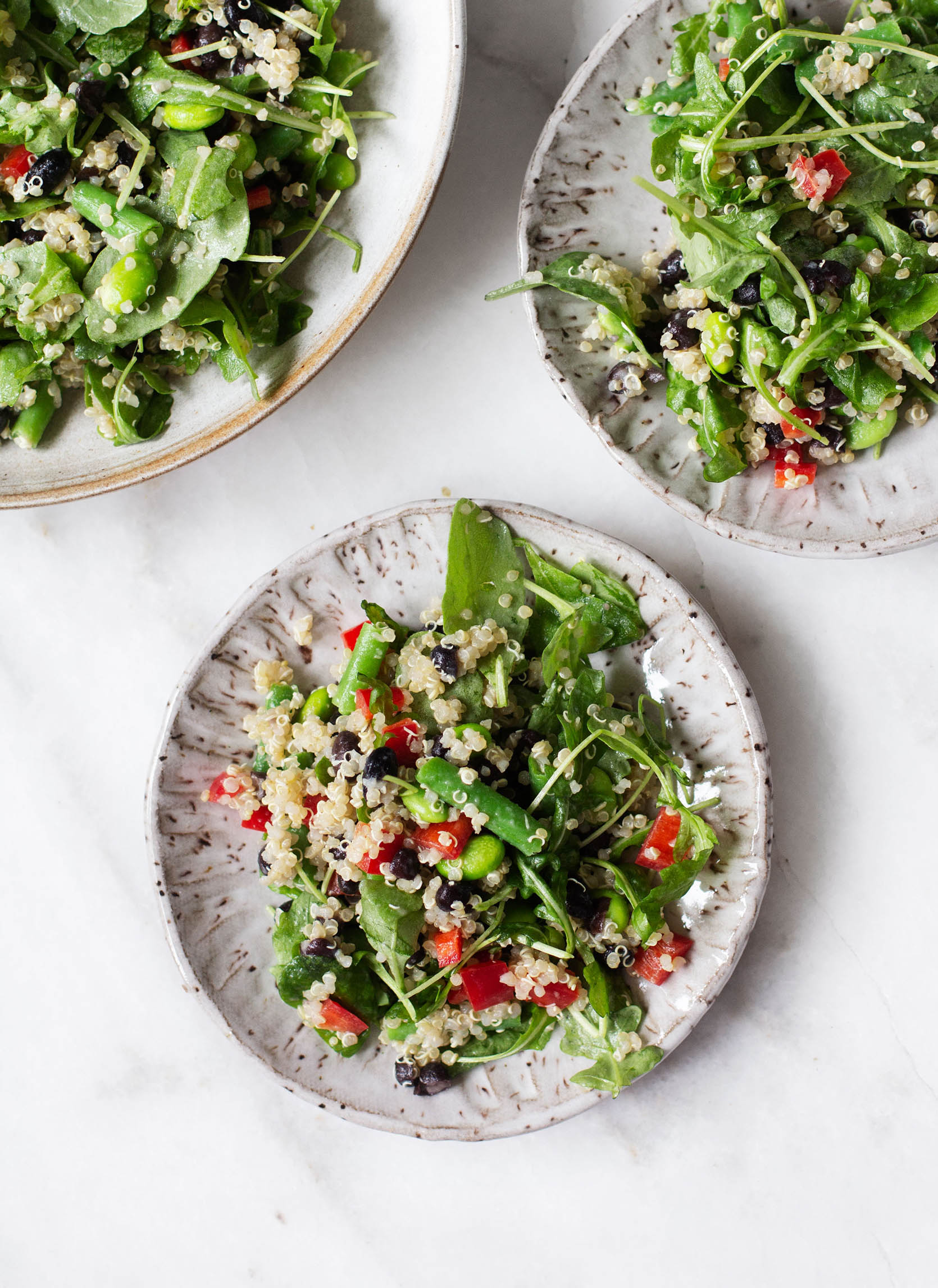 As you can see, I recommend roasted red peppers for the recipe, but it's fine to use raw ones instead. And of course, you should feel free to add your own veggies of choice; grated carrots, fresh corn, and roasted zucchini would all make a great addition to the salad.
This protein-packed bean & quinoa salad is part of my year long celebration of the International Year of Pulses! In honor of the UN's recognition of pulses as a sustainable, economical, and nutritious protein source, I'm inviting everyone to take the Pulse Pledge with me. It's a commitment to eating pulses once a week for 10 weeks or more. For plant-based eaters, this amount may be easy. But if you've been hoping to incorporate more pulse recipes into your diet, the pledge is one fun way to do it.
In addition to being crowd-pleasing, this salad lives up to its name: once serving packs about 15 grams of pulse-powered protein. Which means that it's both a tasty and a nutritious contribution to any holiday weekend gatherings you might be joining.
I hope you'll enjoy it. And I look forward to seeing you back here this weekend, as always, for my weekly roundup of recipes and reads.
xo
This post was created in partnership with the USA Pulses and Pulse Canada. Opinions are my own. Thank you for your support, and I can't wait to share more pulse recipes with you this year! To learn more about the Pulse Pledge, visit www.pulsepledge.com.