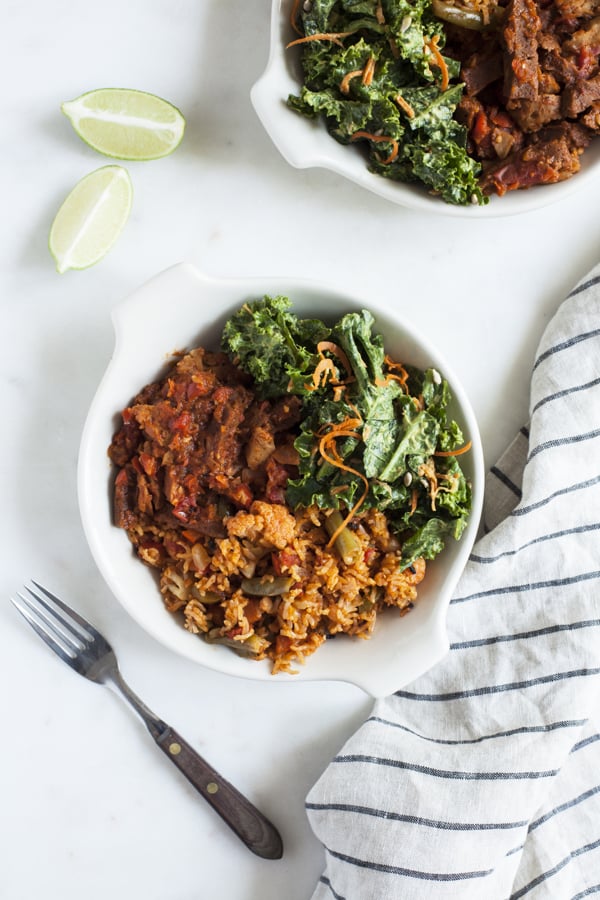 I've heard it said that tofu, tempeh, and seitan are the "holy trinity" of vegan proteins. I've been an ardent and tofu and tempeh lover most of my vegan years, but seitan has always been a tough sell for me, which is why I'm particularly excited to share this recipe for spicy seitan sofrito bowls today.
My first reaction upon eating seitan was that it tasted a little too much like meat; whereas tofu and tempeh seemed to have flavors and textures that were undeniably unique, seitan really did taste (to me) like chicken. As someone who had given meat up happily and without too many residual cravings, I didn't feel a strong need to replace it in my vegan diet.
Over time, though, and especially since I've started dating Steven, I've come to value meat replacements a lot more highly. Steven has adopted a mostly vegan diet as part of our life together. It was a big change for him, and I see how much easier and more enjoyable his journey has been because really wonderful veggie burgers, burger crumbles, chicken strips, deli slices, and other faux meats exist. These products give him a sense of connection to familiar, favorite foods, and using more of them in my cooking has given me a fun opportunity to experiment, to expand my options, and to try new ingredients.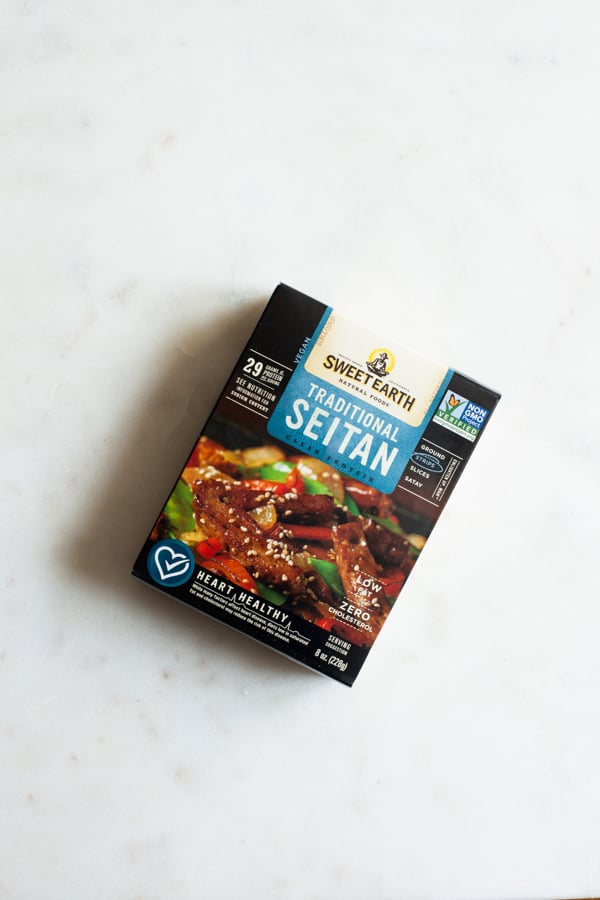 Seitan is easy to make, but since it's still a relatively new-to-me ingredient, I'm focused on figuring out how to use and season it–creating a homemade version will come next! For now, I've been appreciating the convenience and flavor of Sweet Earth seitan strips.
The Sweet Earth Natural Foods company focuses on making affordable, plant-based vegetarian and vegan foods that are packed with protein and flavor. The products are easy to prepare, and they can be found at a wide range of retailers, from local health food stores to Target. The company is passionate about making a plant-based diet "accessible to anyone who wants to try it."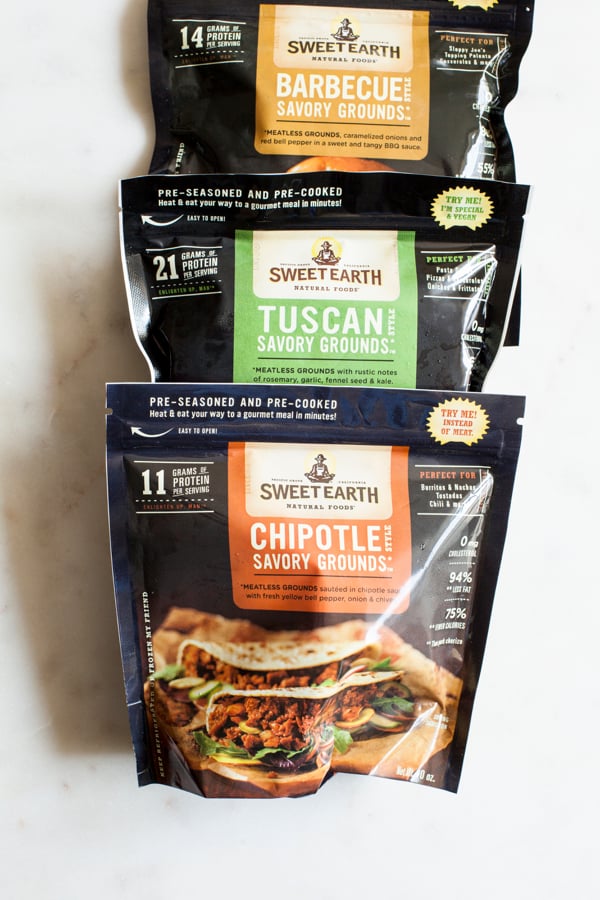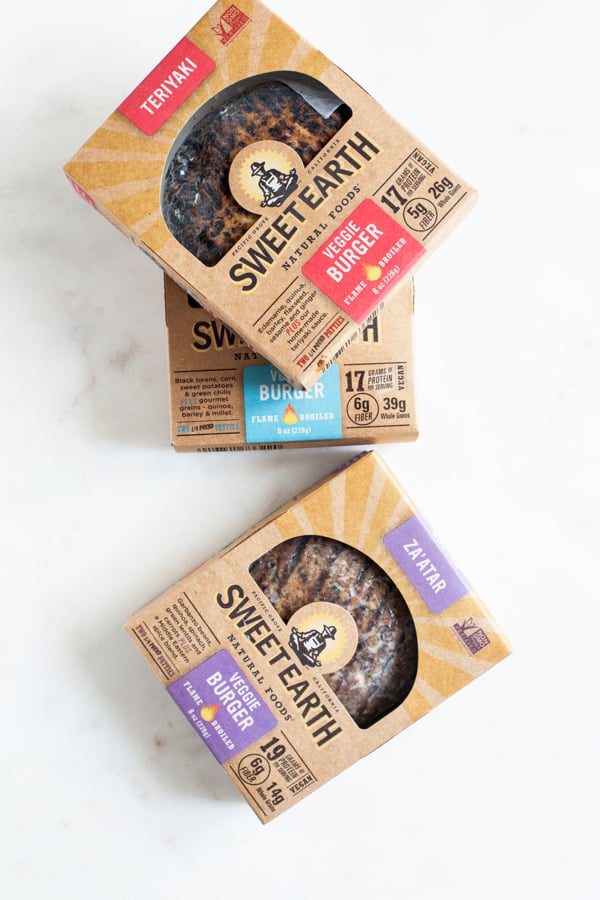 SweetEarth products range from seitan strips and grounds (in traditional flavor, chipotle, or curry satay) to a variety of vegan and vegetarian burritos, frozen meals, and even a "benevolent bacon." The products honor seitan as part of a long tradition of vegetarian cooking, which dates back to the kitchens of Buddhist zen monks (seitan is still sometimes referred to as "monk meat"). Sweet Earth foods also feature a wide array of nutrient dense vegetables, pulses, nuts and seeds.
The veggie burgers–which feature millet, black beans, and chickpeas–are among my favorites, especially the za'atar flavor.
Sweet Earth products pay homage to global flavors and bold, savory seasonings. So, as I was thinking about today's recipe, the idea of a bold sofrito bowl immediately came to mind.
Sofrito is a sauce–usually consisting of consists of garlic, onion, paprika, peppers, and tomatoes–used to flavor vegetables and meat in Spanish, Portugese, and South American cooking. It's simple to prepare, especially if you allow a food processor to do the chopping.
Here, a simple sofrito mix is used to simmer hearty seitan strips, and it's all paired with an easy, flavorful spin on Spanish rice (the rice recipe may become a staple for me; it's a great way to turn ordinary rice into a more filling side dish). Massaged kale and avocado complete the dish and add color. You can use your favorite steamed or roasted vegetable in place of the kale, and if you're allergic to wheat or gluten, you can use tofu or tempeh (or even spiced lentils) in place of the seitan.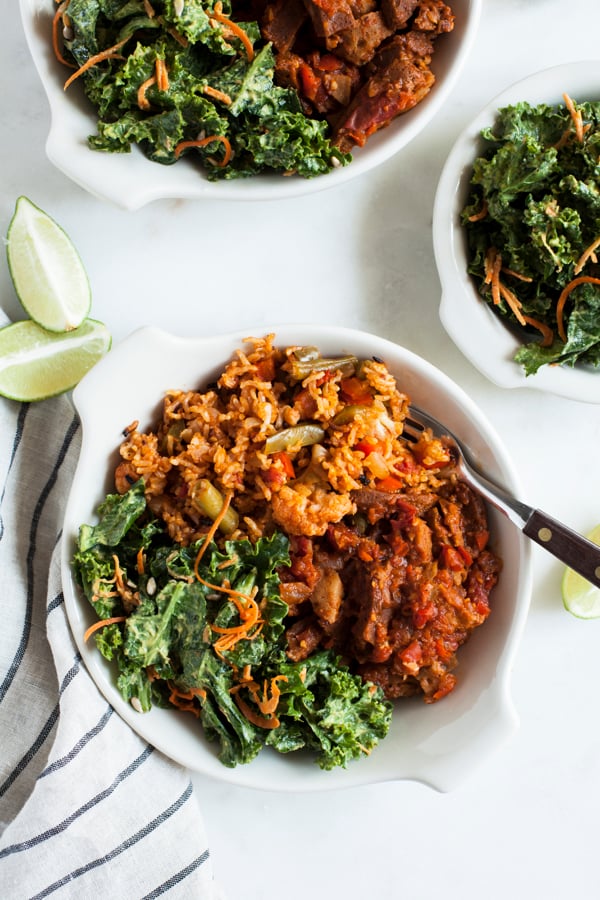 Spicy Seitan Sofrito Bowls
Author -
For the Spanish rice:
1

tablespoon

olive oil

1/2

large white or yellow onion

diced

1/2

red bell pepper

diced

1/2

green bell pepper

diced

2

carrots

peeled and diced

1

cup

green beans

cut into 1-inch pieces

1

cup

cauliflower

chopped into small florets and pieces

1

cup

uncooked brown basmati rice

rinsed

3/4

cup

crushed tomatoes

half of a 14-ounce can crushed tomatoes; you'll use the other half in the sofrito, below

3/4

teaspoon

smoked paprika

Generous dash crushed red pepper

optional

2

cups

water or low sodium vegetable broth
For the seitan sofrito:
1

tablespoon

+ 2 teaspoons olive oil

16

ounces

seitan strips

substitute 16 ounces cubed tofu or tempeh if you're allergic to wheat or gluten

4

cloves

garlic

peeled

1/2

large white or yellow onion

roughly chopped

1/2

red bell pepper

1/2

green bell pepper

3/4

cup

crushed tomatoes

1/2 14-ounce can crushed tomatoes

4

tablespoons

tomato paste

1

teaspoon

crushed thyme

1/4

teaspoon

salt

Dash cayenne pepper

optional
First, make the rice. Heat the olive oil in a large saucepan over medium heat. Add the onion and a pinch of salt. Cook the onions for 5 minutes, or until they're soft and clear, stirring frequently. Add the peppers, carrot, cauliflower, and green beans. Cook the vegetables, stirring occasionally, for another 4-5 minutes, or until the cauliflower is just tender. Add the rice, tomatoes, smoked paprika, salt, crushed red pepper, and water or broth. Bring the mixture to a boil. Reduce the heat to low and cover the rice. Simmer for 35-45 minutes, or until the rice is tender and has absorbed all of the liquid. Remove the rice from heat and adjust seasonings to taste.

While the rice cooks, make the seitan sofrito. Place the garlic, onion, and peppers into the bowl of a food processor fitted with the S blade and pulse until everything is finely chopped. (Alternately, finely chop by hand.)

Heat two teaspoons oil in a large skillet over medium high heat. Add the seitan strips and cook, stirring, until they're lightly browned. Remove the seitan strips from the skillet.

Add another tablespoon olive oil to the skillet. Add the chopped garlic, onion, and pepper mixture, along with the crushed tomatoes, tomato paste, thyme, and cayenne. Wait until the mixture is bubbly, then simmer it for 10 minutes, covered, or until it has thickened up (it should be the texture of a chunky tomato sauce). Stir in the seitan strips.

To make the kale, place all ingredients in a large mixing bowl. Massage the kale with our hands until it's tender, then season to taste.

To assemble the bowls, divide the rice, seitan, and kale evenly into four bowls. Serve with any toppings you like: hot sauce, chopped cilantro or parsley, or chopped green onions are all great!
Leftover rice and seitan will keep for up to 3 days in an airtight container in the fridge.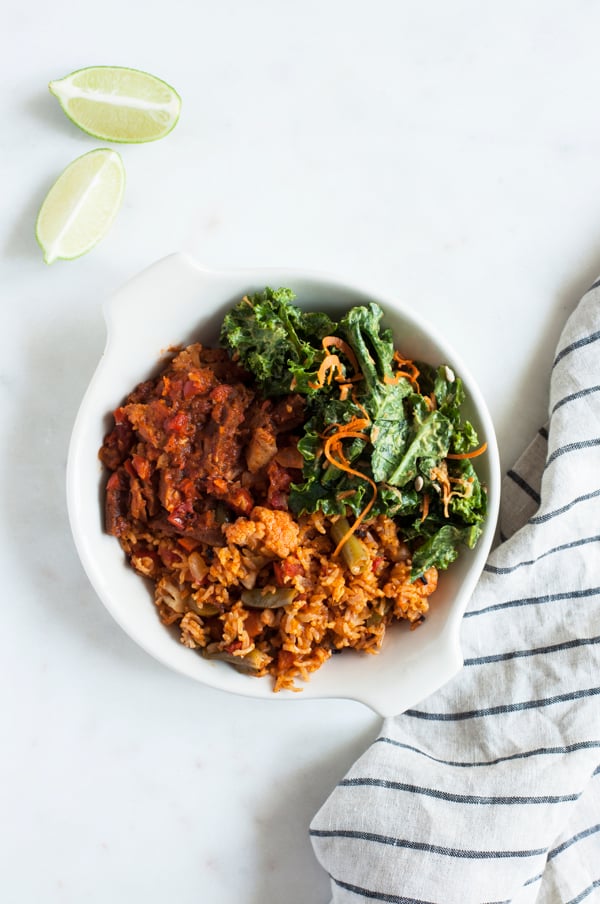 Even if you've been eating a vegan diet for a long time, it's fun to branch out and experiment with new foods. I'm glad that products like these exist to widen options and increase convenience for both longtime vegans and those who are curious about trying the diet. I hope you enjoy the bowls, too.
For those of you who are curious about trying some of the Sweet Earth products at home, a little giveaway. Enter below to win a Sweet Earth Swag Kit (including a T-shirt, tote bag, and stickers) and 5 free product coupons–which you can use at any retailer to explore Sweet Earth products of your choice. The giveaway will run for one week, and it's open to US readers only.
I'll be back at the end of this week with an easy, flavorful, protein packed salad that's perfect for toting along to July 4th cookouts and gatherings. Till soon!
xo
This post is sponsored by Sweet Earth Natural Foods. All opinions expressed are my own. Thank you for your support!