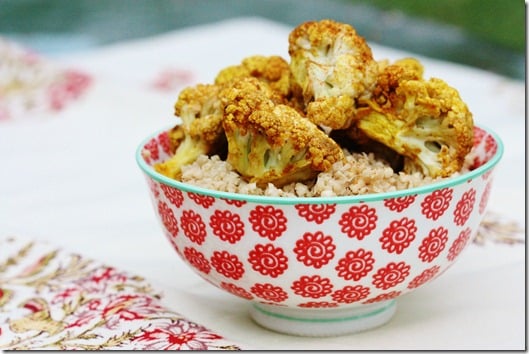 When I was first exploring raw veganism, my primary concerns were cost and difficulty. Like most people who are new to this eating style, my impression of raw foods were they were packed with astronomically expensive superfood ingredients, and that they required hours (or even days) of prep. Sprouting, dehydrating, soaking—it all seemed like too much, especially for a young editor with a busy life on her hands.
Thank goodness I got over these trepidations, and decided to give raw veganism a go anyway. I quickly learned that raw foods, like any other type of food, are only as difficult as you make them. If you want to devote some extra time to something particularly creative and stunning, you can. But if you want a quick, easy weeknight dinner in a flash—like this raw, vegan cauliflower curry—you can have it ready with minimal fuss and cost-effective ingredients.
This recipe is open to modification based upon your own time constraints. I dehydrated the cauliflower for an hour, and you could also give it a 30-minute roast, but if you're really in a rush, you can eat it raw in its marinade. It won't be warm, but it will still be mighty flavorful. As for the rice, this is one of my favorite "raw in a rush" recipes. I've posted it once before, as a filler for raw sushi, but I make it all the time and eat it on salads, beneath steamed or roasted veggies, or on its own!
Easy Raw Cauliflower Curry Over Rice (raw, vegan, gluten free, soy free)
Serves 2
For the curry:
Makes 2 cups curry
2 cups chopped cauliflower florets
1 1/2 tsps mild curry powder
1/2 tsp turmeric
2 tbsp lemon juice
1 tbsp avocado oil
Pinch sea salt
Black pepper to taste
For the rice:
Makes about 2 1/2 cups rice
4-5 parsnips, peeled and roughly chopped
2 tbsp almond butter, sunflower butter, or tahini
1/4 tsp sea salt (or to taste)
2 tsps rice vinegar
1 tbsp nutritional yeast (optional but tasty)
Pepper to taste
1) Whisk together curry, turmeric, lemon juice, avocado oil, sea salt, and pepper to make a marinade.
2) Pour marinade over cauliflower, and mix well. Dehydrate at 115 degrees for 1 hour, OR roast at 375 for 30 minutes, OR simply allow to marinate while you finish prepping the rest of your dinner.
3) Prepare raw rice by placing parsnip in a food processor and processing till it's quite broken down, but not quite "rice" sized in texture.
4) Add remaining rice ingredients, and then pulse until the mixture does resemble a medium grain rice.
5) Divide rice between two bowls. Place half the cauliflower mixture over each bowl, and serve!
My gently dehydrated cauliflower was so, so tender and tasty: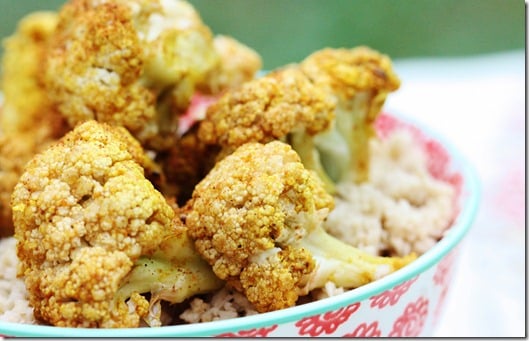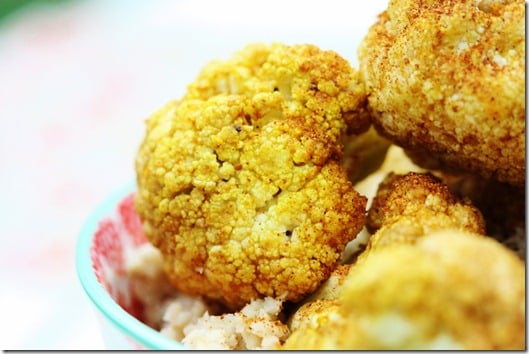 And the rice is one of my perennial favorites—I know that Ricki and Valerie agree!
This recipe is proof that an all raw, vegan entrée—not merely a snack or salad—is accessible with minimal effort. Served along with a big, green salad, and perhaps some legumes, this is a delicious and satisfying meal.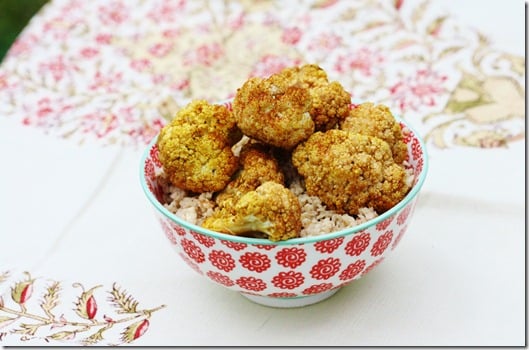 Enjoy!
Today was a very busy day, full of studying, work-related phone calls, and class. But I did have a chance to meet up with Caroline for a very quick coffee on the Georgetown campus, to which she was paying a visit. Caroline, a fellow vegan, emailed me about a year ago, just as I had started to write about my post-bacc experience on my blog. She must have sensed how out of place and freaked out I was at the time, because she sent me the most reassuring note about her own post-bacc experience, which also followed a humanities background and a career in editorial work. She has been a tremendous source of comfort and support as I continue to move through my post-bacc, one exam at a time, and I am so glad I had a chance to thank her for it in person. Additionally, Caroline has just started a very charming blog about food, San Francisco, and the ways in which she and her husband make vegan/omni marital life work. Check it out!
Before I go, important announcement: have you read about the NYC Vegetarian Food Festival yet? This festival, which will happen on March 3rd and 4th (that's next weekend) is a chance for veg*ns, locavores, foodies, and healthy eaters to meet, soak in some presentations, and peruse countless exhibitor booths. Last year, the line was so long that I almost skipped it, but I was really glad I made it inside, because I went home with a giant bag full of food samples. Seriously. Embarrassing amounts.
This year, on Saturday morning, I'll be presenting on raw food done right: quick, easy solutions to make a raw foods lifestyle work without losing your mind. Also speaking will be this guy:
And this guy: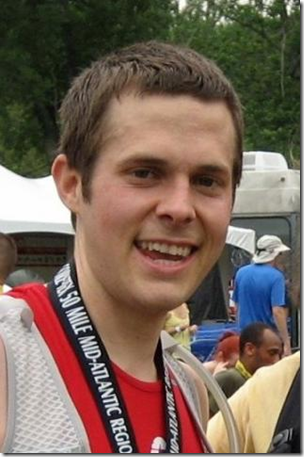 Two of my favorite guys! I can't wait to catch up with superathletes Brendan and Matt. Also speaking at the festival will be Michael Greger, M.D., and the lovely Terry Hope Romero. I'm excited to see them, too!
If you're in NYC or nearby, show up early and come say hi—I'd love to meet you. And if you're an NYC food blogger and you plan on coming, text me or shoot me an email. (You guys know who you are!)
Happy weekend, folks.
xo