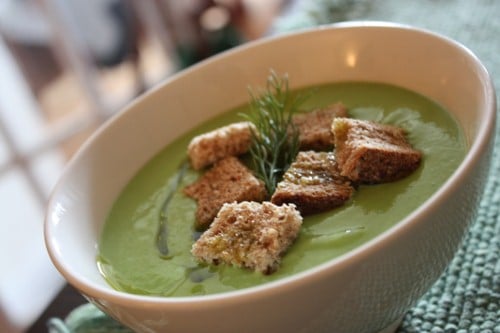 Greetings from Tuesday night. Before I say another word, those were some amazing responses to my last post. Blogging is so funny; one never knows which posts will strike a chord. I was really into the topic (which, if you weren't reading, had to do with the assumptions drawn about peoples' motives for being vegan), but I didn't know whether or not you would be as intrigued. I love when the topics I love to write about are the ones you're most interested in commenting on. Thank you!
A week or two ago, I mentioned that I've jumped on the spring vegetable train a little late this year. It's face-meltingly hot outside, and summer has most certainly arrived. In my kitchen, though, I'm still experiencing the best of spring produce, including freshly shelled peas. I enjoyed them in my spring quinoa pilaf, and recently, I enjoyed them again in a simple, delicious pea soup.
Raw soups rank second only to salads in the category of "dishes Gena can't eat enough of." If you've only been reading my blog recently, though, you might not know the depth of my passion for raw soup. Last spring, I was the queen of soup, whipping up blended salads galore, carrot avocado bisque, raw borscht, coconut red pepper soup, and more. The problem with raw soups is that they, unlike cooked soups, don't keep or freeze well. Raw soups are best enjoyed straight out of the blender, along with a big salad and maybe a hunk of sprouted grain bread. Since I'm rarely home right now, it's hard for me to make fresh soups, and I'd rather not spoil them by transportation.
Last weekend, thankfully, soup fever struck on a Saturday afternoon at home, and the soup queen donned her apron again. The result was this glorious, bright green bowl of deliciousness: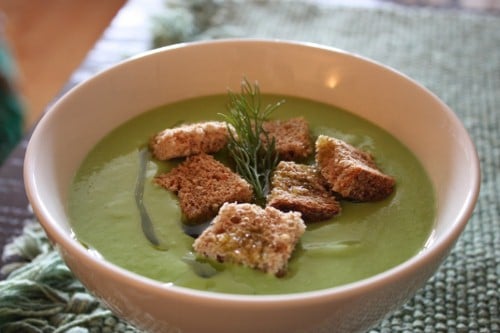 Before I share the recipe, it's worth mentioning that you can either blend the peas raw or blanch them first. I highly, highly, highly recommend blanching or lightly steaming, as raw green beans and peas are typically too starchy to be palatable. (There's some debate, too, over whether they're toxic: I fall into the "who cares, they taste weird" camp.) In any case, raw purists can certainly take chances with raw peas; I blanched mine for exactly a minute and then submerged them into an ice bath pre-blending.
Pea Soup (serves 1 or 2)
8 oz peas, raw or blanched
1/2 cup nut or seed milk, unsweetened (I used homemade almond milk)
1/4 tsp salt
1/4 c water
1 tbsp lemon juice
Blend all ingredients till smooth. Check for seasoning, and garnish with a sprig of dill, a drizzle of hemp oil, and cubed sprouted bread or raw crackers.
I like to serve my raw soups cool, obviously, but there's no reason you couldn't warm this if you liked to. However you serve it, the soup is dreamy: a perfectly minimalist exhibition of the finest flavors of spring.
Now, if only spring temperatures would follow spring tastes. Sigh. A sweaty girl can dream, right?
xo