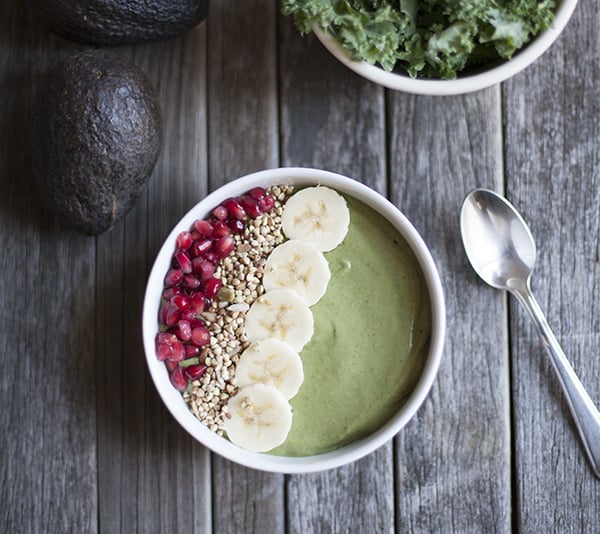 Not too long ago, the folks at Sprout Living, a company that produces high quality vegan protein powder, asked if I'd be willing to write about their Epic Proteins on Choosing Raw. Sprout Living makes a variety of proteins, including brown rice proteins, but their Epic line is made with a special blend of rice, pea, sacha inchi, and cranberry seed. The blends each feature a special "superfood" (lucuma, maca, or spirulina) and a touch of Himalayan Pink Sea Salt.
I haven't been using protein powders too often lately. This is partially because I don't make a lot of smoothies in the winter, and partially because, as my relationship with food has evolved, I've taken a greater interest in focusing on whole food sources of protein, rather than powders. (Even whole-food-sourced protein powders are, in my mind, supplements.) I've also totally moved away from stevia, and since many of my favorite protein brands do include it, my interest in protein powders has lessened considerably. Lately, some savory baked tempeh or a hearty scoop of legumes or creamy hemp seeds in my smoothies just sound a lot more appealing when I'm looking for a protein boost.
These hearty foods and protein powders aren't mutually exclusive, though, and I try to avoid black-and-white positions when it comes to my diet. So I certainly haven't forsworn protein powder altogether. I just use it moderately, especially if it contains an artificial sweetener, and I look for brands that really feel different and special. Last year, I discovered NuZest, and it remains a real favorite. Next month, I'll be sharing an unsweetened protein that serves as a perfect, stevia-free option. And today, I'm excited to introduce you to Sprout Living–and offer you a giveaway, so that you get a chance to win some product of your own.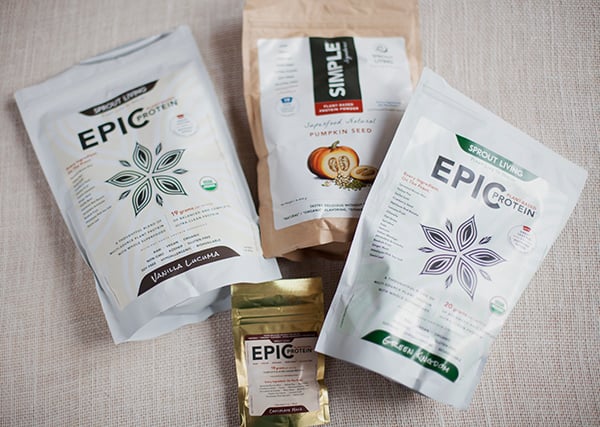 Sprout Living protein is the real deal. What makes it most immediately noteworthy is the taste. Let's face it: protein powders don't always taste great, but these formulas really do. I haven't spoken to anyone who doesn't love the flavor, and every time I've mentioned the brand on Instagram, at least several people have chimed in to tell me that they love and use it at home. Sprout Living has a pretty devoted following, and it's not hard to see why.
For one thing, it's rare to find protein powders that contain any amount of brown rice protein without the slightest bit of chalky flavor. Sprout Living powders aren't chalky at all; I've been amazed at how smoothly they blend up into drinks without leaving me with the peculiar dry mouth I've had with brown rice proteins in the past. In spite of the fact that several flavors contain stevia, they're also not overly sweet, which I appreciate very much. And for those of you who don't care for stevia at all, the natural pumpkin seed flavor is 100% sweetener free: it's just cold-pressed pumpkin seed powder.
Most of all, I love the creativity of these blends. It's not just chocolate, vanilla, and plain: the company has really thought outside of the box when it comes to cool superfood flavor pairings. The vanilla flavor, for example, tastes not only like real vanilla bean, but also has hints of ginger and salt. It is truly delicious, as is the chocolate maca.
All Sprout Living products are raw, vegan, organic and kosher. They're also free of gluten, soy, nuts and GMOs, and none contain things in quotation marks ("natural/organic" flavoring, "other ingredients," or additives). The company is passionate and very active within the healthy living community, and the Sprout Living website features a ton of awesome recipes by bloggers and chefs who have tasted the brand and loved it. All of the recipes are vegan, too!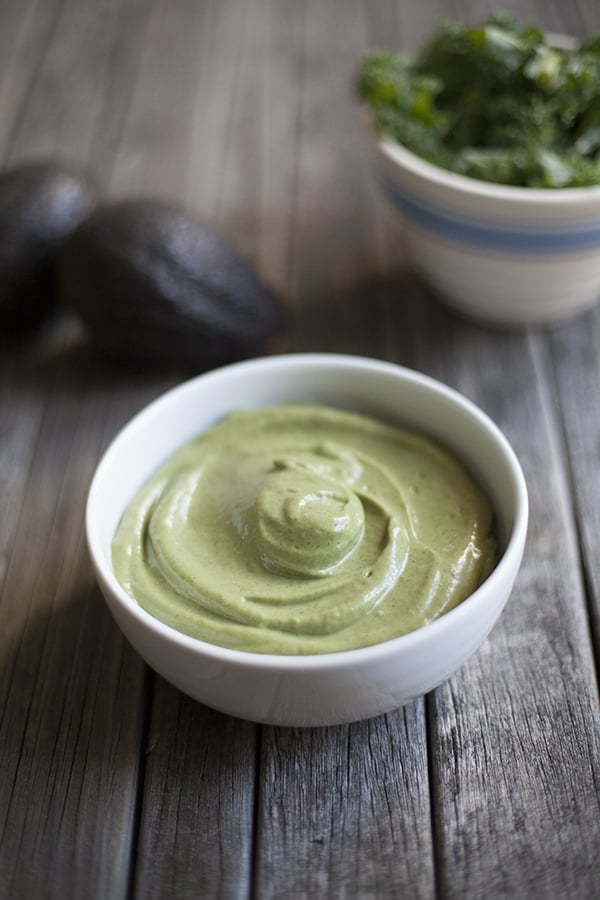 Speaking of recipes, I wanted to create one that would highlight the flavor of the Green Kingdom protein.
This flavor also contains ginger and a hint of salt, and it's totally delicious. A green smoothie seemed obvious, at first. But on a morning when I wanted something a little more substantial than a smoothie, a pudding/ice cream blend sounded like a more appealing concept. I ended up creating this avocado/banana "ice cream" in my Vitamix.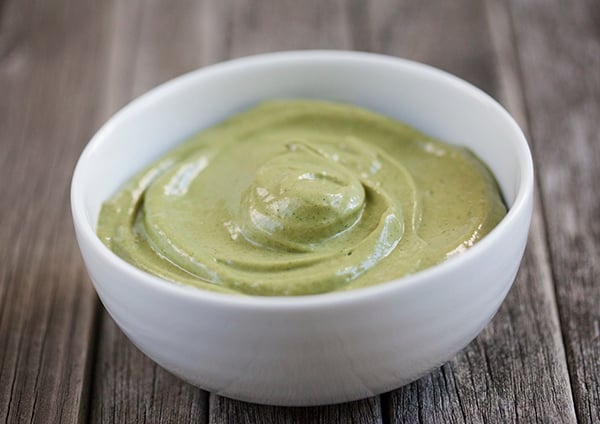 It's not as thick as banana soft serve, but as you can see, it's quite dense and holds its shape really well. It's also a perfect vehicle for your favorite toppings. Here's the (easy) recipe!
Green Kingdom Avocado Banana "Ice Cream"
Author -
2

frozen bananas

1/2

small Hass avocado

3/4-1

cup

almond milk

1

cup

baby spinach or kale

2

scoops

1 serving Sprout Living Green Kingdom protein powder

1/2

teaspoon

vanilla extract or powder

Topping options

optional: Pomegranate seeds, buckwheat cereal, shredded coconut, cacao nibs, sliced fruit, nuts, seeds, or dried fruit
Blend all ingredients, adjusting the amount of almond milk as needed to achieve a texture that's thicker than a smoothie, but easy to blend. Serve, with toppings if desired.
 So much richness and texture here: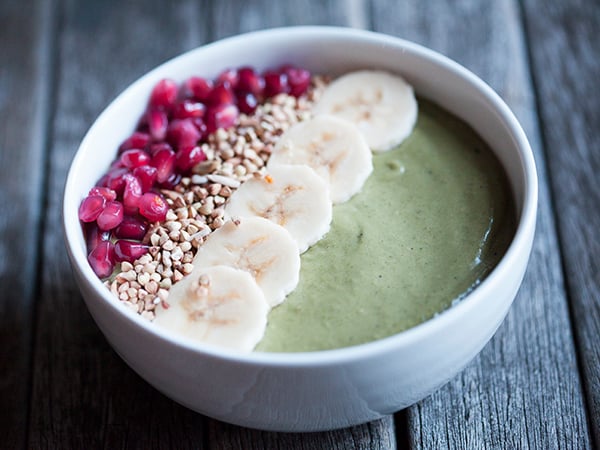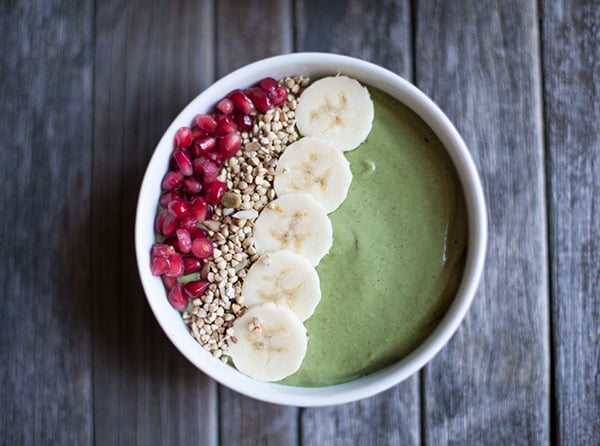 This smoothie will get your day off to a bright start, to be sure. And the "ice cream" concept will probably inform most of my smoothies this summer–I just love having something a little more substantial to savor!
I'd love for you all to have a chance to check out this cool new protein powder and try some of the flavors for yourselves. So, please enter below to win:
-A 1LB of Green Kingdom protein powder
-A sample of each of the other Sprout Living Epic Protein flavors
-A Sprout Living tote bag
-A Sprout Living shaker jar.
US and Canadian residents only. The giveaway will run for two weeks. Good luck!
I hope you enjoy the recipe in the meantime. I'll see you soon for weekend reading!
xo