These tandoori spiced sweet potatoes and chickpeas make for a vibrant, filling plant-based meal. Packed with flavor and great for sharing!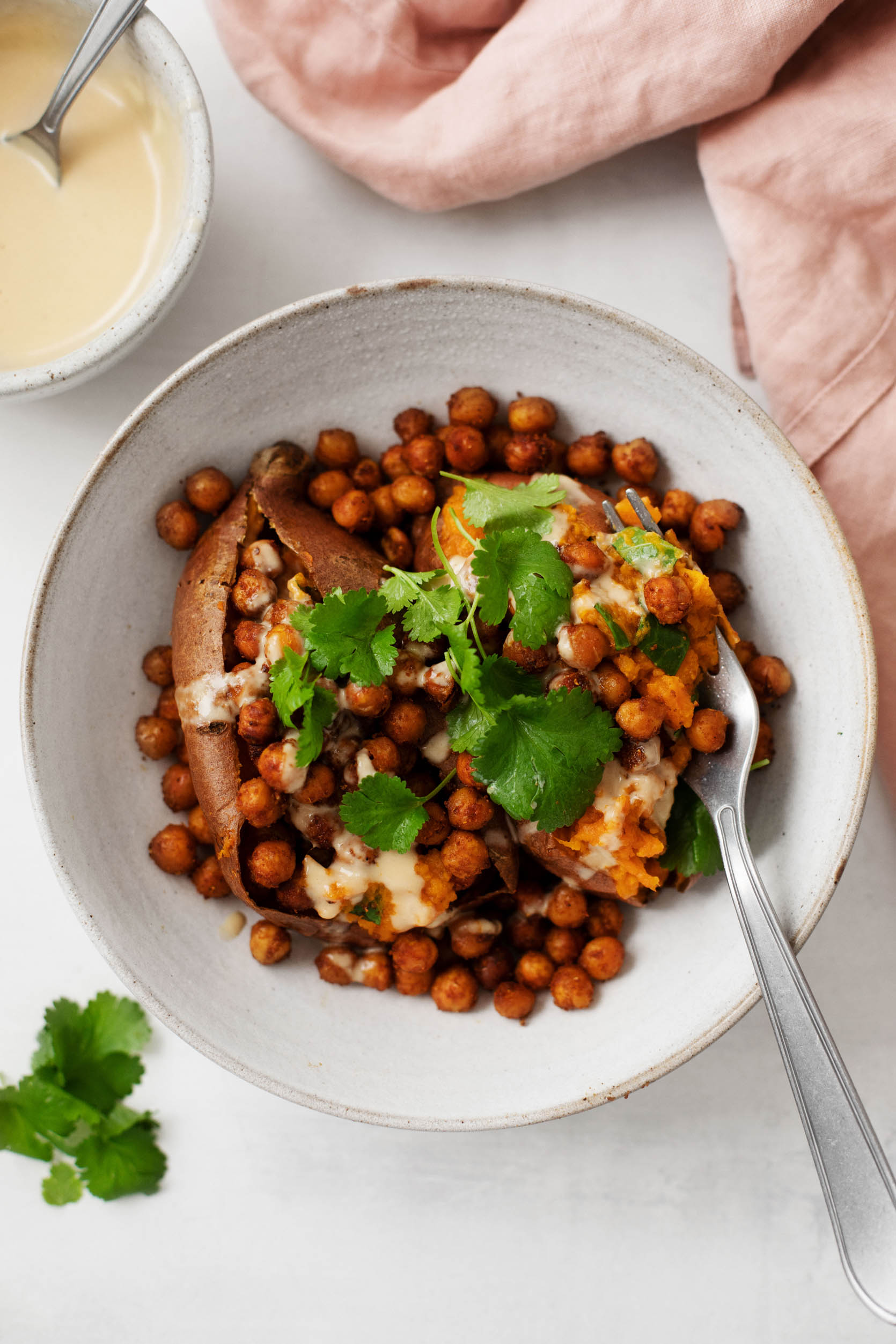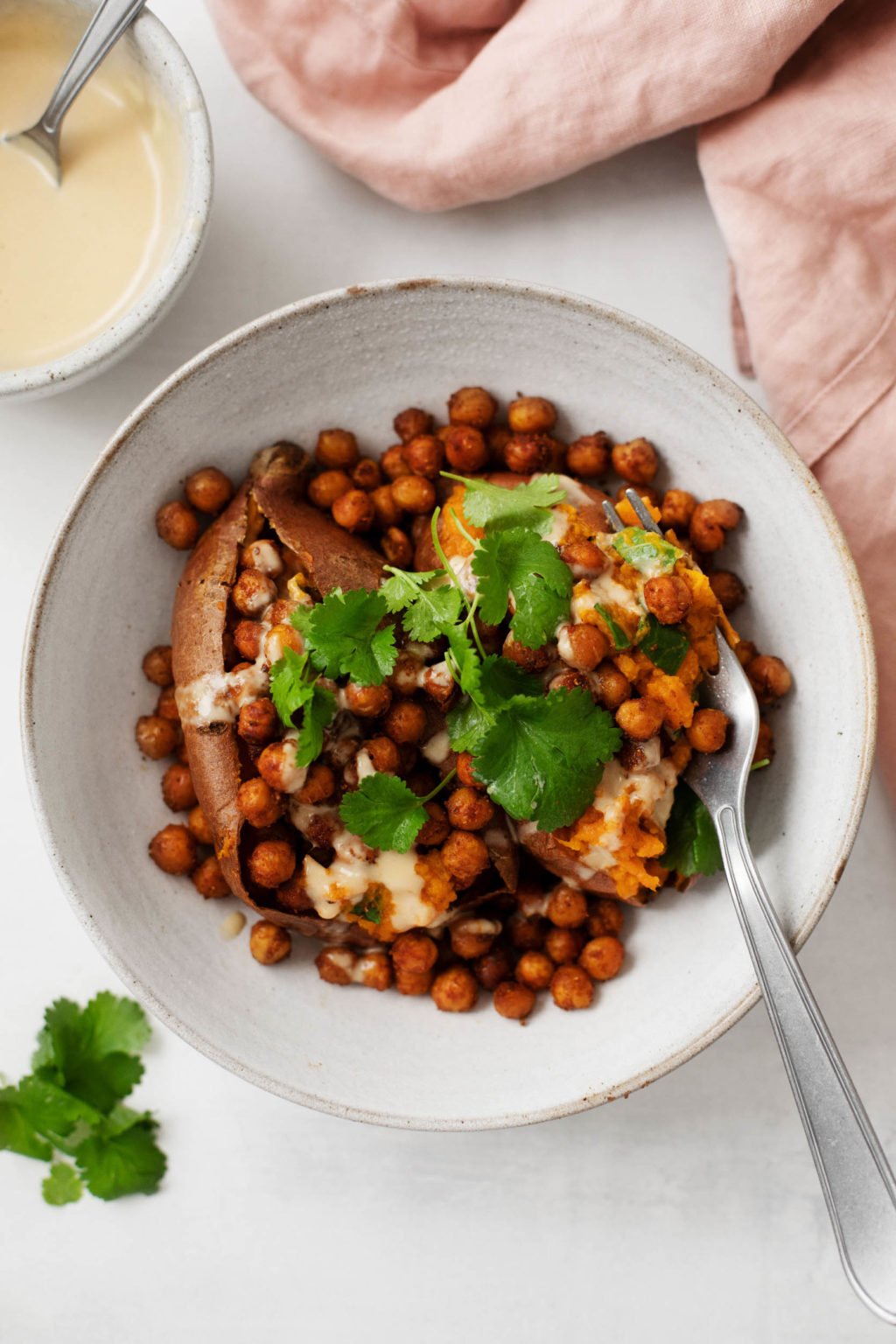 Once in a while I make a recipe that I know I'll make again and again. These tandoori spiced sweet potatoes, which are stuffed with roasted chickpeas, belong in that category. The chickpeas alone are worth bookmarking. They're delicious as a crispy snack or piled on top of a salad. But the complete dish is a delight to eat. It's a flavorful meal that showcases a lot of my favorite ingredients.
The recipe isn't complicated, but it requires some time. You'll need to bake the potatoes and roast the chickpeas. Once that's done, though, the dish comes together easily.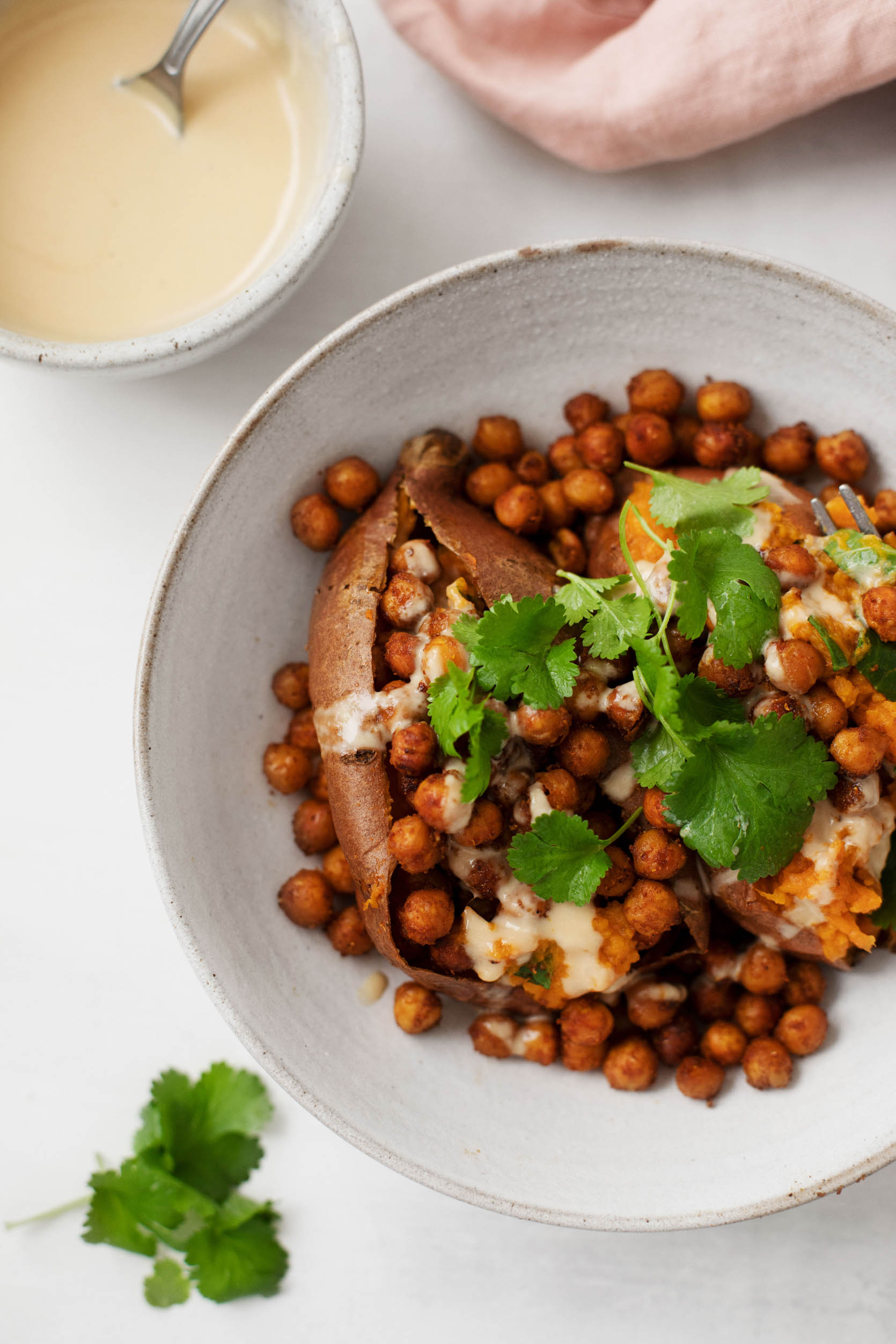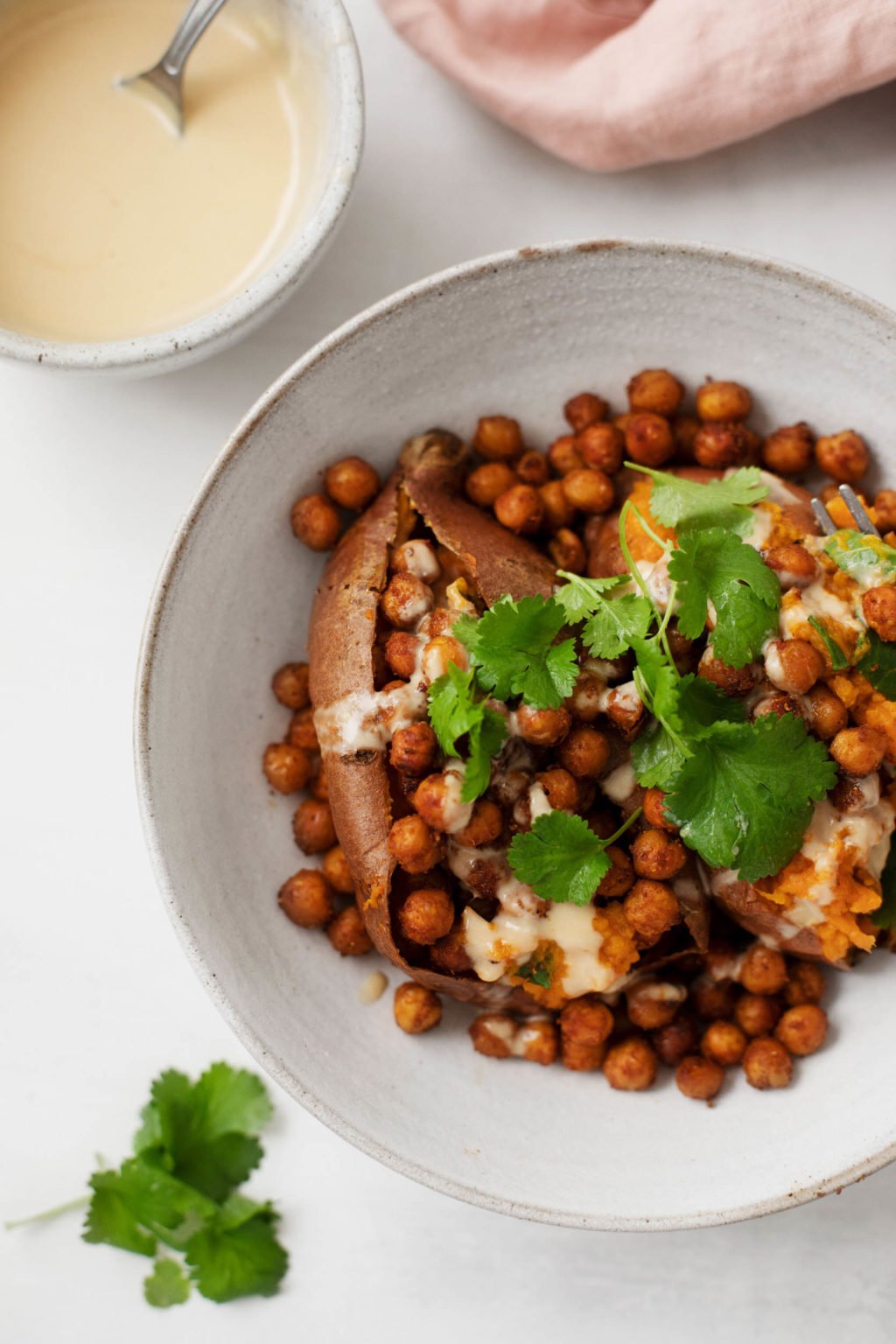 The beauty of roasted chickpeas
It's no secret that I love roasted chickpeas. Why? Because they're such a versatile plant protein. They can be stuffed into a wrap, used to top a bowl of your favorite soup, piled on top of a salad, or used as a topping for nachos (even non-traditional ones).
Roasting chickpeas takes a little more time than eating them plain, but it adds texture and flavor that wouldn't be there otherwise. It's also a great opportunity to use a variety of spices, herbs, and seasonings. Chickpeas become a protein-rich base for carrying flavor.
Tandoori style spice mix
The roasted chickpeas in this dish are tossed with a fragrant spice blend of ginger, cumin, garam masala, paprika, and turmeric. I also used a touch of cayenne for heat.
Most Tandoori spice mix recipes include a combination of ginger, cumin, coriander, paprika, and turmeric. I love Meera Sodha's recipes, and and she outlines a mix here, which could be used to marinate tofu or seitan as well as chicken.
These seasonings pair well with the sweetness of baked sweet potatoes and the tangy tahini lime drizzle. That sauce stands in where yogurt might typically be used in a Tandoori-style marinade. It's tasty, and you can use whatever you've got leftover for salads and bowls as well as this dish.
Assembling Tandoori spiced sweet potatoes
Making these tandoori spiced sweet potatoes is a stepwise process, but it's easy to group some of the tasks together. If you're someone who loves to meal prep, this recipe is a good candidate for doing that. You can bake the potatoes and roast the chickpeas a day ahead of time, then make the sauce and assemble the following day. Or, you can simply make the tahini drizzle ahead of time.
It's hard to tell, but there are actually some cooked greens mixed into the roughly mashed potato filling. These are optional, but they add extra fiber and nutrition to the dish. I recommend them, not just for texture and color, but also for nutrient density. Kale, spinach, and collards all work well (as would chopped broccoli florets or green beans). The greens, too, can be made in advance.
Storing & serving
If you do wish to make the recipe in parts, I'd recommend storing components separately before mashing the potato filling and assembling them. You can store the leftovers for up to four days in an airtight container in the fridge.
I like to add chopped cilantro only before serving the Tandoori spiced sweet potatoes. This keeps the herbs from wilting. The potato halves look very pretty when they're spread on a serving platter for friends or family. But if you're enjoying one or two on your own, they're the perfect size for a solo bowl.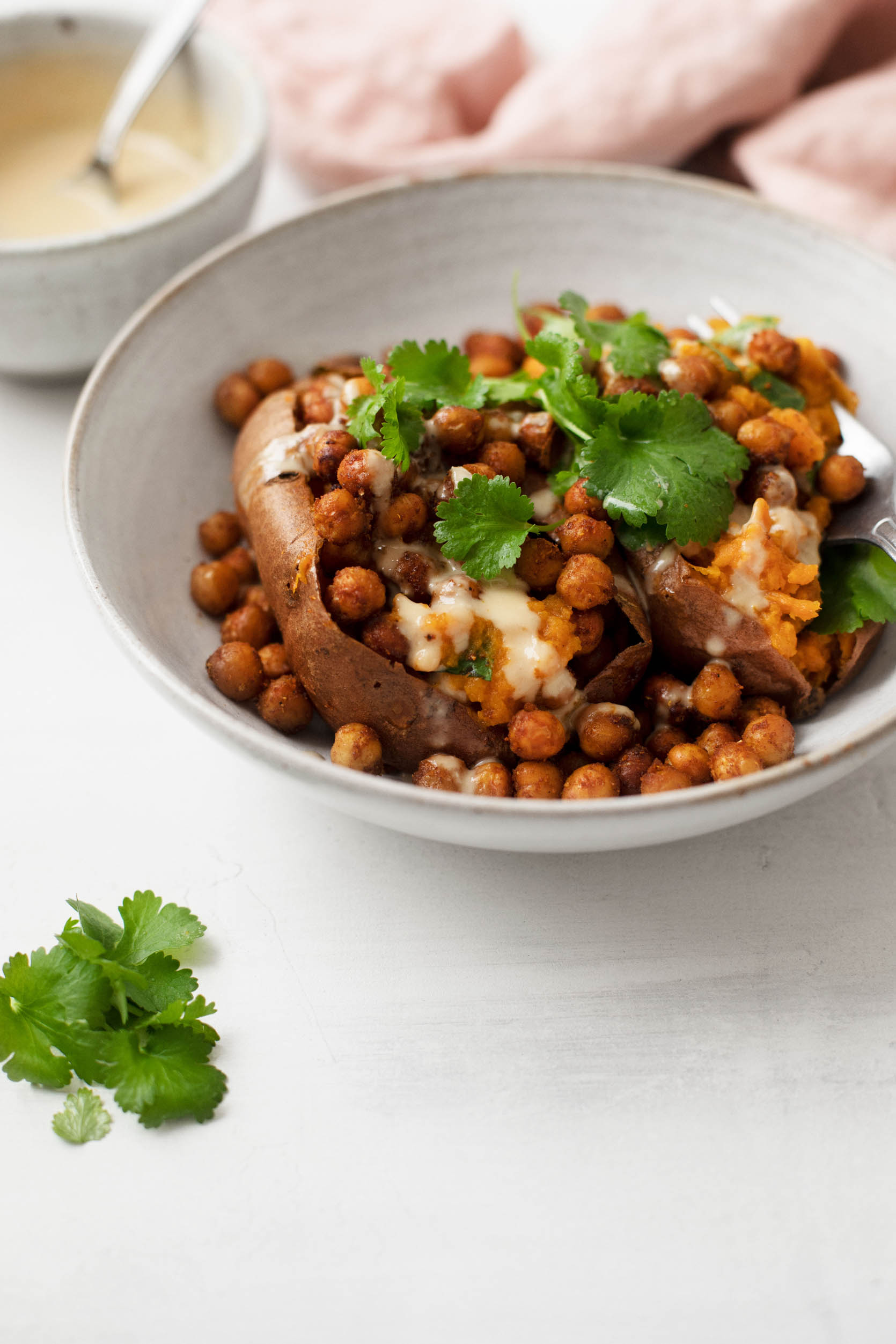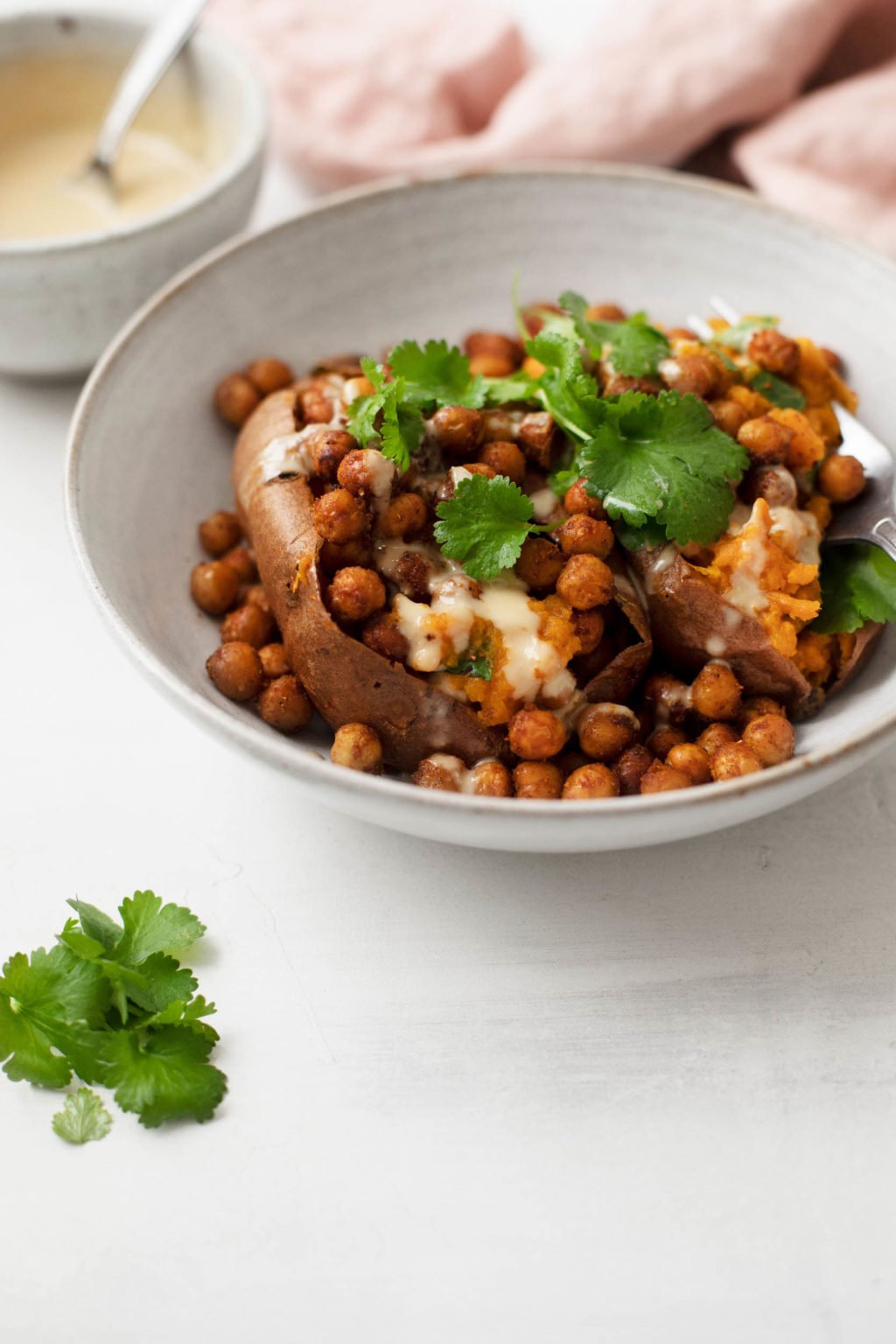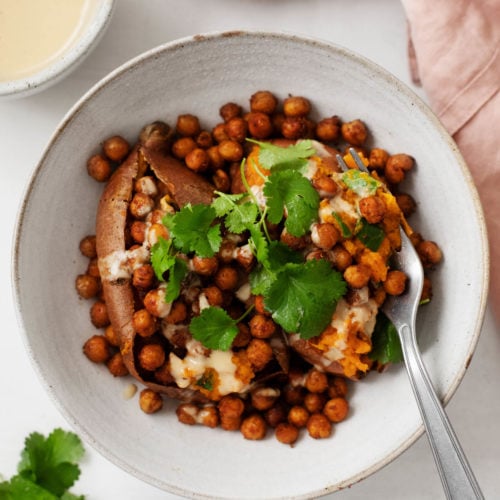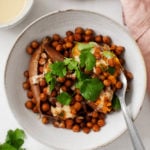 Tandoori Chickpea Stuffed Sweet Potatoes with Tahini Lime Drizzle
Author -
For the Tandoori chickpeas:
3

cups

cooked chickpeas (2 15-ounce cans, drained and rinsed)

1

teaspoon

ground ginger

1 1/2

teaspoons

garam masala

1/2

teaspoon

turmeric

1/2

teaspoon

sweet paprika

Dash cayenne

1/2

teaspoon

coarse salt

1

tablespoon

vegetable oil (substitute a few tablespoons vegetable broth for a no oil option)
For the potatoes:
4

medium sized sweet potatoes, scrubbed

1

tablespoon

tahini, cashew butter, or almond butter

1/4

cup

unsweetened soy or almond milk

1/4

teaspoon

salt

dash

crushed red pepper flakes

2

cups

washed and chopped leafy greens

Chopped cilantro leaves and stems, for serving
For the tahini lime drizzle:
1/3

cup

tahini

1/4

cup

water

2

tablespoons

lime juice

1/2

teaspoon

fine salt

1

small

crushed garlic cove

1/2

teaspoon

agave or maple syrup
Preheat the oven to 375F. Clean and prick the sweet potatoes a few times with a fork, and line two baking sheets with parchment or foil. Place the potatoes on one sheet. Toss all of the tandoori chickpea ingredients together in a mixing bowl and place them on the other sheet. Transfer both sheets to the oven. Roast the chickpeas for about 30-35 minutes, stirring halfway through. Roast the sweet potatoes for 40-45 minutes, or until tender when pricked with a fork. Allow both sheets to cool.

While the ingredients roast, whisk together all of the ingredients for the tahini lime drizzle. Then, bring a small pot of water to boil and gently boil or steam, then drain, the leafy greens.

When the potatoes have cooled a bit, cut them in half and very gently scoop out the flesh (careful not to pierce the skins when you do this). Transfer all of the flesh to a mixing bowl and mash roughly with the tahini or nut butter, plant milk, salt, and red pepper flakes. Fold in the steamed leafy greens.

Transfer the potato skins to a serving platter. Scoop the mashed potato mixture back into the skins. Top them all evenly with the roasted chickpeas. Drizzle the whole dish generously with the tahini sauce and then sprinkle it with chopped cilantro, if desired. Serve.
I love that little bit of tahini in the potatoes, by the way! Half of a baked sweet potato, drizzled with tahini and coarse salt, is one of my favorite snacks. Using the tahini (or cashew butter, or almond butter) to make the sweet potato flesh a little creamier was a great idea. I'll need to play with it in future recipes, for sure.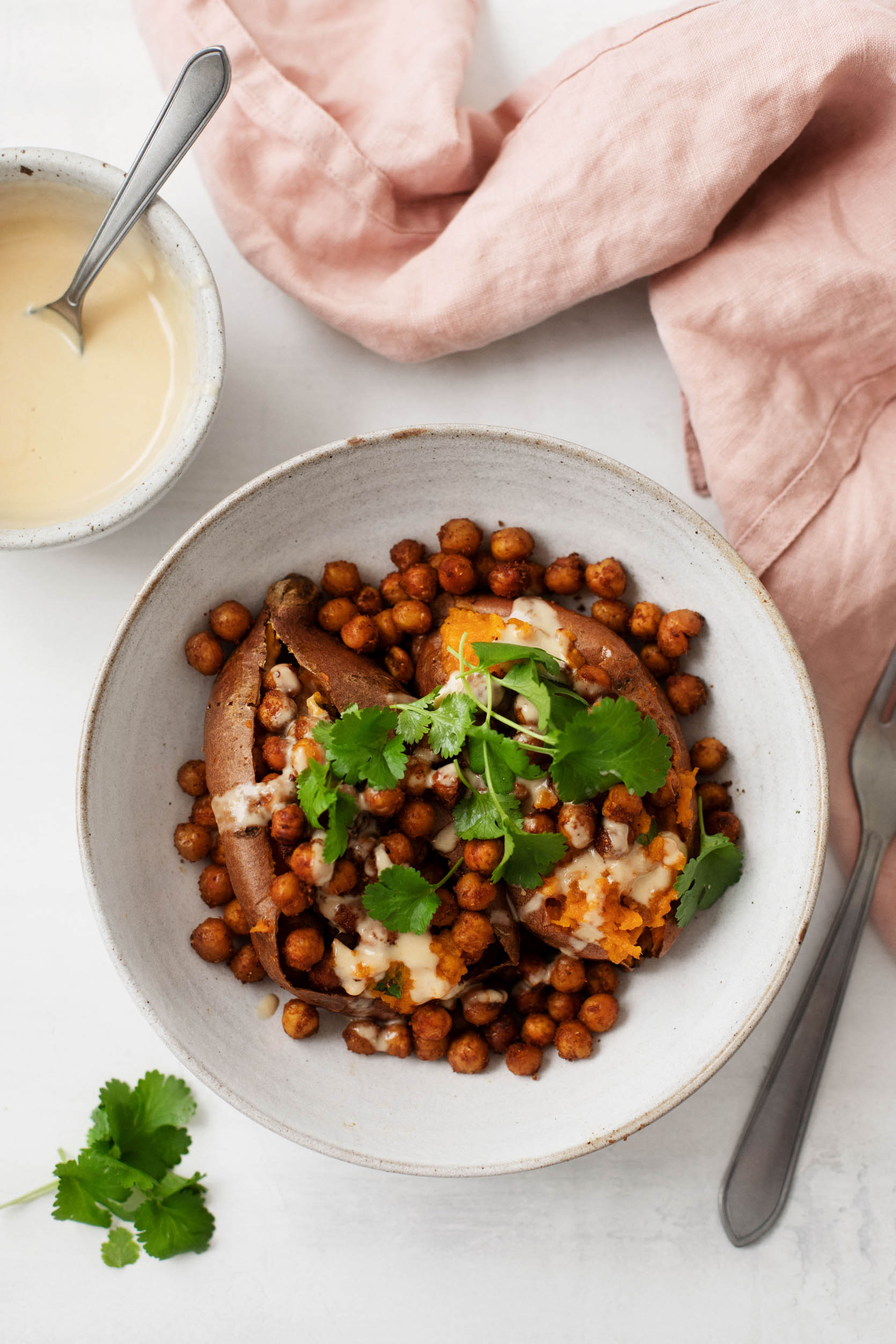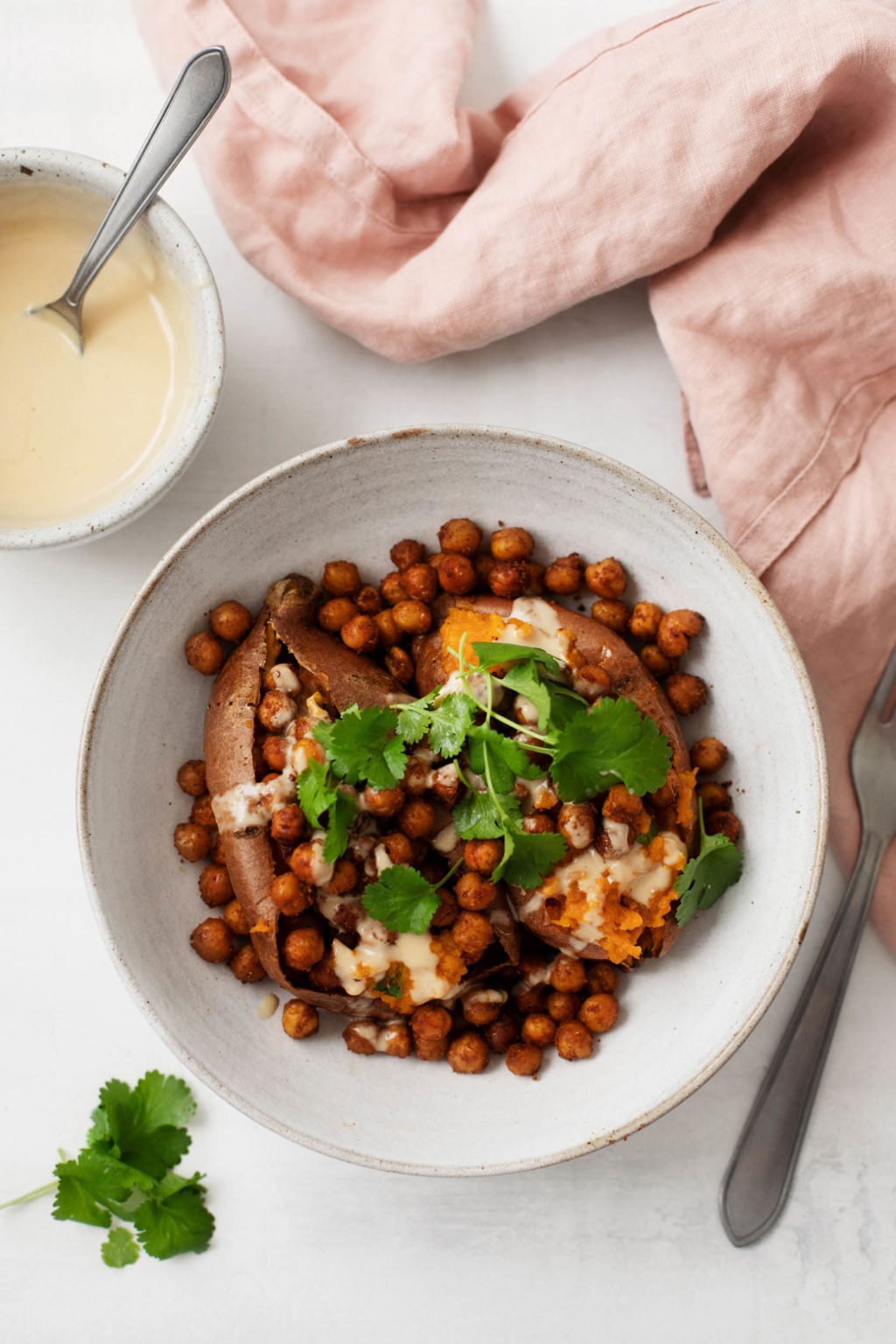 This recipe brings together an almost comical number of my favorite plant-based ingredients. Sweet potatoes, chickpeas, tahini: they're all foods that I turn to again and again. And garam masala happens to be a spice blend that I love. It's the star of these lentils, which are a go-to protein in my home. Using it here only increased the odds that I'd love this meal.
And I really did.
Hope you'll like the potatoes, too. On Thursday, I'll be back with an easy and balanced weeknight dinner recipe. Till soon!
xo